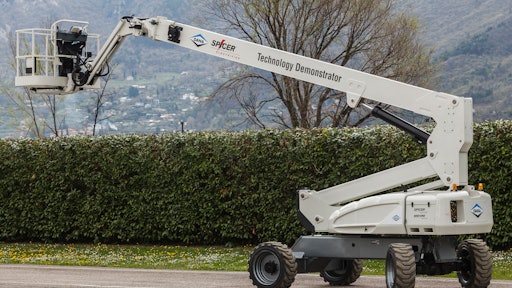 At INTERMAT 2018, Dana Incorporated revealed new technologies in support of the rapidly evolving development of hybrid- and electric-powered construction and other off-highway vehicles.Consistent with its approach in other vehicle markets, Dana's strategy enables original-equipment manufacturers to accelerate their hybrid and electric vehicle development programs. It starts with a modular approach that combines Spicer Electrified hybrid and electric drivetrain solutions into current vehicle architectures with internal-combustion engines.
Dana showcased its technological capabilities through a hybrid-electric telescopic boom lift equipped with more than 30 Spicer drivetrain and Brevini motion products. This mid-sized aerial work platform performed a series of typical driving and working maneuvers to illustrate how Dana serves as a Tier One contributor to the performance, efficiency, safety, intelligence and systems integration of hybrid and electric vehicles.
In addition to aerial work platforms, Dana is actively developing hybrid and electric drive solutions for numerous wheeled and tracked vehicles in the construction, mining, material-handling and aircraft ground support industries.
"Tightening emissions requirements, increasingly strict local government regulations, and accelerating market demand for vehicles that promote sustainability are driving the development of hybrid and electrified technologies," said Aziz Aghili, president of Dana Off-Highway Drive and Motion Technologies.  "We are demonstrating our unmatched commitment as a top-tier supplier to OEMs by delivering solutions today while also developing next-generation innovations for the vehicles of tomorrow."
Dana offers a series of modular hybrid- and electric-drive systems that can fit into existing vehicle design envelopes and provide OEMs with effective, low-risk, quick-to-market solutions. These products can be connected to traditional Spicer wheel drives, track drives, axles, and transmissions to deliver hybrid or electric functionality.
Dana has designed a wheel drive paired with a motor for electric-driven aerial work platforms (AWPs) ranging from 3 to 7 tonnes (3 to 8 tons). Additionally, engineers are adapting Dana technologies to deliver additional wheel-drive, track-drive, and axle-based solutions for electric-driven AWP applications up to 24 tonnes (26 tons).
As the development of hybrid- and electric-drive vehicles progresses, Dana is designing and testing compact, fully integrated drive systems consisting of motors, gearboxes, power electronics, and thermal-management products that deliver optimal performance while reducing manufacturing complexity and total cost of ownership. For example, Dana is developing drive systems that integrate advanced electric motor and wheel-drive technologies in a single package for electric-powered AWPs with overall weights of 8 to 12 tonnes (9 to 13 tons).