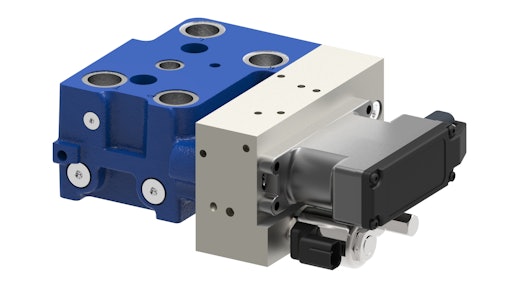 Power management company Eaton today announced the new ASV60 Steering Valve, a compact, modular valve that helps reduce cab noise and improve machine flexibility and intelligence. Designed for mobile off-highway equipment in the construction, agriculture and material handling industries, the valve allows machine designers to tailor equipment steering performance to the operator's driving habits or operating conditions and sets the stage as the foundation for autonomous vehicles.
"Mobile machinery is changing. In a drive to do more with less, machines are increasingly complex, intelligent and efficient," said Beth Peterson, global product manager, Steering Solutions, Eaton. "Advanced steering solutions allow designers to customize equipment, providing options for controlling steering reaction, drift compensation and varying input devices, while improving operator comfort and visibility."
The new ASV60 Steering Valve can be used in conjunction with an orbitrol control in an electrohydraulic steering assembly, or in a fully electronically actuated steer-by-wire system. The valve can be mounted on an orbitrol controller or remote mounted wherever space exists on the machine, allowing for more flexible machine design and reduced cab noise.
In customer testing, a prototype of the valve allowed machine designers to remove front- and rear-mounted steering wheels, instead using a joystick and steer-by-wire system to allow the operator to control the machine from a 180-degree rotating seat. The valve also allowed the customer to move all of the hydraulics out of the cab, significantly reducing operator noise. 
Additionally, the ASV60 Steering Valve is designed to meet safety level PLD and offers an optional load reaction valve, an important feature when operating off-road vehicles on-road.
Request More Information
Fill out the form below to request more information about
Eaton ASV60 Steering Valve Offers Steer-by-wire Solution