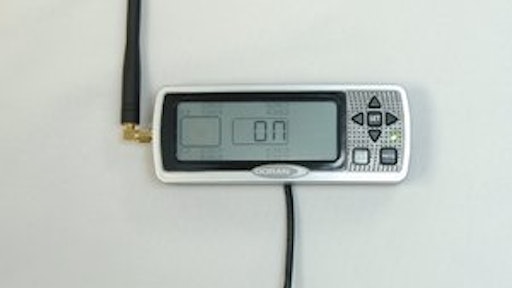 360HD Tire Pressure Monitoring System
The 360HD tire pressure monitoring system provides drivers with at-a-glance status updates with its patent-pending Green Means GOOD indicator.
Monitors up to 36 tires for truck, tractor and trailer applications
Wireless tire pressure sensors screwed onto valve stems and transmit a signal to a monitor in the cab
Features multiple alarm types (audible, location, pressure and warning symbol), plus a "Fast Leak" alarm
For dual wheel or wide-base single configurations
Installs in about an hour
Doran Manufacturing
ecofil Flatproofing Material
The ecofil tire flatproofing fill material uses renewable and environmentally based components and consumes 50% less petrochemicals in the production process.
Fills a 13.00-24NHS tire in less than 10 minutes and can be pumped using conventional equipment
Features 100% virgin polymer
Works with tube-type or tubeless tires, will not support combustion, has low odor and is designed to handle arduous applications
Available in different formulations for specific applications
Arnco Corporation
Firestone FD835 Drive Tire
The Firestone FD835 on/off-highway drive tire from Bridgestone Bandag Tire Solutions is designed to deliver optimal traction and greater removal mileage in severe-service applications.
Aggressive block tread pattern with angled sipes positioned in each block for solid wet surface handling
Extra-deep open shoulder design for traction on soft surfaces
Four steel belts and an all-steel casing enable retreading for any axle position
Split-belt construction helps casing resist cuts and punctures
Available in the 11R24.5 size with an "H" load rating, and usable to 65 mph
Bridgestone Bandag Tire Solutions, div. Bridgestone Firestone
Nu-Air Tyres
Nu-Air Tyre Series semi-pneumatic tire technology is designed to eliminate unexpected flat tires, while providing a cushioned ride even in harsh working conditions.
Strategically placed holes throughout sidewall prevent cuts and snags
1,000-hour average life expectancy
Available for skid steers and backhoes
Custom-fit rims enable easy installation
Can be used with over-the-tire tracks
McLaren Industries, Inc.
Skid-steer Tire
The skid-steer solid cushion tire line incorporates an aperture structure that allows the solid tire to ride like a pneumatic tire without the risk of punctures.
Reduced amount of rubber used reduces total weight (including wheels) by up to 30% for increased fuel efficiency
Overall design and unique rubber compound allow for more even wear and longer service life
Ty Cushion Tire
Unisteel G287 and G288 MSA Tires
The Unisteel G287 MSA and Unisteel G288 MSA mixed service tires feature an improved tread compounds and belt packages.
Unisteel G287 MSA features high-mileage tread compounds, a wide footprint and a flat tread radius that enable up to 40% more miles to removal and up to a 20% improvement in cornering and grip
Unisteel G288 MSA features a severe-service tread compound and wide footprint for up to 30% more miles to removal, plus an open lug design for grip and a proprietary pitch sequence for reduced tire noise
DuraSeal self-sealing technology available in certain sizes
Goodyear Tire & Rubber Co.
Universal Semiautomatic Tire Changer
This electro-hydraulic, Universal Semiautomatic Tire Changer is designed to mount and demount truck, bus, tractor, agricultural and earthmoving equipment tires quickly, safely and effortlessly.
Handles tires with rim sizes from 14 to 56 in.
Portable control unit utilizes 24V low-tension electric power
Non-return check valve on the self-centering chuck and lifting cylinder
Thermal overload switch
ARI-HETRA
X One XZY Wide Single Tire
The X One XZY3 all-position radial tire incorporates Infini-Coil Technology, which features a 1/4 mile of steel cable wrapped circumferentially around the casing to eliminate casing growth.
Uses a special compound for greater chip and cut resistance in on/off-road applications
Original tread depth of 23/32
Variable-pitch groove walls and groove bottom protectors in the center grooves protect against stone drilling
Reinforced bead package with a wide metallic chafer
Available in a 445/55R22.5 size
Michelin Tire Corporation