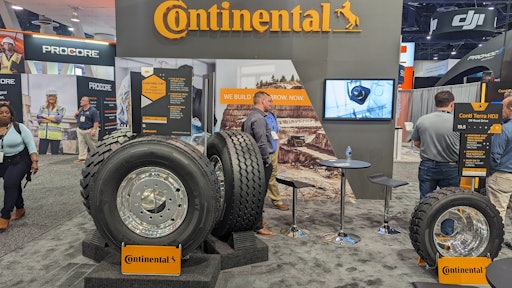 Continental AG
Continental AG reinforced its focus on providing digital and connected solutions for work vehicles and the off-highway automotive industry at CONEXPO in Las Vegas, Nevada. During a press conference at the event, the company presented several robust products for construction vehicles.
ContiConnect 2.0 Advanced
ContiConnect 2.0 Advanced is a seamless tire management solution for fleets. The digital platform connects to a small Bluetooth sensor which closely monitors the status and performance of tires. The sensor is very compact and is typically installed at the factory. It can also be installed by operators in the field when equipped with a protective patch. Continental showcased the sensor and the patch at its booth during the press conference.
Customers can track tire temperature, tread depth, real-time condition and more without needing to manually inspect the tire when the sensor is installed. This solution is designed to save operators time in the field and enables equipment managers to maintain their assets from a distance.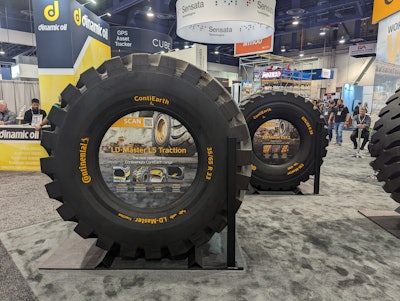 "ContiConnect 2.0 Advanced offers haulage companies the advantage of greater fleet efficiency through reduced costs and time savings, as maintenance and workshop appointments can be planned in advance," said Dushyanth Rajagopal, product manager digital solutions at Continental.
Automotive Lighting and Safety Insights
We spoke to Liam Dent, special vehicles program head North America from Continental, about the company's LED lighting products for construction vehicles. The new products include a portfolio of LED lights that can be mounted on excavators, compact track loaders and trucks using an adjustable surface mount bracket. Dent mentioned the lights are all IP67 rated for durability. This rating ensures the lights are waterproof and can withstand exposure to debris, rain and moisture in rugged jobsites. A polycarbonate lens provides additional protection for the products.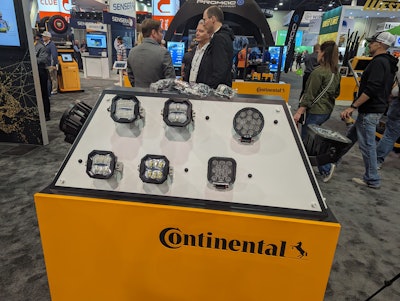 "The Special Vehicles program within Continental is focused on bringing automotive solutions to the construction, agriculture and mining industries. We focus on off-the-shelf solutions," said Liam Dent, special vehicles program head North America, Continental.
Dent believes the company's line of lighting products address "safety and awareness for vehicle operators" through illumination. "Products such as camera systems and lighting do this," explained Dent.
Continental's LED work lights are available in various configurations to meet the lighting requirements of operators or projects in the field. Customers can choose from various lighting configurations, such as spot or flood. Additionally, customers can choose from different lighting output levels, also known as lumen output. The company's line of LED work vehicles also includes LED light bars, a horizontal light with a slim profile. This type of lighting solution can be installed on flat surfaces.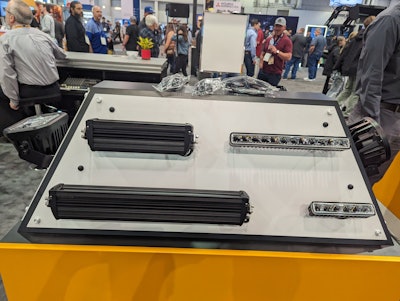 Notably, Continental's work lights all utilize LED technology. This solid-state technology is a major upgrade from traditional halogen or incandescent work lights. With an expected lifespan of 50,000+ hours, LEDs also last longer and consume less energy compared to traditional lighting technologies. The decision to only offer LED lighting suggests the company is actively looking to meet the future needs of its customers.