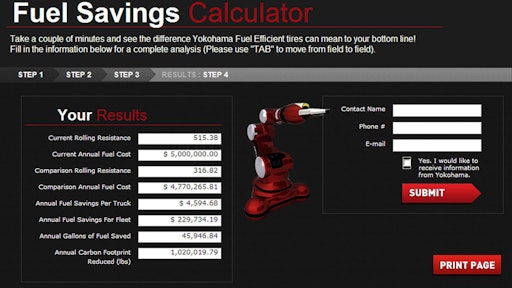 Yokohama Tire Corporation's interactive Fuel Savings Calculator has been updated with an expanded database of Yokohama's fuel-efficient tires and competitors' tires allowing side-by-side comparisons. 
"The updates include more data points on Yokohama tires as well as our competitor tires to allow users expanded comparisons of our fuel-efficient tires, including our Zenvironment line, against others," said Rick Phillips, Yokohama director of commercial sales. "Plus, we've added a print functionality that fleet owners have asked for."
The savings are shown in three ways: Annual Fuel Savings per Truck, Annual Fuel Savings for Fleet and Annual Gallons of Fuel Saved.
The Fuel Savings Calculator also has a 'green' benefit because it shows the total carbon footprint reduction of Yokohama tires compared to its competitors.
Companies in this article