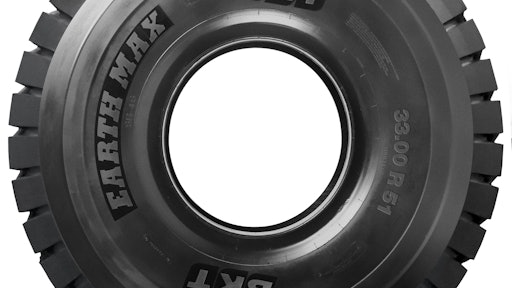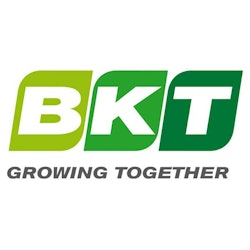 BKT's plans for bauma, the world's leading trade fair for construction machinery, held at Munich from April 8 to 14, include presenting a Giant tire showing a number of notable features in its exhibit in Hall A6 Stand 215.
The EARTHMAX SR 46 is targeted for rigid dump trucks operating under adverse conditions in rocky environments such as mines, dams and the construction sites of large building structures. Previously available in the 49-in. version, the pattern will be officially showcased at Bauma in the largest size ever built by BKT, namely 33.00 R 51. The 51-in. tire features a diameter of over 3 meters (118 in.) – to be more precisely: 3,075 centimeters. It is 975 centimeters wide and weighs not less than 2,400 kg (5,291 lbs.).
This tire is particularly suited for transporting heavy loads. It offers optimal cut and chip resistance for an extended product life cycle. Impacts, mechanical stress and punctures are reduced to a minimum thanks to the steel-belted casing, which optimizes operating hours and maximizes productivity.
Another distinguishing mark of EARTHMAX SR 46 is the special tread design showing a block lug pattern with circumferential grooves, resulting in reduced wear of its external part plus enhanced cornering performance.
The entry of a new Giant size into the tire lineup is a strategic choice taken by the company in line with the more technological machinery solutions that are continuously increasing in dimensions. BKT is well aware of the fact that the tire, as a fundamental component of the machinery system, is able to significantly enhance both the latter features and performance. For this reason, BKT cooperates side by side with the big machinery manufacturers in order to offer state-of-the-art solutions.
BKT Looks to Technology, New Materials to Achieve 10% Global OTR Market Share Goals