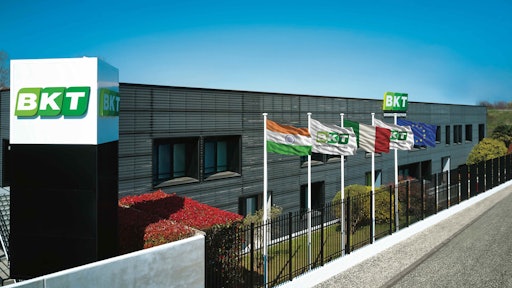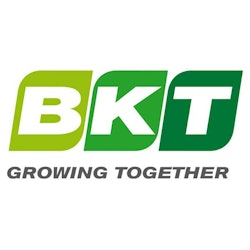 Inaugurated on April 5th, BKT's new European headquarters in Seregno at the outskirts of Milan has been completely renovated to convey the company's goal of achieving the "Next Level". 
"Creating our new headquarters is more than just an architectural project. For us, it also has an underlying strategic meaning," explains Lucia Salmaso, CEO of BKT Europe. "We are constantly striving to increase our presence and market share in Europe and, above all, to get closer to our European OEM customers. Our goal is to permanently strengthen the presence of the BKT brand with Original Equipment Manufacturers (OEM), and we know how to achieve it. We have already opened many doors with our Aftermarket references and continue forging ahead with new opportunities. Our new headquarters has a key role in this regard.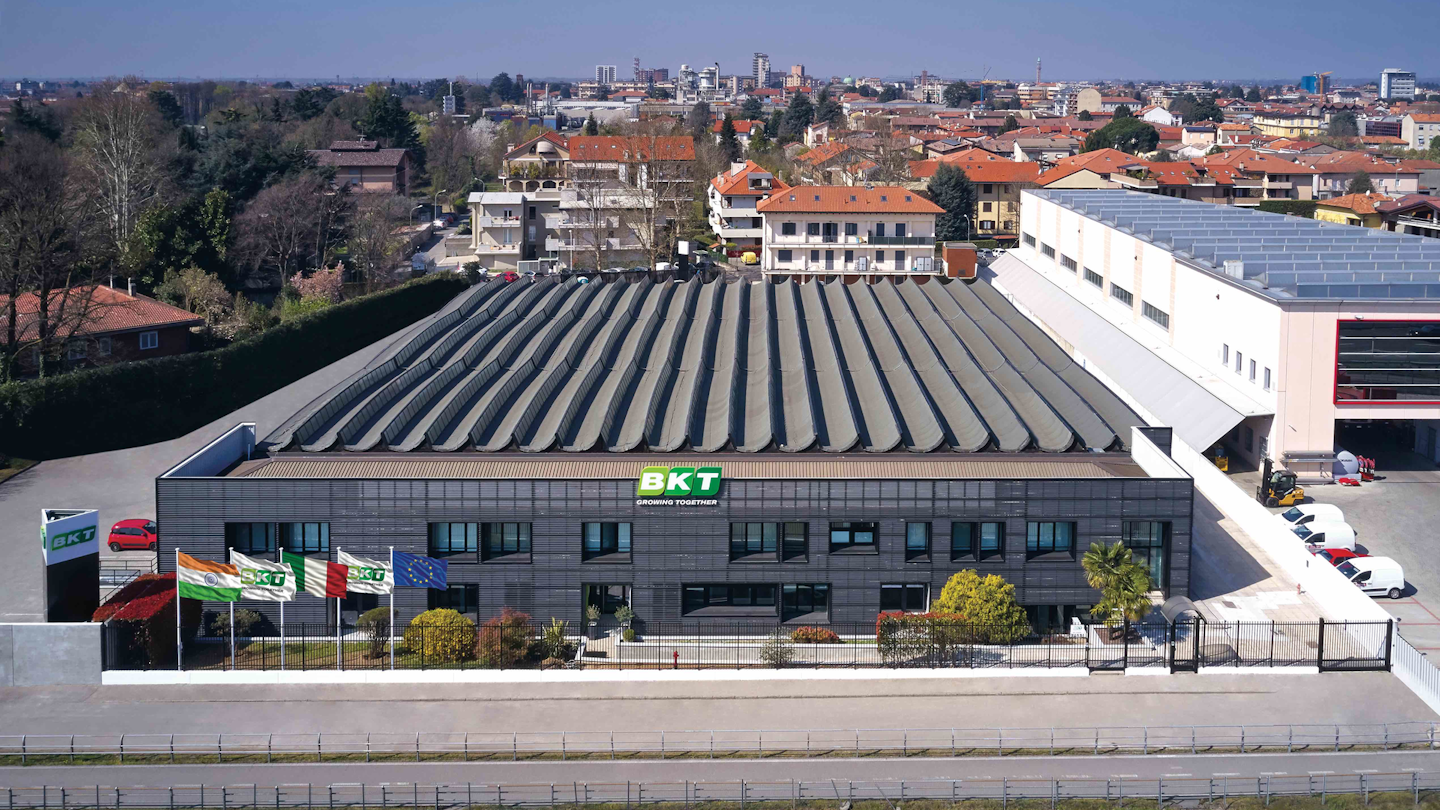 "We will now be much stronger than we ever have been in every area and every segment in Europe: agriculture, industry, earthmoving, mining, port handling activities, gardening and ATV," she continues. "Now that we have one of the most complete ranges on the market and an increased production capacity thanks to our most recent Bhuj plant, we are ready to grow."
The European market has proven to be essential for the company, representing 50% of BKT's turnover, which surpassed $900 million at a global level last year.
The new offices span 500 sq. meters, optimized for the different areas of expertise: technical interventions, logistics, original equipment management, marketing and corporate management. The new, larger warehouse, which was built to consolidate the decentralized ones previously located at other sites, is now in the same structure to refine the logistics flow.
A Space for Off-Highway Tires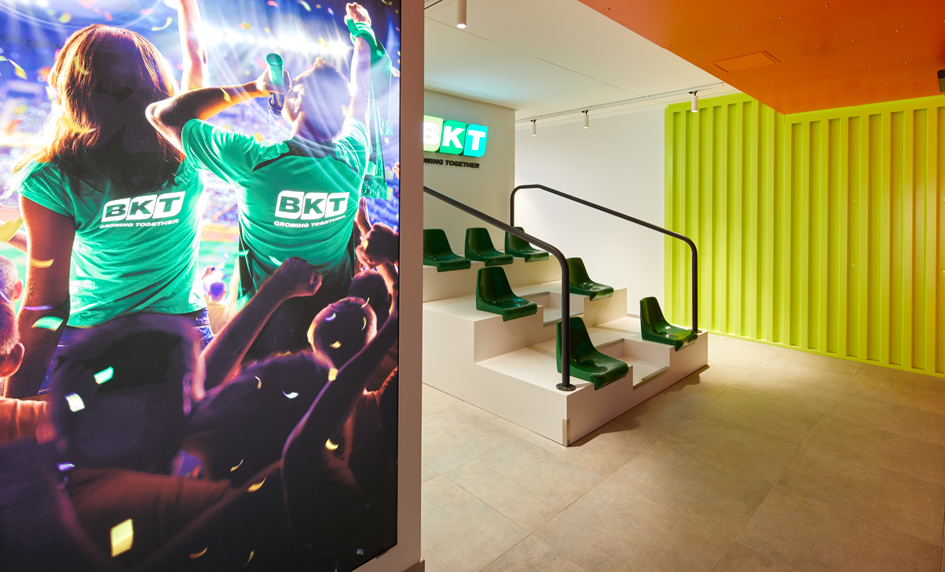 The new structure also houses BKT Space, a unique information and technology center for specialized tires. It is equipped with an auditorium and training facilities for up to 50 people, suited for organizing conferences, technical meetings and small events.
BKT Space is dedicated to the company's partners, distributors, customers and detailers, and will be used freely and independently as a highly specialized Off-Highway tire center. It was conceived as a metaphorical and real journey through different themed rooms, letting visitors actively discover and experience the history, philosophy, values, products, challenges and even the future of BKT. It includes:
Interactive Tunnel – Stargate into the BKT world: The company's history is showcased along this 7-meter-long tunnel full of digital tools for an in-depth analysis of BKT's trajectory from foundation to the present.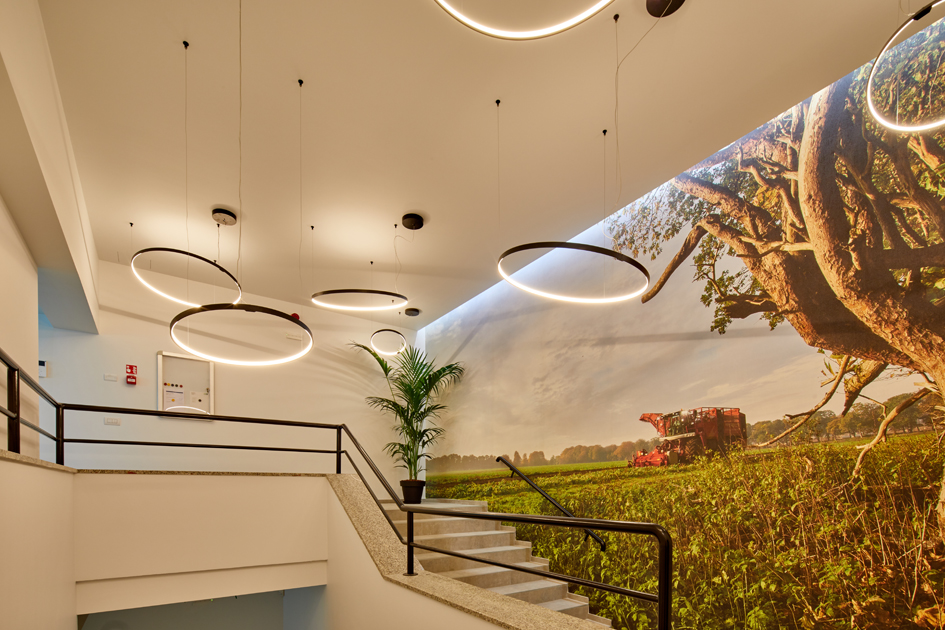 Tire World – a room all about the tires: this space houses an interactive touch wall dedicated to several BKT product applications where visitors can explore the various business areas through photos and videos, including agricultural, industrial and earthmoving sectors. The room also has an interactive table that seats up to eight people and a section dedicated to the raw materials used in tire manufacturing, whose history and function in the compound can be viewed.
VR Space – virtual trip to Bhuj: Four VR stations let visitors take four different routes to explore BKT's Bhuj plant (in the Indian state of Gujarat). Bhuj is known for prominently exemplifying a social factory, which houses not only the production but also the entire BKT employees' community, including recreation centers, common areas, healthcare center, school and various services.
Sports Center – stadium seating: Sport is the perfect vehicle for sharing the BKT values of teamwork, fair play and respect for the opponent. For this reason, the company sponsors major sporting events all over the world. This room is a tribute to sports and simulates stadium stands, where visitors can sit and enjoy BKT sporting videos.
Game Space – where work becomes play: This section is equipped with video games and a simulator of specialized machinery equipped with BKT tires.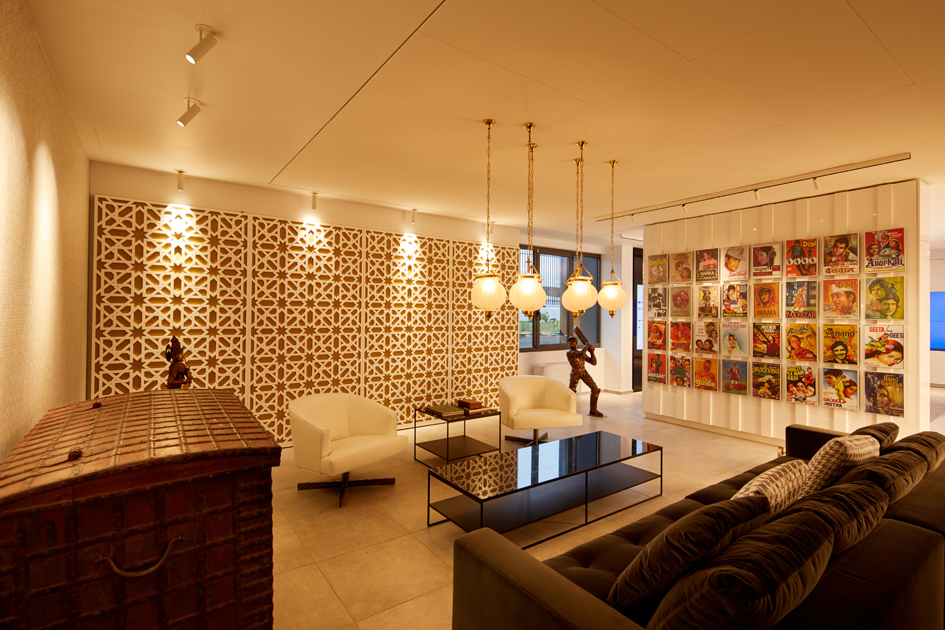 Relax Lounge – a trip down memory lane: The company has never forgotten its roots and traditions. This silent room honors this expansive connection in time and space. The room is full of vibrant colors, tradition and representative cultural elements for an unexpected sensory experience.
With BKT Space, the company has built an authentic Task Force Center to address the present and the future.
"We are at a watershed moment," states Rajiv Poddar, Joint Managing Director of BKT. "Here we can embrace market challenges and launch them all in turn. Our very first aim is to understand the priorities and needs of our customers. We will be able to do it best at this new space, a totally innovative and technological work environment that we will use to demonstrate that we are capable of measuring up and even more. We will prove that we are ready to reach the 'Next Level'."
BKT's European subsidiary has evolved swiftly since it was founded in 2006 to oversee global strategic and operational marketing and communications functions for the entire group and manage OEM sales in Europe. BKT Europe also has a field-ready technical team capable of responding proactively with specific training on and for the optimal use of products, and reactively in case of any need for support and troubleshooting.
BKT Expands Tire R&D with a Focus on Sustainability
BKT Looks to Technology, New Materials to Achieve 10% Global OTR Market Share Goals