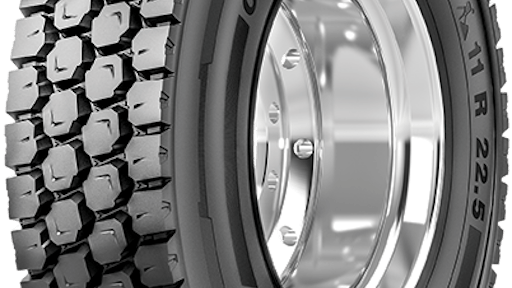 The HDC 3, delivers significant benefits over the previous product, HDC1, with an estimated 15 percent improvement in life expectancy. 
New tread pattern delivers lateral traction throughout tire life.
Features self-cleaning design to prevent stone drilling.
The tire has a broad, even-pressure footprint for improved wear, traction, and cut resistance.
It is built on Continental's 3G casing with 250 mm wide tread platform – wider than the Michelin X Works XDY, Bridgestone M799 and Continental HDC1.
A wide tread platform delivers increased mileage and longer tread life.
The Conti HDC 3 has a 30/32" tread depth and is currently available in the following sizes: 11R22.5 LRH, 11R24.5 LRH. It is also available in a matching retread, ContiTread HDC 3, available in 210 mm, 220 mm, 230 mm, 240 mm and 250 mm widths.
Request More Information
Fill out the form below to request more information about
Continental releases the Conti HDC 3 drive tire