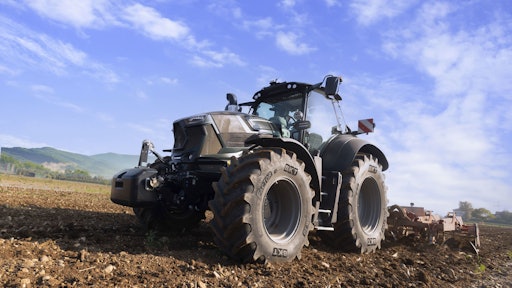 BKT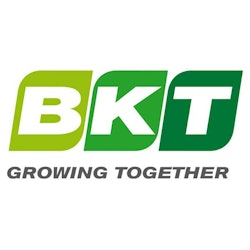 BKT has launched AGRIMAXFACTOR, the company's brand-new 70 series for tractors that suits both transport and soil tillage operations. AGRIMAXFACTOR is a new name for a new tire identity. The product is the company's response to requests for a bigger tire.
The tread design features increased lug length and updated lug orientation and angle for the purpose of providing handling and roadability.
Stability plus steering response – even at high speeds and under heavy-duty service – are supported by a strong carcass made of polyester, a material that replaces nylon. In particular, there are six polyester belts and four strong polyester plies providing stability at various speeds.
As the first product, AGRIMAXFACTOR displays the "E-READY" logo as a sign for BKT's commitment towards electric mobility that will be extended to all products falling under this category. This also highlights BKT's commitment to anticipate market needs by means of innovative and specific technologies. Electric vehicles represent new challenges and different needs, requiring high torque moment and higher weight on the tire. A high torque requires the need of new tread designs and compounds that are able to better resist wear.
Not to be overlooked are the aesthetics of this new product: The AGRIMAXFACTOR logo on the tire uses the same BKT font with the "F" for FACTOR at the center within a dynamic shape.
AGRIMAXFACTOR is available in the following sizes: 600/70 R 30, 710/70 R 42 marked by the load index/speed symbol 173 D and 710/70 R 42 marked by the load index/speed symbol 176 D. Not less than twelve additional sizes are under development and will be ready for launch by the first half of 2023.
Request More Information
Fill out the form below to request more information about
BKT Showcases Heavy-duty Tires for Tractors