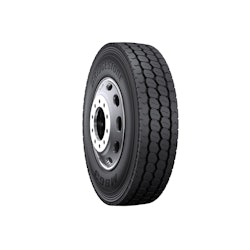 Bridgestone

Bridgestone Americas has introduced the M863 all-position radial tire designed to help performance for on- and off-highway fleets. The new Bridgestone M863 provides a solution to equip tough trucks, concrete mixers, dump trucks, construction fleets, logging trucks and more.
"When designing the Bridgestone M863, our goal was to produce an all-position tire without trading off its durability, retreadability, or performance on- and off-highway," said Steve Hoeft, president, commercial truck group, Bridgestone Americas. "We believe the versatility of the M863 will maximum performance and efficiency for fleets."
With the M836, on- and off-highway fleets can utilize the same product in several different positions when a more aggressive tread is not needed. The 4-belt construction on the M863 delivers durability and a premium casing for maximum retreadability. Other key features of the M863 lineup include:
Stone rejector platforms: Help prevent trapped stones from pushing deeper into tread grooves and piercing the belt layer, damaging and exposing belts to rust
Block sipes: Promote traction by slicing through water for a solid grip on wet roads
Stabilizing tie bars: Help reduce block squirm to fight irregular wear and extend tread life
Wide flow-through grooves: Evacuate water for solid wet traction
The Bridgestone M863 is currently available in four sizes: 11R22.5, 11R24.5, 315/80R22.5 and 12R22.5, with more sizes expected to become available in 2023.
To unlock the full potential of the Bridgestone M863:
Get the most out of your tires with Bridgestone Bandag retreads.
Empower your fleet with Bridgestone Fleet Care, a customizable suite of mobility solutions. The M863 can be supported by solutions like tire-monitoring service IntelliTire, which provides real-time data on tire pressure monitoring, temperature, speed and more to detect and avoid tire issues before they happen.
The M863 product line aligns with the Bridgestone E8 Commitment. The Bridgestone E8 Commitment consists of eight Bridgestone-like values starting with the letter "E." The M863 product line aligns with the "Efficiency" and "Economy" values.
Request More Information
Fill out the form below to request more information about
Bridgestone Launches M863 Radial Tire for Fleets