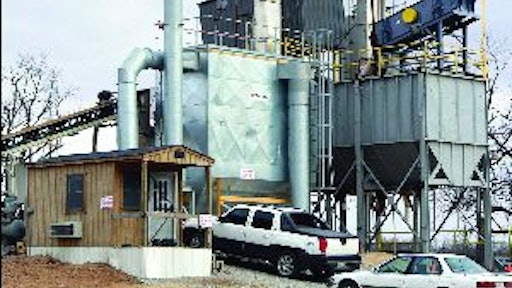 With the advent of screen manufacturers willing to invest hundreds of man-hours of engineering time and thousands of dollars in materials to create heavy-duty, tailor-made screeners, plant managers and engineers can now receive equipment optimized for their specific operation, without sacrificing the ruggedness previously only available through one-size-fits-all choices. The payoff yields faster installation, increased throughput, less maintenance, and longer equipment life — all of which points to a faster way to profits.
SMICO Mfg. Co. Inc., Oklahoma City, OK, provides both stock and customized screening and sifting equipment to various industries, including aggregate, mining, construction, stone, and more. The company's product line includes: conveyors, separators, feeders, sifters and vibrating screeners ranging in sizes from 12"x 1' to 8"x 20'.
They begin by collecting pictures, drawings, blue prints and material samples — the latter of which is analyzed in the company's on-site test facility. Given its 70-year history of evaluating materials, the company passes along its non-recurring engineering savings onto the customer.
Starting with this information, the process of customizing screens — especially for retrofit applications — continues with the consideration of three "F" words in engineering: form, fit and function.
Starting with form, modifications to conform to the profile and footprint of any screener should ideally be undertaken by the manufacturer of the equipment, not the end user. For example, moving the drive to the center of the machine, as opposed to the more standard top location, can help fit a large screen into a factory with a low roof.
Linear-design screeners represent another example of separation equipment and vibration shakers that are particularly suitable for space, weight, and clearance issues. Screens with side-parallel conveying motion also allow leeway in form, as they can be manufactured in variable sizes from three to eight feet wide and from six to 20 feet long.
Perhaps the most challenging aspect of customizing equipment is fitting it into existing mountings. After-the-fact adjustments of conveyors and other feed and take-away systems can slow down the process of installation, and, at worst, result in inefficient material handling.
The best of customizers are willing to do the up-front work to make sure the new screener drops readily into place when delivered. For instance, screeners should offer a choice between suspension or base mounting.
For direct replacement, the exact duplication of function stands as the overarching goal. Today's demands to push through greater volumes, though, often dictate increased functionality over that of the original screen. Again, customized equipment most readily fills the bill.
Here, the equipment designers must select the drive and method of screening that best fits the application at hand. If maximum throughput is the objective, then rectangular screens prove the better choice over round, as the rectangular design consistently yields greater throughput given the same amount of surface area.
Harsh environments, of course, scream out for application-specific screeners. Take the case of mine tippers (breakers), where there is usually much structural movement. By employing a two-bearing, positive eccentric, oil-lubricated screener design, SMICO, for one, manages to handle the abuse by allowing the screen surface to wobble within its spring-mounted casing. In this manner these "GYROSETSTM" absorb tremendous shock and continue operation with little maintenance. Adjustable pitch. and eight different strokes increase their application-specificity.
For instance, dual-deck vibrating screeners can be ruggedized with four bearings, as opposed to two, to ensure that it is able to handle demanding tonnage per hour requirements. For extreme cases, SMICO selects bearings the way mil-spec parts were selected: by only accepting the top 10 percent of the run. The use of hardened materials such as A516 carbon steel adds to a screen's increased strength and durability, allowing future refurbishing that can keep a screen operating in the field for 15 to 20 years or longer.