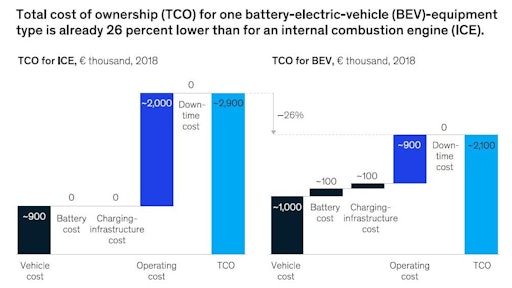 McKinsey & Company
Powertrain electrification continues to advance, and the heavy machinery and equipment industry is no exception. Even though there are currently few models commercially available, new battery electric vehicles are being introduced and are coming to the market. In certain equipment segments, the total cost of ownership (TCO) could be up to 30% lower for battery electric vehicles than for their conventional diesel-powered counterparts. Under certain assumptions, savings of more than 60% on operating costs (for example, for fuel and maintenance) more than balance out the higher price of an electric vehicle and battery, which could cost 30% to 90% more.
These findings emerged from a new McKinsey study, "Heavy machinery & equipment: Capturing the industry's electrifying momentum." The management consulting firm published the report to coincide with bauma, the world's largest construction equipment trade show, which took place in Munich.
Report: Harnessing Momentum for Electrification in Heavy Machinery and Equipment
"Electromobility is on the way," said Andreas Tschiesner. "The rapid development we are seeing in passenger cars and buses today could soon also happen in heavy machinery and segments."
Lower TCO will not be the only factor driving a faster pace of electrification. "In many cities and countries, limits on particulates, nitrous oxide emissions and noise are tightening – and meeting them is easier with electric heavy machinery and equipment," Tschiesner noted.
Furthermore, recent years have brought significant improvements in terms of both available charging technology and battery performance.
"This will provide significant interesting opportunities for players across the value chain, as the emerging profit pools can be measured in the tens of billions of USD. Engaging in this field will also imply new competence and capability needs in technology and business model development," said Andreas Tschiesner.
Based on electrified products, heavy machinery and equipment OEMs can take the lead in developing these new technologies, while also developing new business models, such as complete packages for energy optimized operation or battery leasing. The shift to e-mobility means that value chains for suppliers could change significantly. As a result, there is an opportunity to develop competence in new areas and attract new talent.
Learn more:
Survey Shows Electrification in Heavy-Duty Equipment is Here to Stay
[VIDEO] Technology Trends Poised to Disrupt the Construction Equipment Industry