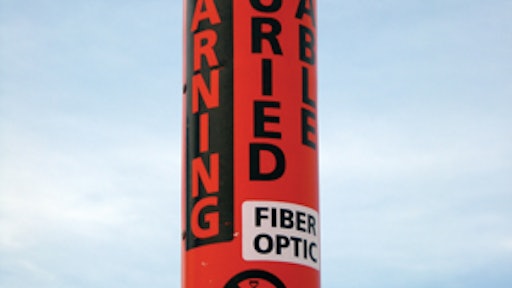 Underground utility installation remains a bright spot in the current economic slowdown. There is a lot of fiber optic line still being installed, and many electric companies continue to bury electric power lines.
But you need the right equipment to compete, and over the last few years that has increasingly meant horizontal directional drills. While trenchers and cable plows still have advantages in specific applications, an increasingly congested network of existing utilities favors directional drilling.
Maximize speed and efficiency
St. Cloud, MN-based Dig America Utility Contracting has 20 years of experience, specializing in telephone, fiber optic and electric utility installation. "We normally have four or five crews going on different projects at one time," says Rich Wieneke, project manager. The company owns Astec and Vermeer directional drills, as well as Case backhoe-loaders.
Due to the nature of its projects, Dig America doesn't do much trenching anymore. "Most of the areas are now directional drill areas," notes Wieneke. "There are a lot of areas where you have two telephone companies, you have cable television and gas. "By the time you do all of your potholing and try to get your cables underneath everything, it is easier to directional drill, pull back your pipe and pull your cable through it. There is so much time savings, it is unbelievable."
For example, one client wanted to place underground electric line. "You have sprinkler lines, you have gas lines to barbecue grills and electric lines going to garages," says Wieneke. "You directional drill and you are underneath all of that."
Dig America also uses cable plows and backhoe-loaders for utility installations. In many instances, a backhoe-loader may be more productive. "It depends on the existing utilities and the kind of ground," says Wieneke. "The problem with the trencher is unless you have a wide open area, you are doing more potholing under your utilities. It is easier to just take the backhoe and dig it or a directional drill and pull back a piece of pipe."
A recent project bid required Dig America to directional drill more than half of the 3/4-mile installation. "We bid this whole project as directional drill," says Wieneke. This was due to the economics of hauling another piece of equipment to the jobsite, plus the cost of the restoration. With the drill, there was no restoration involved.
The speed of the directional drilling is also an advantage. "If you have good ground, there is no reason you can't do a couple of thousand feet a day," says Wieneke. "My best day trenching was 1,900 ft. That was in ideal conditions. Then you spend another half day backfilling, tamping and restoring it. With a directional drill, you do that same thing in one day. The only restoration you have is this little 6-in. hole where you located the utility."
Another advantage with directional drills is the ability to run bore logs. "[With] every rod, we know exactly what pitch it is going down, what depth it is at, where it is laying," says Wieneke.
Contrary to what you might expect, Wieneke believes the locating process actually requires more skill than the drilling itself. "Kids that play Nintendo on television - we find those are our best operators," says Wieneke. "Most important is the guy who is running the locator for the directional drill. It takes a little experience. He usually works with somebody to figure out, 'I have to go under this utility and then correct myself.' That takes the most time."
So far, Dig America has not found any types of soils the drills couldn't tackle with the right drill head installed. "You can go 100 miles and have completely different soil conditions," says Wieneke. "We have drilled solid rock, clay, swamps where it is just muck. We have done everything with it." You simply need to attach the appropriate drill head for the application.
Navigate congested areas
Sellenriek Construction, Jonesburg, MO, an underground contractor with 30 years experience, installs telecom, electrical and water and sewer lines. The vast majority of its work is now done with its Vermeer directional drills, although the company does have Vermeer and Ditch Witch trenchers. "We just finished a trenching project, but it is rare," says Heath Sellenriek, estimator and project manager.
The choice to drill on most projects comes down to more than cost per foot. You also have to take into account the initial purchase price and the cost of operation.
"Directional drilling is more expensive," says Sellenriek. "Drills are maintenance intensive. The power units are durable, but pipe and drill heads are expensive. Trenching with restoration is still cheaper." Yet, trenching just isn't practical in areas with a lot of existing utilities.
Recognizing the large up-front investment, Sellenriek makes sure operators are properly trained. "We are picky about who we put on the drill," he states. The nature of a directional drill also means you need highly skilled locators. "The employees starts out running the drill, then are moved to location." He emphasizes that location is the key to a successful job and only the most experienced employees are assigned to the task.
Work in sensitive areas
MP Nexlevel, Maple Lake, MN, primarily installs communications fiber optic cable, electrical and sewer and water lines. Across the U.S., its equipment fleet includes directional drill rigs, trenchers, cable plows and support equipment. In the Minnesota office, Jay Fischer, equipment manager, reports there are currently about five directional drills in the fleet for every trencher. The company runs primarily Vermeer and Ditch Witch equipment.
In recent years, there has been a shift to directional drilling as the standard for product placement in congested areas with existing utilities, and environmentally sensitive areas. "In fact, the trenching is limited," says Fischer. It seems like it is going away more and more. There is still some fiber to the home that needs to be trenched because of the ground conditions. If you get into some really tough ground conditions, sometimes a trencher may work better than the drill."
Some of the smaller trenchers in the MP Nexlevel fleet are equipped with cable plows. "We do more cable plowing than we do trenching," says Fischer. But the trenchers come in handy during the winter months. "In the winter, when the ground is frozen, you can't plow utilities in. You can trench it if somebody wants the work done. It seems like in the summer, the work with trenchers, especially in this area, has really decreased."
But the trenchers still offer advantages over directional drills in select applications, such as installing electric cables in rural locations. This requires both drilling and trenching. "Your road crossings are drilled," says Fischer.
Consider costs of operation
According to Fischer, directional drills are pretty high maintenance machines due to the tooling, heads and bits. "Every year and a half or so, you will change the pipe," he notes. "There are different wear items, but most of it is related to the pipe."
Of course, he adds, "There are a fair amount of wear items on the trencher, too." With the trencher, most of the cost is related to the chain, boom and carbides or cutters.
MP Nexlevel carefully tracks maintenance costs to determine directional drill replacement cycles. "The oldest that we have is probably an '03," says Fischer. "When they get up to the 5,000-hour range, the maintenance gets too much. We don't have a set time, but after seven years/5,000 hours, the maintenance starts to increase."The trenchers in the fleet have a longer service life, largely due to lower utilization. "The trenchers don't get near the hours that our drills do," says Fischer.
Companies in this article