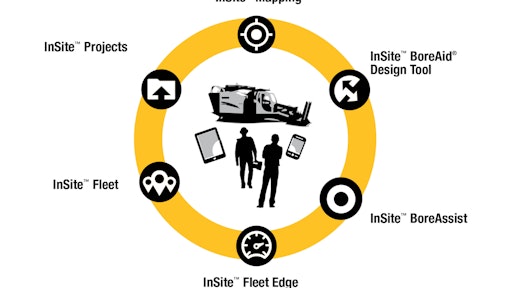 For many horizontal directional drilling (HDD) contractors, the actual drilling is the easiest part of the job. Getting the necessary information from the mounds of paperwork is the real challenge.
"There is a lot of wasted time to get nuggets of information to make decisions," says Jon Kuyers, senior global product manager, Underground, Vermeer Mfg. "The contractor doesn't have information to help his crew do what they do best — put product in the ground. This requires the right information at the right place and at the right time."
Looking beyond the HDD machine, Vermeer has developed InSite Productivity Tools to help HDD contractors streamline and simplify the entire job process from planning to invoicing, allowing the contractor to more easily document project work and eliminate the traditional flow of paperwork. "InSite is software that collects and conveys information," explains Kuyers. "It helps multiple stakeholders make better decisions throughout the job. It helps streamline the jobsite process and the job itself, which gives them more time to pursue the work."
By combining documentation, bore planning, data collection and remote monitoring components, InSite Productivity Tools can help a contractor better manage his business from planning to mapping and producing to invoicing. The tools can be used individually or work together seamlessly, and can be accessed by multiple parties, making collaborative work and real-time information sharing possible.
"Project owners are demanding more information, which is making the current planning and record-keeping processes complicated and messy," says Kuyers. "InSite Productivity Tools eliminate the old manual, on-paper method and provide an accurate, electronic documented record of the entire project, which helps expedite invoicing."
A Suite of Tools
Through its research, Vermeer identified four particular problem areas for contractors: jobsite planning, mapping, producing and invoicing. To address these issues, InSite Productivity Tools were developed with the following components, which can be used individually or bundled together: InSite Fleet and InSite Fleet Edge, InSite Projects, InSite Mapping and InSite BoreAid Design Tool. All of these products together can help HDD contractors improve their efficiency.
InSite Fleet and InSite Fleet Edge — InSite Fleet provides fleet and operations managers with the GPS location of machines to better locate and route equipment and crews to the jobsite. It captures planned maintenance and completed services and categorizes both machine idle times and fuel consumed.
InSite Fleet Edge conveys actionable machine information, including productivity tracking, maintenance prioritization, fuel savings estimation and project time management for operators and fleet managers. It also consolidates a log of relevant machine data such as forces, pressures and flows. InSite Fleet is available now on D24x40 S3 Navigator through D220x300 Navigator horizontal directional drills. InSite Fleet Edge will be available in January 2016 on select Vermeer drill models.
InSite Projects — This planning tool is used to map a jobsite and plan a bore using an application that can be accessed via a computer, tablet or smartphone. All project data can reside in one repository and be shared electronically with project owners and inspectors to speed up approvals. Once the job is complete, the user can export a professional report on all aspects of the project, helping to expedite invoicing.
InSite Mapping — A GPS-enabled mapping application is used to accurately white-line or mark a proposed bore path and help document the position of existing utilities. Data is entered into InSite Projects to generate a visual map (bird's-eye view) of proposed and existing utility lines or landmarks. The mapping application is compatible with a variety of GPS devices.
InSite BoreAid Design Tool — This is a planning and design software package that guides the user through a bore planning process using soil information, product type and properties, physical obstacles and other key elements to provide a comprehensive understanding of feasibility and identify issues that may arise during a drilling operation. The tool gives the user a precise and detailed plan in line with industry standards and best practices to complete a drilling operation. The user can generate reports for the anticipated bore plan and feed information into the bid documents or operational plans while ensuring compliance with relevant industry standards. InSite BoreAid is available now.
InSite BoreAssist — Developed in collaboration with Digital Control Inc. (DCI), this on-rig application allows a bore plan to be viewed on the DCI Aurora display, eliminating the need for paper plans. Locate data is logged from the DCI F5 locator directly into the application. Users simply load the bore plan into the Aurora display and they can then follow the rod-by-rod plan. The operator can also note deviations to the plan based on field conditions and potential in-field bore plan modifications, as well as design a simple bore in the field using templates that can be transferred via flash drive back to a desktop computer.
InSite BoreAssist allows you to record as-built information, so you are no longer relying on the operator's rod-by-rod notes, which can be easily misplaced.
From bid to bill, InSite Productivity Tools offer a set of applications to help underground contractors better plan, map, produce, invoice and manage horizontal directional drilling projects — all leading to less paper, and real-time access to the vital information they need in the office or field to make critical decisions.