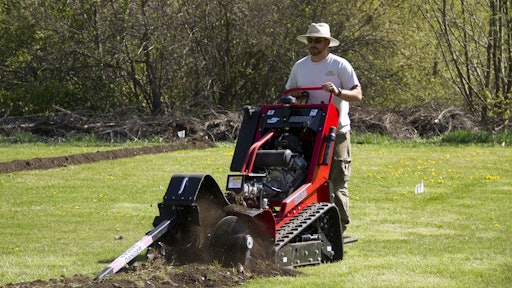 Walk-behind trenchers are no one's favorite machine to use, but they do serve an important purpose for your customers and your inventory. These machines have seen many technological improvements over the years and we asked leading manufacturers to tell us what's new.
Rental: What are some general trends in walk-behind trencher design?
Andrew Schuermann, product manager for trenchers and compact utility equipment, Ditch Witch: Tracked trenchers are a newer trend in walk-behind trencher design. Ten years ago, all walk-behind trenchers were designed with rubber tires. Today, the market is trending toward rubber tracks versus rubber tires. Tracks offer the operator improved flotation over rubber tires, and provide the guarantee of no flats on a job. For customers wanting a lower upfront cost on their walk-behind trencher, however, there is still a market for rubber-tire machines.
With this market trend in mind, the new Ditch Witch CX-Series walk-behind trenchers are designed with rubber tracks. The machines have a longer track on the right and a shorter track on the left, providing more balance, ground-traction and maneuverability in tight spaces – a patent-pending design. This track design also helps center the digging attachment for improved productivity on the jobsite.
Tim Phelps, product/sales manager at Barreto Manufacturing: Tracked machines with steering capabilities are one of the main trends we see. Hydraulic steering, or skid-steer type steering, is improving the operator experience with walk-behind trenchers.
It's such a trend, you might think the industry is trying to forget about the old-style wheeled trenchers, but we believe there's still a place for those too. Tracks offer many benefits, but they accommodate the deeper dig depths more so than the smaller ones. There are times when a customer doesn't need all the features that a tracked trencher provides, so we've grown in both directions. We offer our new RTK and TKD tracked models on the larger end, and our line also goes down to our 9-hp 912 and the 7-hp 712 MT on the smaller side. These wheeled units are easier to transport and are generally more compact, so they make more sense for smaller, simpler jobs.
And for customers with jobs like that, the biggest benefit is the price. A small wheeled machine costs a lot less than a tracked machine, so it will rent for a lot less too.
Matt Hutchinson, product manager, tree, rental and landscape, Vermeer: Walk-behind trenchers are predominantly sold into the rental market. Uptime of the machine and the ability to turn the unit quickly between jobs is crucial in maximizing the profitability of a small trencher, especially since they are dedicated to one task, and their use may be limited by seasonality based on the region in which they are sold. With that in mind, serviceability is a critical design goal for walk-behind trenchers. The ability to perform daily service checks — without the use of tools or having to remove shields — helps ensure that machines are being checked more frequently. Having accessible and well-identified grease points also helps with proper machine maintenance. Walk-behind trenchers are predominately powered by hydraulics, eliminating belts and mechanical drive components that wear and need adjustment over time. Hydraulic systems have proven to be more reliable and have a lower total cost of ownership.
Rental: What is being done to make walk-behind trenchers easier to use?
Phelps, Barreto: On the larger, tracked machines you have hydraulic steering to make them more maneuverable. To make our smaller machines easier to use, we incorporate a hydraulic system that makes them automatic. Once the operator has the boom down to depth, they just pull both the chain lever to start the chain, and then another lever to start the wheels. The machine, through its hydraulics, automatically adjusts the wheel speed to the load on the digging chain so the operator doesn't have to be conscious of how fast they're trenching. This makes it much easier to use.
This load-sensing hydraulic valve feature is unique to Barreto and it's only found on our 712 MT trencher. Without it, the operator would have to adjust the wheel speed or travel speed; they'd have to be constantly making adjustments according to what's happening in the ground. This can be hard to understand and frustrating for novice users.
On our tracked trenchers, we've redesigned the controls to make them easier to understand and operate. Fewer levers is the key. To achieve this, we've moved away from a cable actuated system to direct rod linkage. Eliminating the cables and going to rods allowed us to eliminate a clutch lever. Now the chain is engaged with just one hand, the same hand used for forward and reverse controls.
The old system used six cables to drive the tracks. Now we do that with two rods. It simplifies the machine for the better.
Hutchinson, Vermeer: Along with the hydraulic trencher drive, Vermeer utilizes a hydrostatic ground drive system in all of its [tracked] walk-behind units. This gives us the ability to incorporate steering into the units. Vermeer walk-behind trenchers use our patented VZ-Steer system, which allows you to intuitively steer the machine to and from the work site, and guide the machine while trenching. Your hands are guiding the machine, while they remain comfortably on the control arms, rather than constantly manipulating ground-drive levers, which may cause fatigue over an extended period of time.
Additionally, the track-drive system has several benefits including flotation, meaning you can use the machine in ground conditions where rubber-tire machines may sink or lose traction. Tracks also provide the ability to cross existing trenches more easily when installing an irrigation grid or drainage system.
Schuermann, Ditch Witch: Intuitive, easy touch controls have been incorporated into the design of our machines to make them easy to use. Our new machines offer ergonomic controls, providing the operator with a responsive machine that is easy to use, even when operating for long hours on the job.
Rental: What features contribute to greater durability?
Hutchinson, Vermeer: We are continually assessing the wear items on walk-behind trenchers and finding better seals and bearings to stand up to the various soil conditions. We also look at chain and sprocket design and configuration to ensure we have a long-lasting, smooth-operating cutter system. The move from tires to tracks also eliminates flat tires.
Schuermann, Ditch Witch: To make walk-behind trenchers more durable, hydraulic circuits are being simplified and designed to be reliable. The C- and CX-Series trenchers utilize simple hydraulic systems. They also use reliable gear pumps and proven motors to power the trencher smoothly and consistently every day.
Phelps, Barreto: We're always looking for ways to make machines more durable. We listen to our customers and absorb their feedback and we make a lot of minor changes and tweaks as a result.
I was at a customer location where the customer pointed to a pin that goes through the front of the trencher, suggesting it's an area where he's seen some failures. He made a simple suggestion that we thought would work, so when we got back, our lead engineer implemented that change. That's what we constantly do. If we get feedback and we think it's a good idea, we go ahead and do it. Nothing is perfect. There are always little things you can do to make things better.
Rental: Are there any advancements intended to make machines simpler to maintain?
Phelps, Barreto: As a whole, walk-behind trenchers are easy to maintain, there are just a few things you need to do, but our philosophy is that we're not just putting a product out there. As we're designing, we're not above somebody giving us a solution to make something a little bit better. Most of the time, once one of these machines comes back from rental, you just need to pressure wash it, inspect it, grease it and get it ready for the next rental.
Schuermann, Ditch Witch: The C- and CX-Series trenchers do not have any grease zerks, making them easier to maintain and keep rental-ready with less hassle and prep time. Additionally, they offer high-quality, sealed bearings to keep the machines running day after day, without being dependent on an operator to grease it. The newly designed machines also provide easy access to all of the machine's components. By simplifying routine maintenance and reducing downtime, rental stores and operators spend more time on the jobsite and less time in the shop.
Hutchinson, Vermeer: With the increased use of hydraulics, we are also optimizing the ability of the machine to cool the hydraulic fluid. One way we do this is with the use of steel hydraulic lines. They offer more cooling efficiency and last longer than conventional hydraulic hoses.
Rental: What do your customers say is the most important factor when choosing a walk-behind trencher?
Phelps, Barreto: Reliability is our customers' number one objective. Years ago, walk-behind trenchers were a highly utilized item but they broke down a lot. We started making trenchers in the mid 90s, and our all-hydraulic machines alleviated a lot of those reliability issues. We actually go into rental companies where they've stopped renting trenchers because of past problems, and we can get them to try ours.
From there, it's service after the sale, price, and relationship with the manufacturer and/or sales staff. The biggest things are being available for them to provide feedback, being real people and helping when they do have needs or concerns.
Matt Hutchinson, Vermeer: Rental stores want simplicity. They want a machine that is easily maintained and intuitive to operate. Finally, they want a machine backed by a manufacture and dealer support network that ensures they can get parts and service in a timely manner.
Schuermann, Ditch Witch: From the rental customer's perspective, the most important factors when choosing a walk-behind trencher include: ease of use, reliability and productivity. This feedback was top of mind and the main focus points for the updated design and development of our new trenchers.
Rental: What unique features do your trenchers offer?
Matt Hutchinson, Vermeer: Vermeer walk-behind trenchers utilize our patented VZ-Steer system, which allows you to intuitively steer the machine to-and-from the work site, and guide the machine while trenching. We also incorporate an operator presence system that requires the operator to be in contact with machine while the trencher drive is running, and disables the machine from starting if the trencher is engaged.
Schuermann, Ditch Witch: As mentioned above, the Ditch Witch CX-Series trencher has a patent-pending, short track/long track design. This unique orientation provides the operator with a short trencher that is maneuverable, and balanced for maximum production. By having a shorter track on the auger side of the machine, the overall length of the machine remains short, allowing the trencher chain to perform its work in the middle of the machine and in between the tracks versus in front of the tracks for better productivity.
Additionally, the C- and CX-Series walk-behind trenchers utilize the new Ditch Witch 35K digging system or the new, exclusive OptiCut digging system – both specifically designed to work with the Ditch Witch trenchers for optimized performance in all soil conditions. The OptiCut system is an all-in-one chain design with maintenance-free teeth and 19,000 pounds of tensile strength.
Phelps, Barreto: For Barreto, one of the biggest things is the reliability of our hydraulic system. We do a good job of matching hydraulic components to horsepower. Hydraulics run at a certain pressure, so we try to run our components safely below the maximum psi rating so they will last longer and won't build up as much heat. With hydraulics, the lower the heat, the more efficient you are. When it gets too hot, hydraulic oil gets thin and works less efficiently.
We also run a lot of fluid, gallon wise, and on our bigger tracked trenchers we run that system through a hydraulic oil cooler. This keeps performance at its maximum and adds life to components.
Our machines are also heavier than others on the market. On average, they weigh 35 to 40 percent more than other brands. The weight comes from heavier-duty construction and a greater volume of hydraulic fluid. This means track to ground contact is greater, which helps with machine stability.