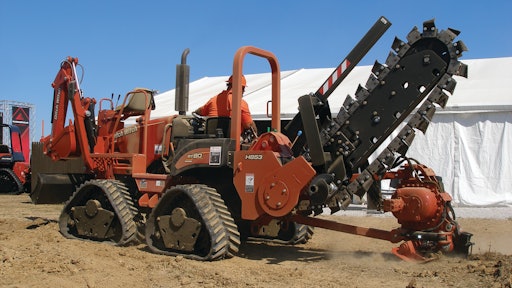 In ICUEE 2011, Ditch Witch offered a sneak peek at a pre-production RT80 Quad trencher, with downscaled rubber tracks like those on the RT115 Quad. Ditch Witch expects the RT80 Quad to deliver from 15% to 50% more productivity than its rubber-tired counterpart, as the company says the RT115 Quad has.
The Charles Machine Works used the same sprocket and rollers as those driving the larger tractor in developing track modules for the RT80. Like the RT115 Quad, the rubber tracks are expected to weigh 80% more than off-the-shelf rubber tracks. With the final product not yet finalized, Ditch Witch is not ready to release specifications, but each track for the RT115 weighs 1,350 lbs. With so much weight right at ground level, the tractors can be raised up for additional ground clearance even as the center of gravity drops.  
The RT80 tractor remains largely the same, with an 83-gross-hp Deutz engine, shift-under-load transmission and full complement of attachments.
The RT115 Quad costs about 25% more than the rubber-tired version of the tractor, and Ditch Witch expects the RT80 Quad to add about the same percentage to RT80's price. 
Companies in this article
Request More Information
Fill out the form below to request more information about
RT80 Quad Trencher