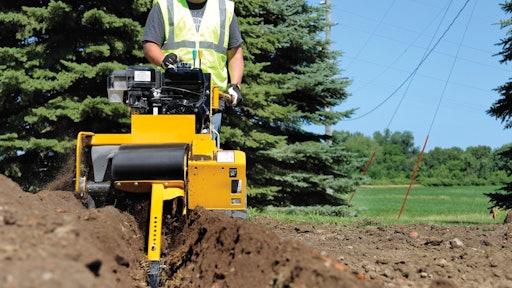 Pedestrian trenchers are a staple in almost every rental fleet. Because they are a must-have, many rental operations do not put a lot of thought into how these machines can help them expand their customer base and edge out the competition. To help achieve optimal efficiency with your pedestrian trencher, you should consider machine options that will assist in making your customers even more productive.
Think like your customer
With all of the different pedestrian (also known as walk-behind) trenchers on the market, it's easy to think of these machines as a commodity and shop based on price alone when it's time to add a new unit to your fleet. However, even though these trenchers might look similar, there can be significant differences in quality, ease of operation and optional features that will help enhance your customer's rental experience.
As contractors are looking to rent a pedestrian trencher, providing a reliable machine with straightforward functionality will satisfy the contractor's needs. The controls need to be intuitive and operators need to be able to set and maintain a specific trenching depth.
Selecting trencher sizes
One of the first considerations with pedestrian trenchers is what model of trencher will help deliver the results you need. Pedestrian trenchers are typically evaluated by engine size. Units with 13-hp, 20-hp and 25-hp engines are popular sizes for rental operations.
Overall, the rental market is trending toward larger, higher-horsepower machines. These units can be more productive in a broader range of soil conditions and can be outfitted with additional boom sizes and chain types. Trenchers with a smaller horsepower are an excellent option if your rental company does not have a large enough customer base to justify the higher price of larger pedestrian trenchers. These models are also ideal for use in locations where the ground conditions are soft and your customers are performing shallow installation work.
Tracks or rubber tires
Many of the pedestrian trenchers sold into the rental market today are equipped with tracks. This type provides flotation in soft or sensitive ground conditions. Tracks can allow for maneuverability and depth control in uneven ground conditions.
Boom sizes
The adage "one size fits all" does not apply to pedestrian trenchers because no two customer's needs are the same. Soil condition and trench depth are factors that every customer will need to consider before renting and your rental store needs to make sure you can accommodate. Sending out a trencher that has too long of a boom for a job can compromise the customer's experience and could affect repeat business. You should stock several trenchers with different chain sizes and chain widths, so customers can get the right configuration for their job.
Pedestrian booms typically range from 24 to 48 inches in length, with the 24-inch, 30-inch and 36-inch boom sizes being the most commonly used. The boom size must align with the horsepower of a trencher and the intended application. If your customer is installing an irrigation system, downspouts, cable conduit or even electrical lines, they may not have to trench very deep. However, if they are trenching a waterline in a colder climate or digging footings for a building, they might need a unit with a longer boom. It's important to keep in mind: It's better for your rental team to recommend a more powerful ride-on trencher than let your customer rent a pedestrian trencher with a boom configuration that will not perform well for the application.
Chain configurations
How wide a trencher will cut is driven by the chain configuration. The type of teeth and teeth spacing can have a significant impact on the efficiency of a trencher.
The type and size of trencher teeth used on a chain determines how wide a trencher will dig. Most pedestrian trencher chains can be configured to dig between four and eight inches wide.
Trencher teeth generally fall into two categories — cupping and cutting. Cupping teeth are designed to efficiently excavate material from the trench while cutting teeth break up or dislodge solid material like rocks. Chain configurations that use cupping teeth, commonly called soil chains, are more efficient in loose dirt and sandy soils. However, when working in conditions such as rock, trencher operators will need a rock chain with carbide-tipped teeth to dig into these challenging ground conditions. You may opt for a combination configuration chain with both cups and cutters as well.
Tooth spacing, or pitch, can also impact the performance of a trencher. Closer tooth spacing is ideal for working in harder ground conditions, while wider tooth spacing is more efficient when working in soft or muddy ground conditions.
Attachment options
Your rental company can also help optimize the customer's experience by offering additional attachments with your pedestrian trenchers. Angling backfill blades that help push spoils back into the trench are a popular option for contractors that can help reduce labor costs. 
Also, if your rental store serves utility contractors, you might want to consider adding a boring attachment to your fleet. Stocking this niche product can help increase business from professional contractors by providing an option that other rental companies might not.
Putting it all together
When it comes to pedestrian trenchers, your rental company needs to think about their customers to help ensure they have the right options, features and configurations on hand to meet their needs. As with any equipment category in a rental fleet, your customers do not want a pedestrian trencher that might not be able to do what they need it to. They want a unit that will fit their job requirements exactly. Being able to meet those needs will help drive repeat business for years to come.