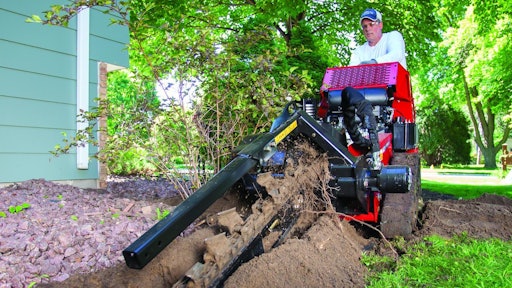 Toro
There are many factors to consider when selecting a trencher for the job, from applications and soil conditions to tires and technology. Different sizes and horsepower models are used for different tasks, whether it's shoveling dirt, simple digging, cutting rock or installing various pipe sizes.
The scope of the project will help determine what model of trencher to use, whether it be a walk-behind or stand-on, and what attachments to add. Experts at Barreto, Ditch Witch, Little Beaver, and Toro recently shared their tips for selecting the trencher for your next job.
Safety First
Whether it's planting a tree at home or a sewer pipe installation, it's important to always call 811 before you dig.
"It probably goes without saying, but we'd like to say it, to remind people that anytime you're going to stick something in the ground, or dig a hole, or dig a trench, or anything, 811 needs to come before anything," says Sean Hubbard, marketing and communications manager at Ditch Witch.
When you dial 811, you're automatically routed to your state's 811 center. Each state has its own rules about digging, and contractors can make an 811 request by filling out an online form.
"Before renting a trencher for a jobsite, the renter should know what underground utilities are in place," says Tim Phelps, director of sales and marketing at Barreto Manufacturing. "Utilizing 811: Call Before You Dig is important to prevent accidents and for jobsite safety." 
Check for Versatility
Especially when the trencher will be used for several tasks on the jobsite, versatility is important.
"Anyone renting a walk-behind trencher should look for versatility and reliability," says Kaitlyn Ingli, associate marketing manager at Toro. "If you know you'll need the trencher for several projects on the jobsite, then you'll want a walk-behind trencher that will work for many jobs."
Depending on the project, contractors may want to use a more project-specific trencher, she says.
"A landscape contractor installing a lighting system or electric dog fencing can easily get by with a smaller model," Ingli says. "A contractor working on dense, heavily-compacted ground or on projects with trench depths of 3 feet to 4 feet may prefer a heavier-duty model."
Mini-trenchers are an option on some jobsites, too, says Mike Hale, sales manager at Little Beaver.
"Some of today's compact mini-trenchers can perform on a level similar to that of full-size trenchers, while also offering unbeatable jobsite flexibility," he says. "Renters need a trencher that can easily take on various projects and also tackle any unplanned applications that may arise. Renting a mini-trencher with adjustable cutting width and depth means that renters aren't wasting time returning to the rental center to swap out trenchers when moving to a different job or when plans change mid project."
He continues, mentioning how mini-trenchers are easier to transport and maneuver than larger models.
"The compact size and growing performance specs of mini-trenchers are providing contractors with a more maneuverable trencher that can keep up with a full-size trencher in some cases," Hale explains. "For example, our KT 2400B has an 8-horsepower engine and weighs less than 500 pounds. Many entry-level, full-size trenchers offer just a slight horsepower gain with similar trenching specs, but weigh more than 1,000 pounds."
Know the Job
Before renting a trencher, it's important to be aware of all the applications for which the equipment will be used. If the contractor intends to install pipe, the contractor should know the size of the pipe and trench.
"If I were to rent a trencher, I need to walk into the rental yard knowing what product I'm going to install," says Brant Kukuk, compact equipment marketing manager at Ditch Witch. "Is that a ¾-inch line or is it a 2-inch? Or is that a 4-inch line for sewer?"
The scope of the project should be considered as well, says Phelps of Barreto.
"Consider the difficulty of your project, and the amount of time you expect to spend operating your trencher," he says. "While a smaller trencher may get the job done, you may consider upgrading to a ride-on trencher for projects lasting more than a few hours and with greater trenching distances. Additionally, a back-fill blade accessory can alleviate man hours refilling your trench on larger projects."
Naturally, contractors will need to determine how deep and wide the trench will be before renting a trencher, Phelps says.
"With options ranging from 12 inches to 48 inches for boom length, and 4 inch to 8 inch chain widths, you can narrow your selection considerably," he says. "While you may think that a larger machine can accomplish a task more efficiently, you can end up paying too much and cut deeper into your budget than necessary. 
Phelps cautions against selecting a machine that is too small for the job. "A machine that's working too hard will create more work for the user and lack overall efficiency, leading to extended time on the jobsite," he says.
While considering the size of the project, contractors should also think about how much space there will be for the trencher itself.
"You don't want to unload your trencher and gear up for the task at hand, only to find out that the machine doesn't fit," Phelps says. "Now you're likely out time and money. It's important to take your work site into consideration. For example, if you're trenching for a sprinkler system in a small, fenced yard, you are going to want a smaller machine with more maneuverability. Accordingly, in a wider, open area with minimal obstacles, you are free to maneuver a larger machine."
Trencher size selection comes down to the customer's specific application, says Hale from Little Beaver.
"If a customer only needs to reach a 4-inch depth, they don't need to rent a larger model trencher that can dig down to 12 inches. That's just adding extra weight for features that they won't make use of," Hale says. "On the other hand, if a customer thinks they might tackle some 10-inch roots in addition to their trenching, I would recommend a larger model mini-trencher that can take on both of these tasks while still remaining easily maneuverable."
Most tasks require a 2 to 4-foot boom, says Ingli of Toro. "The application at hand will determine the best equipment option, but a boom ranging between 2 feet and 4 feet will allow end-users to reach the depths they need for irrigation or light- to mid-duty utility trenching applications," she says. "It's important for the end user to have a good idea of the depths they need to reach for the project and share that information with the rental store personnel so that they can provide insight on the best option for the work to be done."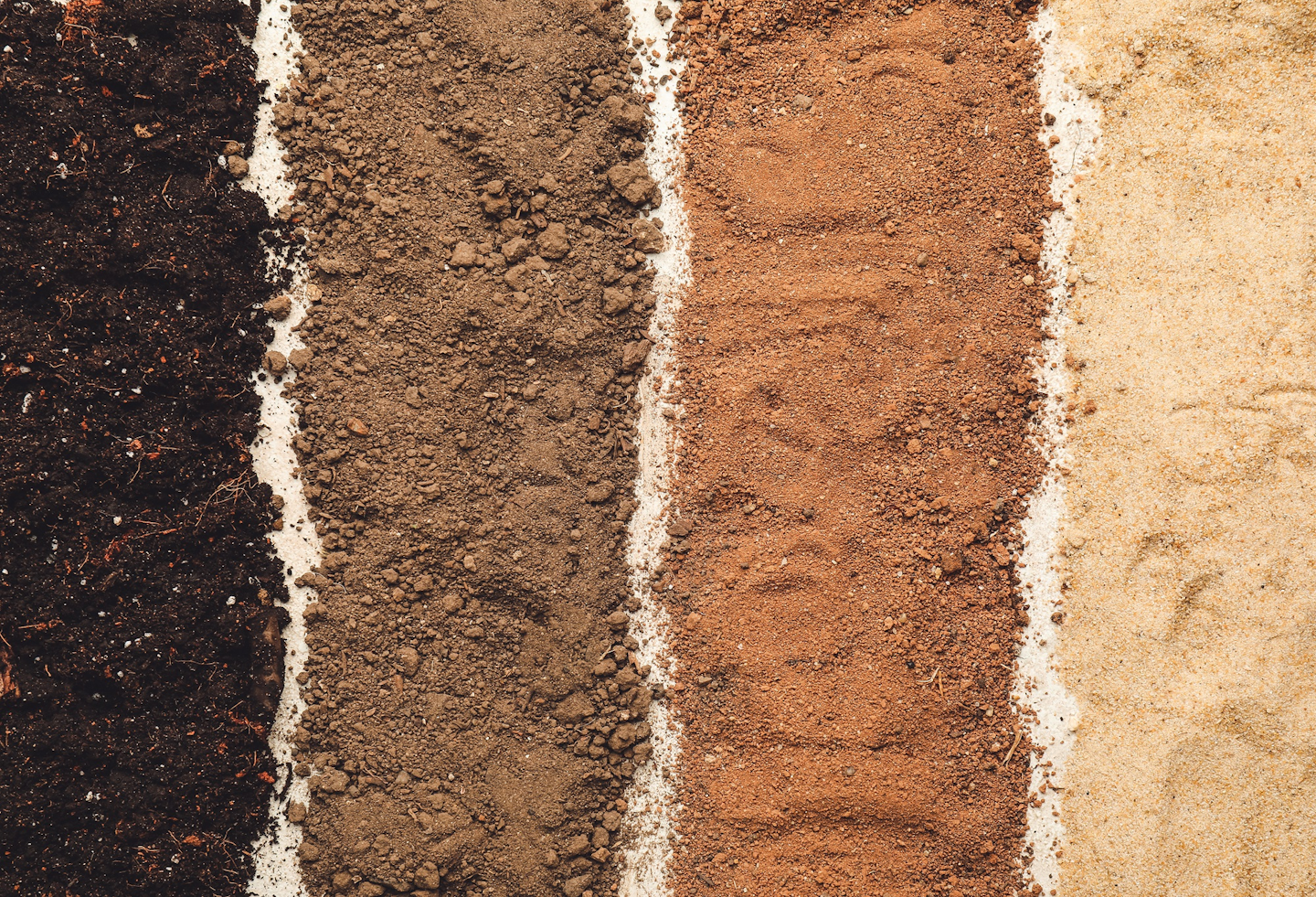 Soil types are an important consideration when renting a trencher.@Pixel-Shot - stock.adobe.com
Know Your Soil Conditions
Equipment use goes hand-in-hand with soil conditions of the jobsite.
"Ground conditions are extremely important," Phelps says. "Choosing the correct horsepower, chain type,  and drive system can all be affected by the conditions you will be working in. Dry, loose, or loamy soil will require a less aggressive chain and less horsepower. Whereas clay, hard, or rocky soil call for a machine with more horsepower, and possibly a more aggressive chain, to trench efficiently."
Phelps recommends reading "Sand? Clay? Loam? What Type of Soil Do You Have," by Gardner's Supply Company and "The Dirt on Soil Types," by Lawn & Order Landscaping for more information on soil types. He also advises checking the weather.
"Consider a recent rain," Phelps says. "Wet and muddy soil will likely complicate a job. You may consider a tracked machine for more stability and traction. Or, perhaps, a ride-on machine to avoid operator discomfort."
Ditch Witch's Kukuk says dealership or rental center staff should be knowledgeable of soil conditions in the area. "You're going to need to know how deep you need to install that product," he says. "That's based on the area and the frost lines and where you live, how deep you need to bury the products. Gas (pipe) is not sensitive to frost lines, but water and sewer are, and you don't want your sewer lines freezing out."
Whether the soil is rock, clay, or another type will determine a lot in trencher selection.
"Knowing all those things takes care of the backend, the ground-engaging components. Once you know that, that kind of sizes the equipment that you need to rent," Kukuk says. "Are you going to be able to get away with a low horsepower walk-behind trencher because you're only going 2 to 3-feet deep and you're only going need a narrow trench? If you need deeper trenches, you have to start pushing up in the size of the equipment that you're going to rent. You're going to start to get into a stand-on skid steer or you're going to start to get into ride-on trenchers. Those are increasingly more horsepower as you go up."
Choosing Tires or Tracks
Contractors also need to decide whether to use a trencher with tracks, pneumatic tires, or urethane tires. Depending on the application and jobsite, traction could be essential. Semi-pneumatic tires, for example, can lend more versatility to the job, says Little Beaver's Hale.
"A push-forward design and semi-pneumatic tires further increase versatility, not to mention safety," he says. "This allows users to easily glide the trencher over delicate turf without being in a compromised position in the cutting direction of the trencher, while also being able to reach those tight corners that would be impossible with a full-size trencher."
Meanwhile, tracks offer a larger footprint, says Barreto's Phelps.
"With track machines offering the added benefits of stability, traction, and performance, they are often a first request," he says. "The tracks provide a larger footprint, offering a smoother performing machine and minimizing turf damage. Tracked machines often weigh more and withstand tougher conditions than their smaller, wheeled counterparts."
Contractors who haven't rented a trencher in several years might be surprised to see few models with air-filled tires on the lot at the rental center, says Ditch Witch's Kukuk. "You may not see an air-filled tired trencher, other than maybe on a ride-on," he says.
Urethane tires and tracks mean less maintenance, since they don't go flat, he continues. But when it comes to trenching, tracks are the way to go. "The traction that a track system gives you is typically more preferred in a trenching application," he says. "A track system just gives you better traction in cruddy soils. Generally, we see people prefer tracks while trenching, and we offer both,  and they both have their places. There are lots of variables when you decide whether you go with one or the other."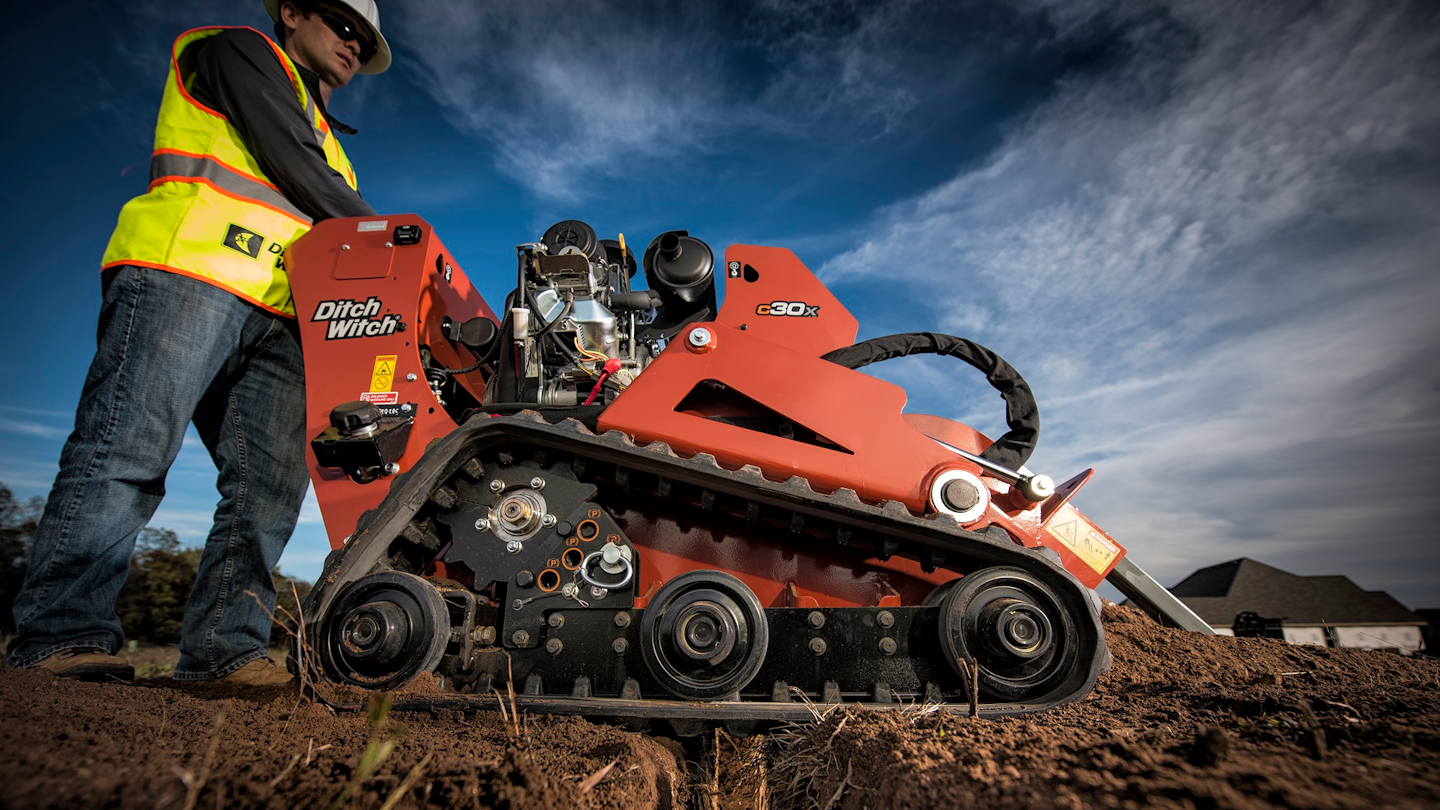 Depending on the application and jobsite, traction could be essential.Ditch Witch

When to Move up a Size
There's a tool for every size job and nothing could be more true when it comes to trenching. Walk-behind trenchers tend to be smaller in size with less horsepower and more affordable.
"Walk-behind trenchers are anything up to 30 horsepower, while skid steers are up to 100 horsepower nowadays," Kukuk says. "Then our ride-on tractors are up to 120 to 150 horsepower."
Usually, walk-behind trenchers offer the best return on investment (ROI), he says. "You're going to have the best ROI on a walk-behind trencher. As long as you can run it every day, it's the lowest cost product to be able to do an open trench," Kukuk says. "Your ROI, it's going to be good as long as you keep it busy. They're very capable of doing 60 to 70 percent of the trenches out there in the world. That's why they're so popular, because they're capable of 4-feet deep, they're capable of 6 inches, 8 inches wide. That covers a lot of different products that go in the ground, like gas and water."
Some jobs call for stand-on trenchers or skid steers. "Stand-on skid steers give you a faster mobile speed," Kukuk says. "Your cycle times on your jobsites are going to be better because stand-on skid steers are faster. And it opens up the versatility with the stand-on skid steer because you can put different attachments on the front end. If you're not just a trenching contractor and you're a landscape contractor who needs to install pipe, maybe for a sprinkler system, the stand-on skid steer allows you to complete the entire job. So, you're not only just making the trench, but you're also re-landscaping after you're done. You're not going to leave an open trench if you want to do the complete job."
Additional Features to Consider
There are other factors to consider when renting a trencher, such as technology, comfort, safety, and more.
"In addition to crucial versatility-adding features, like depth and width adjustability, push-forward design and bolt-on teeth, renters should consider trenchers that have a locking swivel wheel to help guide the unit for unbeatable, straight trenches," says Little Beaver's Hale. "A trencher that deposits soil neatly alongside the trench makes for quick cleanup, too. A slip clutch is another important safety feature for trenchers. If an operator hits an unexpected object, the clutch will slip to prevent damage to the trencher and possibly the operator. This prevents renters from having to spend time returning to the rental center for another trencher or possibly incurring fees for damaged equipment."
Easy-to-understand controls can make a big difference on a job, says Toro's Ingli.
"Ease of operation saves time and money by letting the operator get right to work," she says. "Independent traction control for the left and right tracks eases maneuverability and the boom lift should have hydraulic enhancements to ensure smooth operation. These features not only help maintain trenching control and accuracy, but also reduces operator fatigue."
There are also many accessories contractors can use to make jobs easier, she says. "These include the different chain types for specific needs; a backfill blade installed in less than a minute without tools, a trencher crumber to ensure a clean trench bottom,  a bore drive head for simplified boring under sidewalks and driveways, and custom trailers for easy transport."
Other features that can add to operator comfort and productivity are differentiated traction controls, trencher valve handles, and boom lift levers, as well as hydraulic valve enhancements, she says.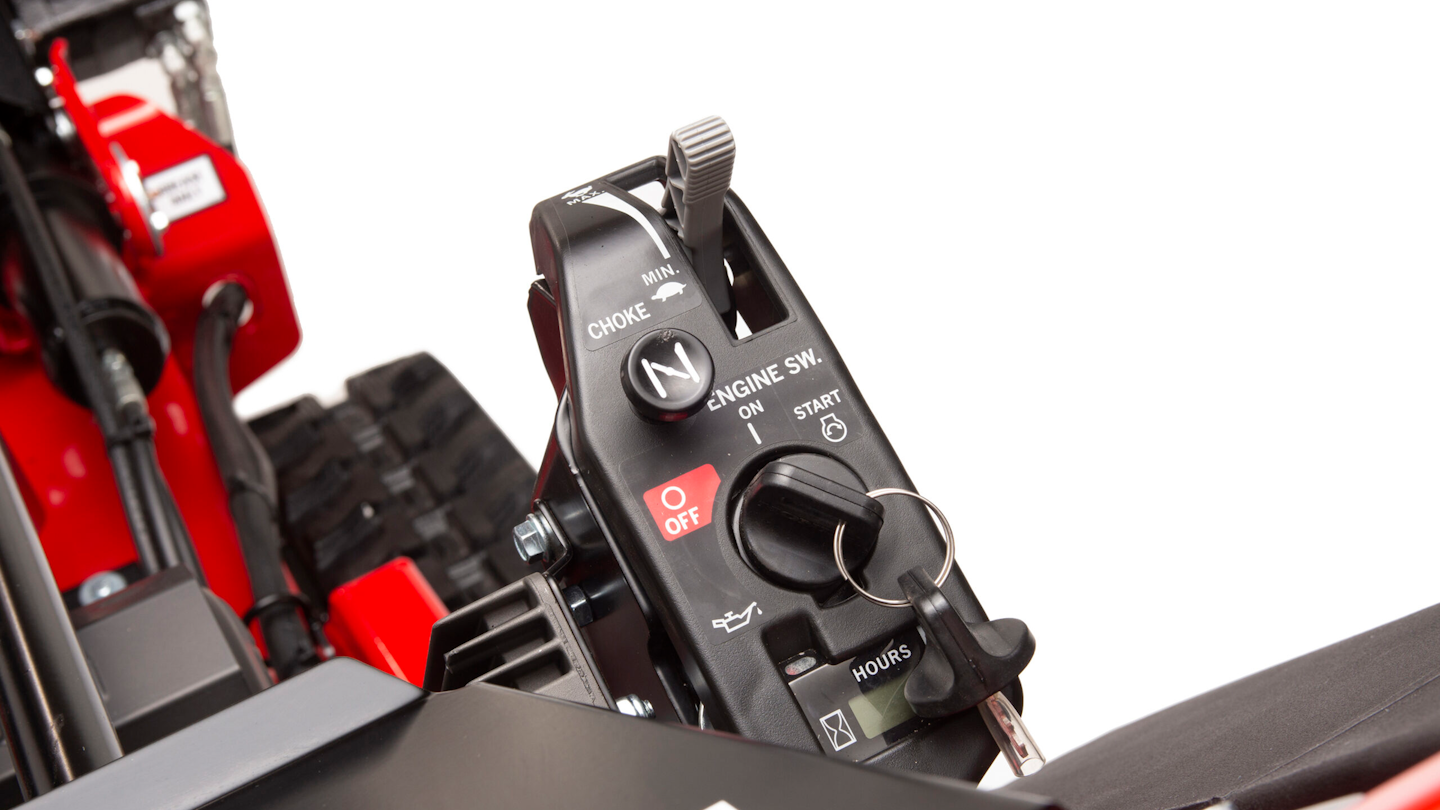 Many modern trenchers feature control enhancements.Barreto Manufacturing
New Technology
Several new technologies and features have been incorporated into trenching equipment in recent years. For Barreto, one of those upgrades is hydraulic steering.
"On the larger, tracked machines, you have hydraulic steering to make them more maneuverable," Phelps says. "To make our smaller machines easier to use, we incorporate a hydraulic system that makes them automatic. Once the operator has the boom down to depth, they just pull both the chain lever to start the chain and then another lever to start the wheels. The machine, through its hydraulics, automatically adjusts the wheel speed to the load on the digging chain, so the operator doesn't have to be conscious of how fast they're trenching. This makes it much easier to use."
Other features include rod linkage and track controls. "The Barreto track trenchers feature unique fine-tuning control adjustment that uses rod linkage instead of cables, and they include the Adjustable Trenching Control (ATC), which can be positioned to modify the trenching speed of the tracks individually while on the go," he says. "By utilizing the individual track controls, the operator has the ability to keep their trench straight when working on uneven terrain."
Toro has incorporated what it calls Intelli-Trench technology into its trenching equipment, which automatically diverts the hydraulic flow from the traction motors, providing more power for the trencher head.
"As a result, the traction handle can be held in one place without requiring constant adjustment, reducing operator fatigue and optimizing performance," Ingli says. "The Intelli-Trench feature decreases track wear and maintains engine RPM for efficient engine cooling."
Meanwhile, Ditch Witch skid steers include a controller with a display, so operators can see how the equipment is handling.
"It's going to show you how the machine is performing," Kukuk says. "It puts info you need to know right in front of your face, as far as heat and making sure you're not overheating the machine. And it's going to have different options that you can to fit your preference. So, one guy may like to run it this way. The next guy may be able to run the controls a different way and it allows you to preset those controls to your liking."