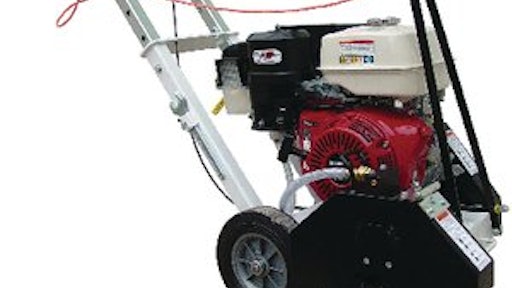 Core Cut CC1113XL
Mini walk-behind concrete saw
11-hp HOnda GX-390 engine
Handles adjustable to 4 positions
Can be used in an upcut or downcut mode
4 5/8-in. maximum cutting depth
14-in. slip on blade guard can be mounted on left or right side
2,650 blade shaft rpm
Diamond Products
Diamond Blades
Full line of diamond blades plus split segment blades
Color-coded system to make blade selection easier
Each blade is labeled with the quality, application and type of saw it is designed for
Wacker Neuson Corporation
DS-18
The DS-18 features a 13-hp gasoline engine or 5-hp electric motor with a heavy-duty, anti-vibration engine mount, a 7-gauge, solid steel frame, 18-in. blade capacity with dual-arbor cutting along with lifting handles, a lifting bail and prefect balance. Perfect balance is key to perfect performance, long blade life, smooth, even cuts and eliminates excessive wear and tear on the machine.
EDCO Equipment Development Co.
DS-HS 80 V2
Hand-held gas saw
New carburetor setting for increased acceleration
Redesigned starter assembly, cooler running motor and redesigned tank geometry
Reversible steel flanges allow user to stock multiple blade types without the need for different arbors
Hilti Inc
EZ Green Early Entry Green Concrete Blade
Features a square-like arbor which easily fits Soff-Cut saws without adaptors
Each blade comes with a skid plate shield to protect the concrete joint against spalling and raveling
Color-coded blades quicly identify the bond that matches your aggregate and cutting conditions
Diamond Vantage, Inc.
FORCE4 Diamond Chain
The FORCE4 diamond chain has a tensile strength 50% greater than previous chains, plus anti-stretch engineering that increases chain life and reduces maintenance.
Patent-pending pitch design of chassis elements for optimal combination of weight and strength
Water distribution feature allows for better lubrication and less cleanup
Patented SealPRO O-ring and bumper designs for smoother cutting performance and increased chain life
ICS, Blount Intl. Inc.
FS1 Floor Saw
The FS1 floor saws low center of gravity and weight distribution eliminate flex and vibration during operation.
Weighs 280 and 300 lbs.
Features a heavy-duty blade shaft and bearing assembly, as well as balanced engine and blade shaft pulleys
Two and three v-belt drive systems for 8- and 13-hp saws
Easy to use cutting depth gauge calibrated for blade size
Adjustable guiding handle
Interchangeable water tank and hose hook ups
MBW Inc.
K750 OilGuard
DualCharge engine produces more power, higher torque and 70% less emissions
Active Air Filtration provides centrifugal air cleaning in three stages
SmartCarb built-in automatic filter compensation
DuraStarter with a dust-sealed starter and durable starter cord reduces risk of downtime
Husqvarna Construction Products
MiniCutter Concrete Saw
The MiniCutter from Stow is designed for light demolition operations in cured concrete and asphalt.
10-in. blade capacity for a 3 1/4-in cutting depth
6.5 hp Honda GX200 engine with a Cyclone pre-cleaner air cleaner
Weighs 102 lbs.
V-notch roller wheel front pointer, polyurethane wheels, permanently sealed ball bearings and vacuum nozzle hook-up on the blade guard
Multiquip Inc.
Pneumatic Concrete Saws
CS Unitec offers powerful, portable concrete cutting tools with no exhaust fumes.
Pneumatic chainsaw plunge cuts up to 14 in. in one pass and quickly cuts mechanical openings, irregular shapes and square corners through reinforced concrete, brick, block, concrete pipe and natural stone
Hand-held concrete cut-off saw in 14- and 18-in. diameters
Walk-behind saw with 20-in. diameter blade capacity
CS Unitec, Inc.
Saw Devil CS2
The Saw Devil CS2 manual saw is designed for ease of operation and performance. It is a heavy-duty, walk-behind saw ideal for jobs requiring precision cutting including floors, pavements, walkways, ramps or any flat sawing application. Features include: console with easily accessible operating controls, heavy-duty front 4-in. wheel guide and rear cutting pointer, heavy-duty vibration absorbing steel box frame, depth gauge and positive locking blade control, and ergonomically designed adjustable handles with Stone exclusive hip-guide bar. The CS2 accommodates 12- to 18-in. blades for maximum depth cuts up to 6 5/8 in. Engine options include: 9-hp Briggs & Stratton, 9-hp Robin, 11-hp Honda, 13-hp Honda with a Cyclone air cleaner, 16-hp Briggs & Stratton, and 5-hp electric. An optional 5- or 8-fal. see-through plastic water tank is available.
Stone Construction Equip. Inc.
TKO-2513
In combo w/skid steer, produces 25hp to the surface with precision control
Quick attach mounting plate and QD hydraulic lines for 90 second complete tool change
Optional diamond package available
Attachment configured for most popular skid steers
Kut-Rites TKO-2513 scarifier attachment, when used in combination with a skid steer, produces 25 hp to the surface with precision control. A quick attach mounting plate and QD hydraulic lines combine tool change within 90 seconds. The attachment is configured for most popular skid steers and an optional diamond package is available.
Kut-Rite Manufacturing
WS Series Walk-Behind concrete saws
The Ingersoll Rand WS Series concrete saws from Doosan Infracore Portable Power includes nine models with 12- to 36-in. blades and cutting depths from 4.6 to 15 in.
Honda, Wisconsin or Deutz engines
Heavy-duty, seven-gauge steel frame with steel splashguards
Three manually propelled models
Four largest models include hydrostatic drive propulsion systems with a six-belt or nine-belt drive
Doosan Infracore Portable Power
X-TEQ Cross-over Diamond Blade
Do-it-all blade can handle abrasive materials like green concrete, block and asphalt
ARIX diamond arrangement technology segments
Turbo segments make for faster, freer cutting
Laser cut core keeps blade running cool
Diteq Corp
Companies in this article