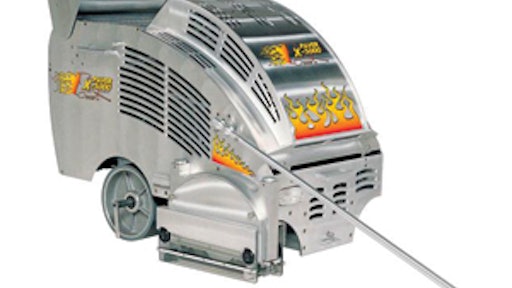 Whether it's walk-behinds or hand-helds, there are several new innovations in the saw market.
Soff-Cut X-5000
The X-5000 Paver self-propelled gas saw is designed for highway and paving applications.
27-hp gas engine with electronic remote key start and choke
2- to 4-in. adjustable depth of cut
Switch-activated blade depth control
20-amp regulated charging system
Switch-activated retractable guide
Patented low noise and low dust blade block enclosure
Positraction drive and self-propelled via lever-activated hydrostatic transmission
Makita Power Cutter
Makita USA has introduced its new 81cc 16-in. power cutter with an increased capacity of 5 3/4 in., making it easy to cut doors and windows in concrete walls.
Five-stage filter system to ensure clean air for increased performance and longer engine life
Computer-controlled ignition system with large flywheel and rare earth magnets creates more efficient power
Reinforced aluminum blade guard has 70 degrees of limitless positioning
Ingersoll Rand WS Series
The WS Series of concrete saws from Ingersoll Rand has nine models with cutting depths of 4.6 to 15 in. with 12- to 36-in. blades.
Honda, Wisconsin or Deutz engines
Heavy-duty, seven-gauge steel frame reduces vibration for straighter, faster cuts
Steel splashguards keep slurry and material fragments away from the operator
Diamond Products CC99
Diamond Products announces the introduction of its new Core Cut CC99 Diesel Slab Saw, a 99-hp version of its popular CC120 gas slab saw.
Water-cooled diesel engine uses one-third less fuel than the CC120 with the same weight and footprint
Single-lever operation for forward/reverse and raise/lower
Low belt cost
Stihl TS 800 Cutquik
The 28.7-lb. TS 800 Cutquik cutoff machine sports a 6.7-bhp, 98.5cc stratified charge engine that delivers 9,000 rpm of cutting power.
16-in. wheel penetrates stone, masonry and steel
Five-point, dual-element anti-vibration system
X2 long-term air filtration system maintains airflow with 99.96-percent cleaning efficiency with double the time between filter changes
Cart facilitates use in walk-behind applications
Sanders Saws SS-7060
The SS-7060 walk-behind pavement saw from Sanders Saws is designed for professional cutters on any job where high-production cutting is required.
60-hp Deutz diesel engine
36-in. blade capacity and maximum cutting depth of 15 in.
Patent-pending clutchless blade shaft disengaging system that stops or starts blade shaft rotation with the flick of a switch
Only five lubrication points which require service at 125 hours
EDCO CS-18 Dual-Arbor Saw
The CS-18 compact walk-behind dual-arbor saw offers an 18-in. blade capacity.
3-V belt blade system with a tensioner pulley that eliminates having to loosen engine mounts when changing belts
13-hp Honda engine
Quick-release arbor cap
Weighs 233 lbs.
Wacker BTS Series
The 12- and 14-in. BTS portable cutoff saws utilize a heavy-duty plastic to reduce weight.
Cutting depths of 3.8 to 5 in.
4.7- or 5.6-hp gasoline engines
Ergonomic design produces less vibration to the operator
Electronic ignition
Multiple-stage filtration system
Large silencer muffler
Carburetor and fuel pickup system allow operation in any position
Fingertip throttle control
ICS Blount Redzaw Utility Gas Saws
The Redzaw RZ60 and RZ80 utility gas saws utilize diamond chain technology, while the RZ60C chop saw accepts up to a 14-in. circular diamond blade.
RZ60 is powered by a 64cc, 4.2-hp, two-cycle gas engine
RZ80 offers more power and depth of cut with the same utility and features
Advanced air intake and filtration system for wet cutting aggregates
Designed to cut masonry materials, concrete and stone
Companies in this article