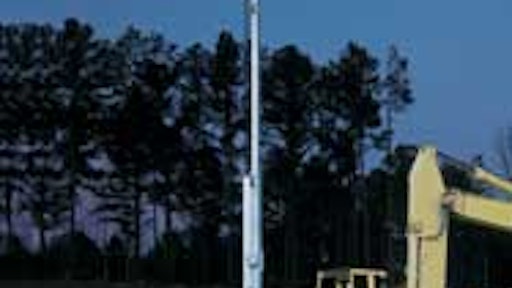 Compressors, generators and lighting are an important part of making sure any concrete jobsite runs smoothly.
Terex Portable Floodlight System
Terex Light Construction has launched the Automatic Portable Floodlight System, available on three models, the AL4000, the AL5000 and the LT7000.
Can be set to one of three modes: timer, which turns the lights on at a set time; photocell, which activates the tower based on the amount of natural light surrounding it; and first source, which triggers the machine at a set time or when the light is at a certain level, whichever comes first
Baldor Pow'R Lite Light Towers
The Pow'R Lite mobile light towers provide 4,000 watts of illumination and are capable of supplying light for over 7 acres.
Powered by a 6,000-watt generator
Kubota or Lombardini water-cooled diesel engines
Features include a 30-ft. zinc-plated mast, 30-gal. fuel tank, 60-hour running time and metal halide lamps in an elliptical lamp fixture
Multiquip GloBug
Two models of GloBug light towers are lightweight and illuminate to distances in excess of 150 ft.
1,000-watt metal halide lamp provides glare-free illumination
Available as 243-lb. standard GloBug with optional generator or 139-lb. stand-alone GloBug Solo
Both 9.5-amp light towers use 120-volt power and come with a protective canvas cover
Mi-T-M 8-gal. Air Compressors
These two-wheeled, two-stage, 8-gal. portable air compressors are available in gasoline and electric models.
8- to 9-hp industrial Honda, Vanguard or Subaru engines or 5-hp industrial, UL-listed electric motor
Two-stage compressor with aluminum head, splash-lubricated aluminum crankcase and cast iron cylinder
16.5-in. flywheel for extra cooling
Powder-coated twin tank receivers
Kaeser M57 Mobilair
The 45-hp M57 Mobilair is now available in a stainless steel package featuring stainless-steel gull wing doors for corrosion resistance and long life under severe environmental conditions.
Mounted on galvanized steel skids and placed in a galvanized steel crash frame with solid-steel floor plan
Delivers 210 cfm at 100 psi
Sigma Profile direct-drive airend combined with an oversized fuel tank provides 10 hours of uninterrupted operation
Ingersoll Rand Generators
Six PowerSource mobile generators range from the 10-kW G10 to the 125-kVA G125.
Reduced footprint by up to 30 percent from some previous models
Lighter weight design with low noise signatures
Multivoltage capable with voltage selector switch protection
Generator housed in rugged 14-gauge steel enclosure
Wacker Mobile Generators
The G 25, G 50, G 70 and G 85 feature sound levels as low as conversational speech, depending on the model.
Separate excitation winding for improved motor starting
Stainless steel external hardware and hinges and galvanized door handles
Modular skid design for optional fluid containment
Cold weather package available
Digital engine/generator controller with LCD display
GTM Portable Light
The GTM Portable Light illuminates up to 100,000 sq. ft.
Collapses to 2 ft. for easy carrying and storage
Three-minute installation by single person
15-ft. full extension of tower
Companies in this article