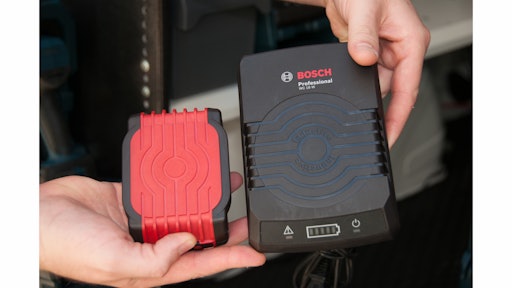 In 2006-7 companies that manufactured tools for the construction industry introduced lithium ion batteries (Li-ion) as a replacement for nickel cadmium batteries (NiCad). NiCad served the industry well for several years. No one at that time knew what voltage platforms would serve the needs of tradesmen the best so several different voltages appeared on the market; 12, 18, 24, and 36 volts were all part of the introduction. It was thought the transition would take several years but NiCad batteries quickly became a thing of the past, the industry changed in a years' time. Since then the continued development of Li-ion batteries, more energy efficient motors, and sophisticated monitoring software in tools, batteries, and chargers increased performance even more. As a result manufacturers are converting more energy intensive corded tools to cordless. The introduction of Lithium batteries changed the way we work with tools.
There may be another game changer in the works. Bosch Tool Company has just introduced a wireless charging system (also called induction charging) for charging batteries — on the tool or off — and it might influence the way we work with hand-held electric tools.
Background
The idea of transferring electrical power from one place to another without a mechanical connection isn't new, it's at least one-hundred years old. Its been known for a long time that a coil of copper wire charged with an alternating current creates a magnetic field around it which can be used to transfer energy to another copper wire coil position within the magnetic field. This electrical energy can be used to charge batteries or to run a device. Today there are induction cooking stoves that pass energy from the stoves cooking surface to steel cooking vessels. In this case the current transfer produces energy in the form of heat to cook food in a very efficient manner, bringing water to boil very quickly.
Currently induction power transfer is also being used to charge cell phones, electric tooth brush batteries, and to power medical devices inside human bodies.
How it works
Jason Feldner, Group Brand Manager for Bosch Power Tools and Accessories, Mount Prospect, Ill., says the idea is simple; induction charging occurs when an AC current passes through a coil of copper wire, creating a pulsating magnetic field around the coil. When a second coil of wire is placed within the magnetic field, electrical energy passes from the magnetic field to the second coil and energy is stored within the battery cells. "The technical challenge has been to ensure the process works only when the intended battery is placed within range, not when foreign objects, such as a washer or screw, are placed on or next to a charging pad. For instance, placing a piece of metal on a charging pad could cause it to become red hot. But sophisticated algorithms and electronics developed by Bosch ensure that the chargers recognize the object is not a battery and will not turn on, a process referred to as Foreign Object Detection (FOD)." Feldner adds that the challenge was also to deliver lots of charging power instantly. So an induction charger must not hurt anything, anyone around it, or on it but still charge batteries quickly.
Historically, induction charging isn't as efficient as conventional charging — challenging companies researching this technology to improve performance. Feldner reports that the system meets all current energy efficiency standards and charges batteries at the same speed as traditional chargers.
Bosch's new battery holds the second wire coil located just under the cell pack, so it rests just above the charging pad. Special electronics within the battery and the charging pad communicate back and forth when the battery is placed on the charging pad (conventional charging systems also include electronics). With this technology, the charger knows charge status and exactly how much energy to pump into the battery. The pad also won't produce an inductive current if it doesn't recognize the object on the pad as a wireless charging battery. A warning light on the pad informs the operator that no charge is taking place when this happens. Bosch's new batteries can still be charged using a conventional charger but older batteries can't be recharged by an induction charger.
How inductive charging can benefit contractors
Hagen Dost, product manager, Bosch batteries, says feedback from contractors and tradesmen suggests they don't like setting up charging stations that include several chargers, power bars, and multiple backup batteries. So this technology is seen as a way to reduce the amount of stuff that must be carried onto jobsites and increase user efficiency.
One of the benefits of induction charging is that batteries can remain on the tool — tool and battery together can be set on the charging pad without harming the tool. Dost says they are making this easier by introducing accessory "holsters" for hammer drill-drivers and impact drivers, and also "holders" that effortlessly secure the battery in position over the charging pad. "These accessories can free up space on bench tops, carts, and shelves in trucks because they can be located in unused spaces such as under bench tops or on the sides of shelving units," he adds — batteries can safely be left on chargers for long periods of time.
The greatest benefit is that tools remain charged and ready, workers use a tool and set it on the charging pad between uses during coffee breaks, lunch or simply between tasks — batteries are constantly charged and work becomes more efficient. This will probably reduce the number of batteries needed on a jobsite too, because batteries are constantly being topped off and users don't need multiple backup batteries waiting.
Where to from here?
Bosch chose to introduce induction charging with the industry's most popular voltage platform, the 18 volt 2 amp hour battery (sometimes referred to as a "slim pack" battery). You can expect to see other voltage platform batteries, such as 4 and 5 amp hour packs on the market soon. Feldner says this is only a start, they are thinking about dozens of other exciting ways the technology can be applied.
Li-ion batteries changed the hand-held power tool industry when they were introduced; today it's hard to find any professional tool that still uses NiCad batteries. The revolution continues as tool manufacturers improve battery performance and convert more corded tools that consume larger amounts of power. Now another revolution may be underway as induction charging technology enters the marketplace.
Companies in this article