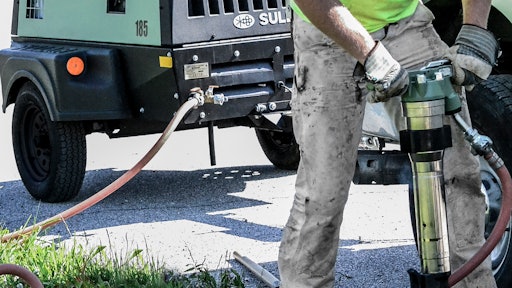 Generators and air compressors have long been a mainstay at construction sites and in rental stores. These versatile machines employed in several industries and used by both contractors and homeowners alike have evolved over the years, allowing them to deliver more power and air in smaller and even more reliable packages.
Despite this evolution, consumer buying habits have remained relatively constant. Over the last four to five years, however, new emissions standards, the availability of different fuels and technological advances in communication have the potential to dramatically alter how users spec, purchase and rent their machines.
How have these changes impacted users? The discussion necessarily begins with Tier 4 Final and the cost associated with making diesel engines compliant. As explained by Doosan Portable Power Global Generator Products Manager Todd Howe, the normal life cycle of diesel-powered equipment is somewhere between seven and 10 years. That was before Tier 4. Since 2011, portable power products have already gone through two redesigns and each came with significant costs increases driven by the engine emissions technology.
More With Less
Tier 4 cost implications have changed both user and rental store buying habits.  "Some contractors have become more cautious of the higher acquisition costs of Tier 4 Final compliant machines," said Sullair's Senior Product Manager, Rental & Infrastructure Nav Sharma. "They have started looking for smaller air compressors, attempting to do more with less."
The cost difference alone between one- and two-tool compressors can be dramatic, reasoned Chicago Pneumatic Business Development Manager Eric Massinon. "The cost of a single tool compressor, the smaller horsepower power engine of which doesn't require after treatment, is an attractive option for contractors and other users looking to save money.
Rental stores may be looking at similar options to keep the cost of their generator fleet in line, or, as Howe explained, they may look to purchase even larger, more versatile machines with options attractive to a wider customer base.  This would help increase individual generator turns. "Customers who shy away from owning Tier 4 Final equipment because of their higher costs also opens the door to more rental opportunities," he added.
Higher equipment costs, Howe continued, are changing buying habits in other obvious ways. "Owners are also keeping older equipment longer or they're getting these machines re-manufactured. The costs for re-manufactured generators are somewhere between 60 to 75 percent of the actual costs of new machines and come with a full factory warranty."
The challenge is made more daunting for both rental stores and their customers because Tier 4 Final casts a long shadow across equipment lines.  The increased costs apply as much to backhoes, skid steer loaders, and excavators as they do to generators and air compressors. Budgets have forced rental stores and their customers alike to be even more cost conscious across the board.  
The additional cost of Tier 4 Final equipment raises a whole host of questions that can ultimately lead some users toward renting and away from purchasing generators, according to Russell Schuster, Managing Director of Aggreko North America.  "They may begin to question the value of ownership when determining their generators are not used that often, or when computing how much time and money its costs to transport generators between job sites.   Another consideration? Tier 4 Final generators are also much more complex than their predecessors and require a special skill set to service and maintain, demanding another commitment from owners.   
R & D Implications
This large commitment by engine manufacturers to be compliant has not only increased the cost of generators and air compressors, but it has slowed R & D and advances in other areas. "Still, manufacturers have given customers more bang for their buck by adding new control and communication features.
"The electronics in Tier 4 Final engines makes it easier for manufacturers to offer telemetric options, to remotely provide engine and compressor parameters to end users," said Massinon.  "Even rental stores can take advantage of telemetrics by monitoring customers' machines, allowing them to respond to and fix a problem before customers even know there's an issue," added Howe. 
Sullair's Sharma agrees. "Telematics allow for Geo fencing, asset management, service and maintenance services, increased uptime and remote trouble shooting to contractors on jobsites. Manufacturers have also taken advantage of the opportunity to update designs for easier serviceability and maintenance.  
Schuster puts this in perspective for customers who either have purchased or rent generators from Aggreko. "We have a 24/7 remote operations in Louisiana that monitors key performance indicators on customers' units, everything from voltage and amps to fuel and oil level, engine temperature, and so forth. Not only can the operations center spot a potential issue before it becomes a problem, it can also determine the true power requirements on a site, helping ensure the customer has the right unit for the application."
Sharma pointed out, too, that Tier 4 Final incorporates some advances that go beyond emissions control. "The Tier 4 Final technology, including electronic engines and controls, have allowed better control and energy management of engines and compressors. Although emission controls have resulted in higher acquisition costs, the machines are now quieter and more fuel efficient, offering more comfortable working environments and lower operating costs for contractors and machine operators on job sites."
"At the end of the day, the Tier4 Final technology has cleaned up emissions. The data has proven that," noted Massinon, "And fuel efficiency has gone up marginally. In addition to higher acquisition costs service costs have also gone up thanks to more things that can go wrong. Overall, though, the new technology hasn't caused serious problems on the service front, but servicing equipment requires a higher level of technical knowledge to initiate repairs."
Fueling Up
The advent of more power choices today has yet to significantly alter buying habits, say manufacturers. "The industry has been slow to adapt or accept gasoline and natural gas engines and continues to stay with tested and tried diesel-powered units. One of the main reasons is to remain consistent with other equipment in their fleet, including pickup trucks," said Sullair's Sharma.
"Once someone gets used to diesel power, it's difficult to change, "added Doosan Portable Power Air Products Manager Americas Jeremy Bailey "We offer alternatives to Tier 4 Final diesel products such as our gasoline -powered C-185 and the VP900 electric portable model that can run on the grid or generator. These models have been successful in a variety of applications, but neither has displaced diesel-powered equipment's leading position."
Yet as Doosan's Portable Power's Howe pointed out, there are occasions when the choice of fuel is application specific. "Using natural gas is commonplace in oil and gas sectors where fuel comes directly from the wellhead. In North Dakota, West Texas, and Oklahoma, 60 to 70 percent of generator fleets are powered by natural gas. Its popularity in other sectors, however, is limited because of the fuel's inability to be easily packaged."
'There's also the issue of making engines compatible with different fuels," added Chicago Pneumatic's Massinon.  "Oil patch applications make natural gas an option, but there are filtration issues depending on the fuel and changing over a diesel engine to gas requires modifications."
Aggreko developed additional applications for natural gas generators following the collapse of the domestic oil and gas industry.  "Natural gas and propone generators save between 30 to 40 percent on the cost of fuel compared to diesel generators," reported Schuster. "We found our larger units to be effective at large construction and infrastructure sites especially in cities where natural gas is available.
"At these locations it often made sense to create a small distribution center or grid with a large, mobile generator that could replace 30 portable units. The move would reduce the costs and hassle associated with operating several smaller generators."
Problem Solver
New technologies, different fuels, and higher cost machines allow rental centers to differentiate themselves from the competition by offering solutions to consumers, said Kohler Product Manager for Mobile Generators, Anne Feudner. She gives several examples: 
"Diesel power is still the choice for most contractors, but that doesn't mean it's their best fuel option.  Depending on the application, propane or even natural gas may save them up to 25 percent or more on fuel costs alone. This can be very substantial where generators have long run times."
She noted, too, that Kohler's mobile paralleling box can offer solutions to customers in a variety of ways. The company's paralleling box, which is designed for use with Kohler gaseous and diesel mobile generators, allows users to mix and match different size generators to meet job requirements. Four of the boxes can be used to parallel as many as eight generators. The Kohler Decision-Maker 3500 digital controller provides the paralleling intelligence. Users don't have to be present to make manual adjustments.
"Individual paralleled generators can be set to shut off automatically when the demand isn't there, saving customers on fuel costs and run time associated with a larger generator. Paralleling also offers a built-in backup for customers where generator downtime isn't an option, again it depends on the application and customer needs.
"Paralleling is also a way for rental centers to better manage their fleets. If they don't have the size generator a customer needs, being able to parallel a couple of smaller generators may offer the solution." Feudner pointed out, it becomes a win-win for the customer and the store.
The industry has changed. Equipment is more complex and customers have more options. The combination requires rental centers to be even more knowledgeable about equipment and be in a position to be a problem solver for their customers.
Back to the Future
Although Tier 4 Final is in the rearview mirror, there still is some work to be done, noted Sharma, "Engine manufacturers are planning to consolidate their offering to both European Union Stage V emission and Tier 4 Final compliance.  Although not effective until 2019, they will start planning and designing their equipment for commonality between the two markets."
In the meantime, equipment manufacturers will also be harnessing new technology in their generators and air compressors. "The next frontier will be energy storage," Howe emphasized.  "Within the next three to five years look for batteries and capacitors to store excess energy delivered by generators, similar to technology used today in hybrid cars.  When batteries become fully charged, they would provide the power, allowing engines to shut down. Among benefits are obvious fuel cost savings. The battery power would also minimize subjecting engines to peak-and-valley power demands, helping Tier 4 Final engines operate at peak efficiency."
Howe noted this technology could be made available across the board, but would be especially useful when generators are required to start large motors and then run on reduced demand.
Aggreko employs a version of this "hybrid power" at certain construction and event locations where demand varies throughout the day and evening, said Schuster. "The next step would be incorporate solar power technology to assist the generator in recharging the battery."
As Massinon points out, the potential of using batter power is something that may be more appropriate for backup power than for occasions when a generator is used as a prime source of electricity. Bailey thinks the same hybrid technology will eventually be available in air compressors once manufacturers find ways to either generate more air per horsepower or store enough energy to generate more horsepower. Time will tell.
In the meantime, though, the age-old question to be answered by users is how to get more bang for their buck when the latter doesn't go quite as far as it once did. They can try to do more with less, investigate different power options, or look for machines that offer more versatility and value. If their application is more seasonal or if demand just isn't that strong, renting becomes another option, and it's up to the store to steer them toward a unit that will get the job done.