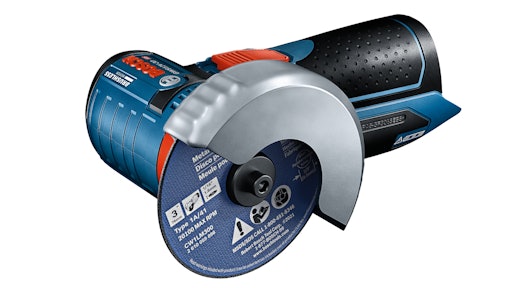 Bosch Power Tools & Accessories

Optimized Gear Structure – Produces 19,500 no-load rpm to cut threaded rod, strut, conduit, tile and more
Ergonomic Build – Engineered to fit the palm of a user's hand, for outstanding comfort and control
Efficient Brushless Motor – Maximizes battery runtime in extended applications
Innovative Spindle-Lock Design – Provides fast wheel change, with a spindle-clip release
Fast Breaking Time – Wheel stops in less than a second after the grinder is turned off
Offering pros more tool control, speed, and power efficiency when working to cut through tough materials from threaded rods, tile, and brick, the GWS12V-30 12V Max Brushless 3-inch Angle Grinder features an optimized gear structure, fast breaking time, and brushless motor to maximize battery runtime. The GWS12V-30 grinder provides the users with the endurance needed to handle heavy-duty cutting applications on a variety of jobs.
The 12V Max Brushless 3-Inch Angle Grinder provides pros with 19,500 RPMs of speed, a spindle-lock design optimized for fast wheel changes and a brushless motor maximizing battery run-time, ready to accomplish the toughest of jobs. With its ergonomic and compact build that fits in the palm of a user's hand, pros will experience comfort during a heavy-duty task.
With a 19,500 no-load RPM speed, the angle grinder effortlessly works through hard materials, and when the task is done, the tool brakes in less than a second after being turned off to provide safety and battery efficiency to tool users.
Features
The GWS12V-30 12V Max Brushless 3-inch Angle Grinder's power and speed allow for precision cutting when it comes head-on against the hardest construction materials. With additional tool features built in to support transition from one task to another, the product serves as a great addition to any pro's toolbox.
Optimized Gear Structure: Produces a high-speed 19,500 RPM to cut through threaded rod, strut, conduit, tile, and several other materials.
Innovative Spindle-Lock Design: Provides a fast wheel change, with a spindle clip release design.
Fast Breaking Time: Tool wheel stops rotating in less than a second after the grinder is turned off.
Specifications
12 Volts of power
No-load Speed RPM: 19,500
Length: 7.1-inches
Width: 3.3-inches
Height: 4.1-inches
Arbor size: 3/8-inch
Bare weight: 1.5 lbs.
The GWS12V-30 12V Max Brushless 3-inch Angle Grinder comes with a limited lifetime warranty and will be available nationwide Summer 2022.
The GWS12V-30 12V grinder also comes in a set and includes: GWS12V-30 12V Max Brushless 3-inch Angle Grinder, a wheel guard, one grinding disc and one cutting disc.
Request More Information
Fill out the form below to request more information about
Cordless 12V Max Brushless 3-in. Angle Grinder (GWS12V-30)