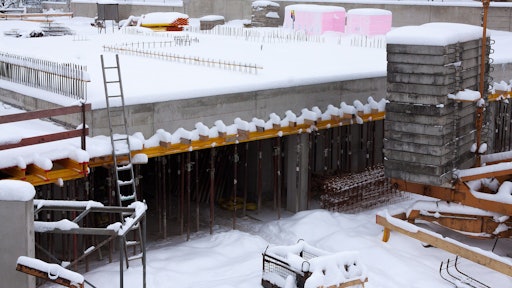 Weather woes are a distinct challenge for the construction and building industry in colder months. And while no one can control the weather forecast, there are temporary heating and drying solutions, specifically indirect hydronic climate control systems, to keep projects on schedule and workers safe.
Indirect hydronic systems provide flame-free flexibility in climate control during all stages of construction. Jobsite managers can heat entire construction sites and prevent ground frost for areas up to 36,000 square feet, avoiding schedule delays and boosting energy costs. 

How does it work?
In hydronic heating, a central heater is located outside and warms heat transfer fluid (environmentally-friendly propylene glycol). The heated fluid pumps through a fluid circulation system loop to remote heat exchangers (fan coils) that remove heat from the fluid to the heating area and return it to the central heater for reheating.

Heat from a traditional indirect heater is generally isolated to one area, neglecting other parts of the construction site. A hydronic heater delivers heat up to 400 feet from a central heater and offers even points of distribution for the heated air inside, as well as uniformity to ensure the construction area heat is at the highest air quality.
Added benefits of hydronic heaters are that they can be scaled up to meet the needs of the project, and the optional flow reverser guarantees even heat distribution speeds up any necessary thawing and reduces fuel consumption.

Energy efficient and open ventilation
The most efficient way to transfer heat is via fluid heat transfer, which reduces overall fuel consumption. Conventional methods of temporary heating typically call for indirect air or direct-fired, open-flame heaters. However, these methods are inefficient because they must heat outside air, which is a challenge in extreme cold. Because hydronic heating systems reheat ambient air rather than the bitter cold air, one general contractor in Canada — guided by an experienced solutions provider — used nine hydronic boiler plants that reheated the air within the space, reducing fuel costs and providing superior heat distribution with fan coils.

Such systems are also inherently safer than direct-fired open flame heaters because they virtually eliminate fire risks and are designed to vent directly to the atmosphere, as opposed to other systems that vent right into the work environment. Venting directly to the atmosphere eliminates the need for ventilation of noxious fumes.

Mold prevention

 



A one million BTU direct-fired open flame heater at a construction area can add up to 90 pounds of water per hour or 216 gallons to the air every 24 hours. All that moisture can delay projects and, at worst, can cause mold and mildew to gain a foothold at a construction site. A flame-free hydronic heating system, by contrast, removes moisture in the construction area by introducing dry air. Using an efficient heater to decrease humidity in the air can accelerate many stages of construction that are typically moisture-producing, such as drywalling and painting.

Concrete year-round
Many construction projects begin with digging below-ground parking structures, where concrete curing requires a steady amount of heat. A hydronic heating system can safely provide the temperatures necessary for proper curing of the concrete and preventing concrete carbonization. Hydronic heaters come complete with a mixer booster system to control the desired temperature and maintain the optimum curing environment year-round, reducing the risk of poor quality due to high workload volumes in warmer weather. 
What about water?
A hydronic heating system, or a boiler-bypass heating system, provides an extremely cost-effective way to heat water over a temporary period, so buildings have reliable access to hot water for both non-potable and potable water. Additionally, using a boiler-bypass system alongside a plate exchanger allows the site to tap into the facility's water system directly, which further saves time.

Don't let weather woes delay construction projects or create building headaches. Many savvy contractors turn to well-engineered hydronic systems to keep schedules steady and workers safe during the colder months.
Eric Alderson, Temperature Control Product Manager, and Pat Heintz, Building Services and Construction Sales Manager, at Aggreko are based in Canada. For information from Aggreko, call 1-800-AGGREKO (1-800-244-7356) or visit www.aggreko.com.