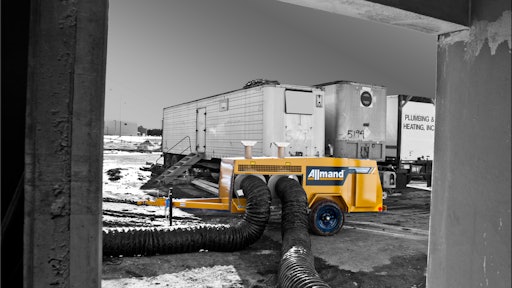 Allmand Bros. upgraded its Maxi-Heat portable heater by tripling the static pressure to allow use of up to 110 ft. of ducting. Static pressure of the Maxi-Heat has increased from .5 wc to 1.5 wc. This increase in static pressure has allowed Allmand to increase the length of the Maxi-Heat's 16-inch ducting from 40 ft. to 110 ft.
"There are many applications that now require air to be ducted up to 100 feet," said Allmand Sales Engineer Doug Dahlgren. "Incorporating a new fan-motor combination and increasing the static pressure helps ensure that clean, breathable air can be delivered to the work area, and provides a wider variety of heat distribution options."
Maxi-Heat features twin heater units that produce a combined maximum of 1,010,000 BTUs and may be operated independently depending on heating requirements. A standard 1,800-rpm liquid-cooled Isuzu 3CD or optional CAT C1.5 diesel engine with regulated generator provides power for the heaters and electrical accessories. A 191-gal. fuel tank provides more than 24 hours of operation without refueling.
In-line fuel heaters and pre-filters added to the fuel system on the unit help eliminate problems when fuel may be contaminated or may not be blended properly for the operating conditions. Heater/pre-filters make the system more tolerant to dirt and variances in the viscosity of the fuel.
Request More Information
Fill out the form below to request more information about
Maxi-Heat