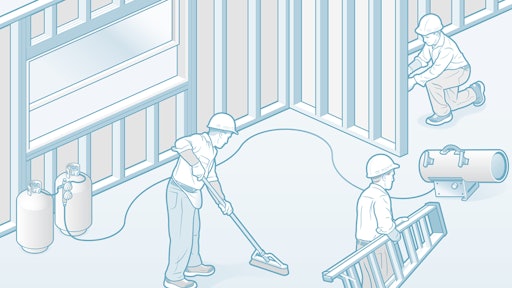 Propane Education & Research Council
During the cold winter months, construction professionals who use temporary, propane-powered heating equipment on the jobsite can be more productive, making it easier to finish projects on time and on budget. In addition to providing more comfortable working conditions, propane-powered heaters can also maintain the ambient temperatures necessary for common tasks like drywall installation or painting. However, like any portable heating device, propane-powered heaters must be used and maintained properly.
"Considering the cold and snowy weather that much of the country experiences, it's an ideal time to remind builders and remodelers how important it is to properly install, maintain and use propane-powered heaters," says Bryan Cordill, director of residential and commercial programs for the Propane Education & Research Council (PERC). "By following a few simple guidelines, they can ensure optimum jobsite performance, comfort and safety."
PERC offers the following advice to help construction professionals stay safe and warm this winter:
At sites using propane cylinders to power heaters
Ensure that propane cylinders are in good condition without bulges, dents, excessive rust or signs of fire damage.
Always transport cylinders to the jobsite in an upright and secured position.
Do not use a cylinder indoors that holds more than 100 lb. of propane.
Connect no more than three, 100-lb. propane cylinders to one manifold inside a building. All manifolds should be separated by at least 20 ft. of space.
Check all cylinders for leaks with a suitable leak detector solution — not soap and water, which may have corrosive properties.
At sites using external propane tanks to power heaters
Locate tanks a sufficient distance from property lines and the structure under construction. Consult local building codes to ensure proper compliance.
Place the tank on stable ground, and when locating the tank consider the potential effects of freezing and thawing.
Use rigid piping from the tank to the building. Flexible tubing may be safely used indoors.
Have a qualified propane technician ensure that all connections between the tank and heater are free of leaks.
Protect tanks and piping on the worksite from the possibility of vehicle impact.
Do not store combustible material within 10 ft. of any tank.
When using salamanders and other propane heaters
Choose a heater that's sized appropriately for the square footage you want to heat.
Keep heaters away from potentially combustible materials.
Only operate heaters in ventilated areas. Make sure there's sufficient air both for combustion and to prevent carbon monoxide accumulation.
Use only those heaters with 100% safety shut-off valves.
When the project is complete, first turn off gas at the container valve to drain hoses or pipes before shutting off the heater itself.
Only allow a qualified LP gas technician to make any repairs to faulty equipment.
While kerosene and electric heaters are also available, propane is the cleanest and smartest fuel choice for jobsite heating, according to PERC. Kerosene heaters can produce an undesirable film on nearby equipment or walls. Electric heaters can't generate nearly as many BTUs as propane-fueled heaters, and they put additional load on the mobile generators used to produce electricity for power tools used around the jobsite.
"When it comes to heating a temporary construction site, and for other uses around the jobsite, propane's benefits are clear," Cordill adds. "Because it's a low-carbon, alternative fuel, construction professionals who use propane-powered heaters, generators, light towers and other equipment can maintain a cleaner environment without sacrificing power or performance."
*This article was originally published in 2015 and has been updated in 2019.