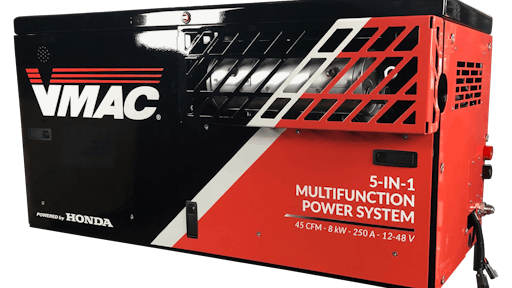 VMAC

The VMAC Multifunction Power System includes everything needed for heavy duty mechanic work in a single powerful system. The 5-in-1 components consist of a rotary screw air compressor, generator, welder, battery booster/charger and cold climate kit.
VMAC's new Multifunction concept is powered by a Honda iGX800 V-twin gas engine, provides up to 40 CFM at 100 psi of compressed air and 8kW of electric power at 100% duty cycle, and up to 250A of welding capability. The system allows operators to use just one function or all five simultaneously.
Like all VMAC Multifunction Power Systems, the 5-in-1 reduces idling by allowing operators to turn off their truck engines at the job site. Minimized idling helps reduce noise on the jobsite, reduce fuel costs, and reduce operating hours and engine wear on the vehicle.
VMAC expects to release the 5-in-1 Multifunction with a Honda engine into production in 2020.