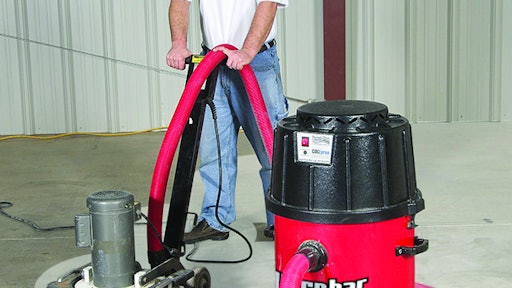 The clouds of dust and microscopic particles contractors once generated sawing, sweeping, cutting, and operating other power tools are fast disappearing. Growing awareness about their dangers, new EPA regulations, and evolution of accessories and tools that control dust are main reasons why. Among these products are vacuums, shrouds, respirators, and dedicated control systems that have become as prominent in the workplace as the tools that generate the dust and the operators and bystanders they protect.
Dust storm
"Not so long ago, collecting dust on the jobsite was never on anyone's mind," relates North American Sales Director for CDC LaRue Industries Stewart Meeh. "Dust was just part of the job when grinding, sanding, sawing, or cutting. Then, studies conducted by both private and government entities indicated that dust wasn't only bad for one's health, depending on the dust, it could be very harmful."
The new information, he points out, resulted in 2010 EPA regulations governing the removal of lead paint, and soon to come new rules on crystalline silica found in the dust from concrete and drywall joint compound.
"Simply put," he emphasizes, "dust needs to be collected by a shrouded tool and connected to a suitable dust collector so the user isn't working in a cloud of dust and potentially exposed to a hazardous material."
The new EPA regulation mandates the use of a HEPA (High Efficiency Particulate Air) vacuum when renovating residential buildings constructed prior to 1978. The rule, which is designed to protect the operator from lead paint in the dust, will reportedly expand to commercial structures 2013.  "The EPA establishes the standards, and quality manufacturers should have their products third-party certified to meet them," relates Darren Diess, Vice President of Dustless Technologies. "This legislation has teeth, which can result in fines in excess of $32,000 a day for every day the right equipment is not being used on the jobsite, or if the contractor is not EPA RRP Lead Safe certified."
"Workers in construction environments where crystalline silica dust is airborne are at high risk of developing silicosis, a serious lung disease caused by the accumulation of this dust in the lungs," adds Brian Delahaut, Vice President of MK Diamond Products. "When these small dust particles are inhaled, they can embed themselves deeply in the lungs. The lungs cannot clear out the crystalline silica dust by mucous or coughing. The dust causes the formation of scar tissue, thus reducing the lungs' ability to take in oxygen. There is no cure for silicosis. Silicosis is the most common occupational lung disease worldwide."
 "It's not only the operator who becomes imperiled," adds Star Diamond Tools president John Bernat, CSO. "Fine silica dust doesn't settle out; it stays in the air exposing other contractors and workers on the job site to its dangers."  He notes that government bodies in both Canada and the U.S. now realize the dangers and are legislating against them. In the meantime, though, rental stores are among those retailers on the front line that can educate customers and supply them with protective equipment. (see sidebar)
Protecting one's health and avoiding debilitating fines are two key reasons to offer customers dust protection equipment and accessories.  There are other less-important yet still good reasons to offer this protective equipment.  "Limiting dust helps extend tool life and performance," notes Frank Hieronymus, Sr Product Manager for Hilti's Diamond Product line. "In addition, jobsite clean-up is a direct labor cost that can be saved by collecting the dust at its source, and a clean jobsite helps improve productivity and ultimately reduces the time/cost of the job."
These same products also provide an additional revenue stream, yet MK Diamond Product's Delahaut puts an economic incentive way down the list of priorities.  "The issue is how can rental stores provide the best possible solution for their customers and, at the same time, protect their health. Not everything is about making money, but showing and explaining that they have the right solutions for every application is critical."
Mitigating tools
What are some of these solutions? Most major tool manufacturers offer a variety of dust protection solutions. Hilti, for example, offers a line of vacuums that can be attached to more than 25 Hilti tools, including saws, as well as many competitive models on the market. "These self-cleaning vacuums, in five-and 10-gallon models, are available with HEPA filters and fleece bags," notes Hieronymus, "both of which are required to make the vacuum a complete HEPA system.
"In addition, we offer a number of tools that either have dedicated dust control systems or optional dust control attachments. The DG 150 is a dedicated dust control grinder that uses brushless technology for exceptional long life in very dusty conditions, and is fitted with a dust extraction system that reduces dust by up to 95 percent.  We also offer the 9-inch DCH230 and 12-inch DCH 300 electric cutting tools with a shroud to collect dust and funnel it directly into a vacuum cleaner."
With the current EPA dust mandates in place and the promise of more to come, there's no question that rental outlets need to have a variety of dust collection products for their customers, adds Meeh. Heading up the list of those products accepted by regulatory agencies are HEPA-Certified vacuums. He notes that CDCLarue's Pulse-Bac® vacuum equipment all use HEPA-rated H-13 filters, capable of capturing 98.97% of dust particles at .3 micron, which, he says, is standard on all their products.
"Models PB-550 and PB-565 vacuums are HEPA Certified vacuums with dual HEPA filtration systems capable of capturing dust particles .1 micron in size, exceeding E.P.A. regulations," Meeh goes on to explain. "In independent test Pulse-Bac® vacuums were rated with the lowest P.E.L. (OSHA permissible exposure limit) rating of all brands tested. This is due to the vacuums patented Pulse-Bac® Automatic Self-Cleaning Vacuum Control Technology that prevents filters from facing with dust and debris. This technology allows the vacuum to capture all the dust, all the time without the filters ever clogging during operation. The Pulse-Bac® brand of vacuums is one of only a handful still made in the USA."
He continues, "For contractor and rental customers using hand-held grinders, the company offers the DustGrabber™ shroud that features a patented replaceable seal that prevents suction lock while capturing 98% of airborne dust. The DustGrabber™ is the only shroud in the market with a lifetime replacement warranty, ideal for any rental house renting hand held angle grinders."
Meeh points out that the shroud will fit virtually any make and model of grinder on the market today, noting that educating the customer in proper dust collection methods (and having product available for them to purchase or rent) should be a top priority for any rental house. "These new rules and laws will become an excellent source of revenue going forward and should not be ignored by any rental outlet in business to make profits."
Another shroud, MK Diamond's IXL, was developed specifically for heavy-duty use by contractors grinding concrete, masonry, and mortar.  Designed to fit the Blastrac, Dewalt, Milwaukee, Metabo, Hitachi, Bosch, and Makita 15 amp grinders, the shroud features abrasive resistant plastic to prevent wear from the grinding process and a reinforced steel ring in the outer rim that assists in gliding over concrete and, again, helps resist wear.
"Two shroud styles are available," relates Delahaut. "The full nose shroud is used for open floor grinding and the hinged nose shroud is for grinding against walls and edges."
Behind the counter
Vacuums and shrouds are necessities for controlling dust at the source, and they generate revenue-making opportunities when renting a saw or grinder. Dustless Technologies offers the DustBuddie® shroud kit for grinding and the CutBuddie™ shroud kit for decorative cutting. Both kits fit most grinders and can be attached the company's line of vacuums, as well as others on the market.
"Our Dustless HEPA wet-dry vacuum gives contractors an economical way of providing the best possible level of dust control," Diess explains.  "The certified HEPA filter captures dust particles down to .3 micron, and the WonderBag™ micro pre-filter captures particles down to .5 micron. The vast majority of larger particles are caught in the micro pre-filter bag before they reach the HEPA filter, greatly extending its life;"
He continues, "The vacuum is also ideal for rental stores because operators can go from dry to wet pickup without having to worry about ruining an expensive HEPA filter. It stays dry at all times because of our proprietary design."
Star Diamond Tools has a full line of dust control products, including shrouds and vacuums. The company also offers an air scrubber when tools cannot be outfitted with shrouds. "Using an air scrubber placed near the work can help trap and contain much of the airborne silica particles," explains Bernat. "The best solution, though, is still to collect the dust at the source and make sure the operator is fitted with a respirator."
He emphasizes the word "fit," noting that respirators, just like the protective shrouds on tools, need to have a tight seal to be effective.
The need for controlling dust extends beyond the practice of sawing and grinding. "When core drilling, dust can accumulate and create a hazardous work environment," points out Husqvarna Product Manager for Construction Products Richard Tremain.  "Our new DM220 drill, introduced at World of Concrete this year, features an integrated dust collection system that uses the same connections for both wet and dry drilling. When coupled with the DC 1400 vacuum, the drill motor creates dustless drilling."  The combination, he adds, is perfect for electricians, plumbers, subcontractors and other contractors whose main business may not be core drilling, making it a perfect fit for many rental locations.
"Customers are willing to pay extra rental fees for accessories that make their job cleaner, safer, and get the job done faster," says Hilti's Hieronymus. "Many customers do not own equipment with dust control and will look to rent specialized tools for particular projects. Rental stores that establish their locations as the destination for dust control tools will have an advantage in the marketplace."
Offering dust control products to customers, either by selling or renting them, generates additional revenue, but it's not about the money, Delahaut reemphasizes.  "Customers will continue to rent products and purchase expendables from retailers that look out for their customer's well being. He notes that one of MK Diamond's big rental customers has been renting the company's grinder shroud for more than three years. "They're not looking to make a profit on the shroud," he again emphasizes. "Instead, they realize that the customer's health is a more important factor to consider when providing a grinding tool."
Having a way to control dust is no longer an option for your customers.  Dust control is mandated when working in many environments where lead is present, and the dangers of silica are well documented. The above vacuums, shrouds, and dedicated tools are well-suited for the rental environment because staying on the cutting edge of dust protection can save your customers money, and it just may save their lives.