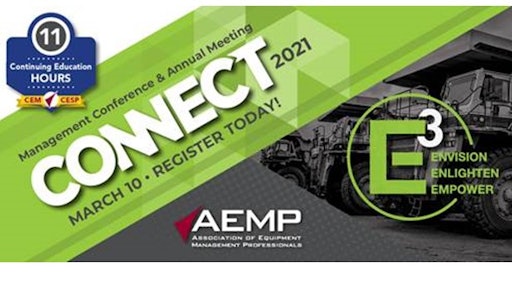 The Association of Equipment Management Professionals (AEMP) Annual Meeting has always been an annual convergence of industry leadership, conversation and content. It's where the answers to your questions intersect with being able to share your expertise, and also a place where friendships develop alongside your skillset. For the 40th Management Conference and Annual Meeting (CONNECT 2021), the AEMP will be delivering a refreshed virtual experience on March 10th that allows the essence of our annual conference to continue.
The conference will be centered on 3 themes:
ENVISION - Gain foresight into the emerging issues, trends and innovations found within the industry that will help you to envision the future of your fleet.
ENLIGHTEN - Advance your know-how and learn advanced practices needed to make equipment managers better at managing staff, machines and capital.
EMPOWER - Make it a priority to empower your entire team to advance their careers continuously in order to support the vision of your department and increase the value to your organization.
The keynote presenter will be David Mitroff, Ph.D., the Founder and Chief Consultant of Piedmont Avenue Consulting, Inc., who will discuss the psychology behind leadership and how to create a lasting impact in your industry while gaining knowledge on what it takes to be seen as an expert. He will also talk about how to create opportunities and how to attract great talent for future recruitment.
To learn more or to register for the conference, visit www.aemp.org/connect.