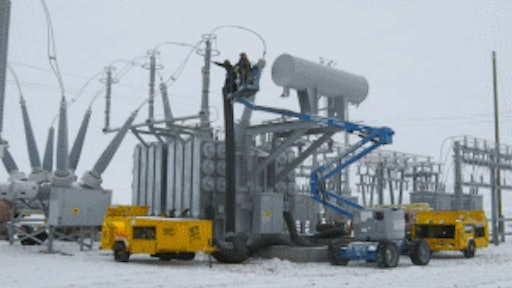 Lakefield, MN - Kayton Electric, a division of Integrated Electrical Services, completed the first Extra High-Voltage Substation project in company history, with the assistance of equipment manufacturer, Allmand Bros. Both companies are based in the small rural community of Holdrege, Nebraska.
IES, a national electrical and communications service provider, turned to Allmand for their project's success. When rain fell on SW Minnesota recently, IES crews needed a solution to remove the layer of ice that quickly formed and covered the transformer due to frigid temperatures. This solution was imperative so the substation could be energized and begin delivering energy from the Lakefield Wind Farm to the grid.
The answer turned out to be simple. The next day, a national rental equipment company delivered four Allmand Maxi-Heat industrial heaters to the job. The heaters were used as massive "blow driers" to melt the ice off the transformer.
Curtis Kayton, IES project manager, was onsite and witnessed firsthand the heaters' performance. "Those heaters performed remarkably well. It wasn't long after they were started that a large puddle formed under the transformer" commented Kayton. The Maxi-Heat heaters were positioned to blow warm air on the transformer throughout the night. The next the morning the ice was all but gone.
"As I looked at the end result I thought to myself, here are two Holdrege [NE] companies serving a significant industry and both are here to solve a crisis. This is cool!" Kayton remarked.
Allmand Bros. introduced its line of Maxi-Heat industrial heaters in 1991. With more than 1 million BTUs and clean, breathable warm air, the Maxi-Heat has been the choice for heat in many applications and industries ranging from equipment pre-heating to thawing oil wellheads. The company is extremely pleased in its contribution to IES' success in their Lakefield Wind Farm project. Allmand hopes the Maxi-Heat will continue assisting IES and others in new and unique situations where heat is needed.
The Lakefield Wind Farm is a 207MW farm located in Jackson County, MN and one of two renewable energy projects IES is currently involved with. The other project is a Transmission Line under construction for the Taloga Wind Farm near Taloga, OK.
IES is a leading national provider of electrical and communications contracting solutions for the commercial, industrial and residential markets. From office buildings to wind farms to housing developments, IES designs, builds and maintains electrical and communications systems for a diverse array of customers, projects and locations. For more information about IES, please visit www.ies-co.com.
Companies in this article