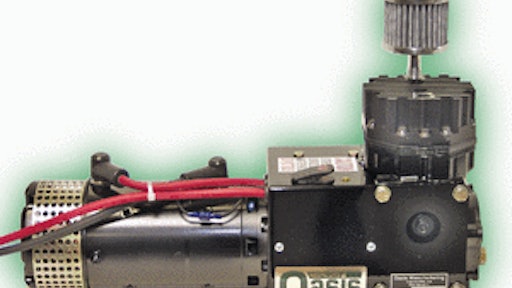 "Green" Air Compressors
These environmentally friendly, onboard air compressors produce 200 psi (duty cycle 100% at 70°), enough power to run a 1/2-in.-drive impact wrench without a tank.
Operate on clean and efficient 12- and 24-volt DC electrical power
Sealed oil control system
Low-voltage circuit protection
Low-maintenance, 50-hour service
Oasis Manufacturing
4-ton Asphalt Optimizer
The 4-ton-capacity Asphalt Optimizer features a diesel fired, self-priming 105,000-btu burner with electronic ignition to heat the hopper chamber without applying direct flame.
4-in. tube near the top of the hopper disperses heat throughout the load
26-gal. fuel tank provides for up to 72 hours of heating
Digital controller with temperature readout monitors temperature in 1° increments
Easy opening top doors for loading hot-mix asphalt
Tandem torsion axles rated at 15,000 lbs. provide a lower profile for more stable towing
Cimline, Inc.
955PM Champion Mortar Mixer
The 9-cu.-ft. capacity 955PM Champion full three-bag mortar mixer features a rolled steel drum and offers a choice of several engine options.
Quadruple seal and drum bearing system mounted in a removable, patented housing
Cowl design delivers five times more ventilation for increased engine airflow
Extendible axle to fit easily through doorways
Standard lift-away safety guard, safety chain attachment, front post hand clutch and heavy-duty tow pole
Stone Construction Equip. Inc.
All In One Power Systems
All in one air compressor, welder and AC generator systems run off of a single engine, and fit into the same space as a single component.
Range from a 13-hp gasoline model up to a 25-hp diesel, with a hydraulic-driven model also available
Remote access panel combines all switches, outlets and ports in one panel
Fully automatic SMART START feature on Force Diesel Models 200 and 250 runs engine only on demand from the welder and air compressor
Air N Arc Mfg. / Vanair Co.
ClockPoint Kiosk
Exaktime's new ClockPoint Kiosk is software and hardware that turns almost any Windows PC into a networked time clock. ClockPoint works with standard JobClock Keytabs and FastTrakker. ClockPoint stores all time punches locally as a backup to guard against network downtime.
ClockPoint Kiosk software lets office staff clock in on The JobClock System, a time and attendance system designed for use in the field.
Software turns any PC, notebook or netbook running Windows XP or Vista into a real-time JobClock
Keytab Reader connected via the USB port
Employees touch their personal Keytabs or FastTrakkers to the Keytab Reader to clock in/out
Time punch immediately transferred to the TimeSummit database via the company's network (wired or wireless)
Exaktime, Inc.
DK50SE HST and DK35SE HST
The 49-hp DK50SE HST and the 38-hp DK35SE HST hydrostatic drive tractors are available with standard ROPS or with a fully enclosed cab.
Tier IV, four-cylinder, water-cooled diesel engine
Electronically engaged four-wheel drive
Rear PTO with optional mid-PTO allows use of various implements and attachments
Category I three-point hitch
One-lever joystick loader control
Kioti Tractor
ENVIROPRIME 6TSC-DJDST-45D-MC
The 6TSC-DJDST-45D-MC trash pump is designed for moderate flows to 1,750 gpm and heads to 172 ft., and can handle spherical solids up to 3 in.
ENVIROPRIME compressor-assisted priming system prevents blow-by
Silent Knight sound-attenuated canopy allows operation at 70 dB and below
Drop-on canopy design allows enclosure to be added or removed in the field
Detachable front access cover plate allows for removal of foriegn material without disconnecting the suction or discharge piping
Thompson Pump & Mfg. Co., Inc.
FastMeasure
The FastMeasure mobile distance measuring device helps contractors quickly and accurately measure parking lots, roads, utilities and more from the comfort of their vehicle up to highway speeds.
Mounts on the vehicle dashboard
Can also be mounted on concrete saws, crack routers, striping machines, etc. for accurate job accounting
Scooter package consists of a foldable 450-watt electric scooter, mounted distance measuring device, paint wand and clipboard for measuring and laying out jobsites at up to 15 mph
FastMeasure by KTP Enterprises, Inc.
HEM550 Excavator Drill
The HEM550 drilling tool is used for blasting, soil nails, anchors, micropiles and geothermal heating and cooling.
Utilizes the TE550 patented hydraulic drifter, which goes to an idle mode when the down force on the drill string is decreased, eliminating dry firing
Comes standard with radio and cable controls
360° positioning of the mast
Can change between drill and bucket in 15 minutes with a quick coupler
TEI Rock Drills
Hi-T500 Track Dumper
The Hi-T500 Tracked Hauler is built on a 28-in., two-speed, hydrostatic, self-propelled, tracked platform powered by a 9 1/2-hp Kubota diesel engine that runs at a low 86 dB.
Narrow width provides the ability to fit through a standard doorway
Minimum 1,100-lb. load capacity or a half yard of concrete, with optional side extensions to accommodate more material
Bucket has a tip height of over 8 ft., and can completely flip over for dumping material on the ground
Optional power take-off
Access Construction Equipment / Miniveyor USA
Hi-Vis Hi-Lite Mini Flashlight
The Hi-Vis Hi-Lite mini flashlight clips to the handle of several Lowell Corp. ratchet wrenches to help workers find and adjust nuts in dark areas.
Measures 3 5/8 in. long, 3/4 in. in diameter and weighs 1.9 oz. with its detachable clip
Includes a water-resistant aluminum housing with anodized protective finish and a spring steel clip
20-lumen brightness provided by a replaceable standard AA battery
Optional on new Triple Square and Double Shot wrenches and can be retrofit to older models
Lowell Corporation
Hose Guard Products
Kurt Hydraulics offers four styles of hose protection products including the spring wire guard, spiral steel wrap, nylon sleeve guard and spiral poly wrap.
Designed for use in rugged operating applications to stop premature failure due to wear, abrasion and deep cuts
Available as a complete hydraulic hose, coupling and protection system
Available in a full range of diameters and lengths to fit most applications
Kurt Hydraulics
HydraSaws
The rugged, lightweight HydraSaws use hydraulic direct drive power to maintain constant cutting speeds and torque without excessive noise, vibration or exhaust fumes.
Available in models with cutting depths from 5 1/4 to 9 1/2 in.
Cut concrete, stone, brick, block, aggregate, rebar, pipe and steel beams with the appropriate blade
Virtually maintenance-free
Can be run from a HydraPak or another compatible hydraulic power supply, such as excavation equipment
Hydraulic hose lengths of up to 100 ft.
Reimann & Georger Corp.
Icon-O-Lite Aluminum Trench Box System
The Icon-O-Lite aluminum trench box system offers a lightweight and compact alternative to heavy steel trench boxes.
Versatile, durable, modular design
Easily transported in the back of a pickup
Assembled and disassembled with two laborers
Panels available in 3- to 12-ft. lengths
Wall thickness of 2.5 in.
Icon Equipment Distributors
Integrated Construction Software Solutions
Maxwell Systems provides management software solutions that help construction companies streamline operations and increase efficiencies.
Solutions for estimating, job cost accounting, and project management
Products include American Contractor, Management Suite, StreetSmarts, Quest Estimating, and Estimation Logistics
Maxwell Systems, Inc.
Michelin XHA2 Loader Tire
The XHA2 loader tire is intended for loaders in quarries and cement plants and on construction and infrastructure work sites.
Incorporates additional rubber in the tread, crack-absorbing rubber compounds and self-cleaning tread blocks
Sidewalls strengthened with a protective rib and anti-scrape shields
Optimized traction reduces rolling resistance and fuel consumption
Currently available in sizes 26.5R25 and 23.5R25
Michelin North America
MTP 6500FH Trash Pump
The MTP 6500FH 6-in. enclosed dry prime trash pump generates just 70 dB(A) at 23 ft., making it suited for use in residential areas.
Flows up to 2,450 gpm and maximum heads up to 145 ft.
Handles up to 3-in. solids
Fully lockable flip-hood enclosure
High chrome cast iron impeller and ductile iron volute and wear plates
110-gal. fuel tank with over 30-hour run time
Auto start/stop controls
Magnum Products LLC
Ranger 225 GXT Welder Generator
The Ranger 225 GXT welder generator delivers smooth AC/DC welding output and 10,500 watts peak generator power.
Fully enclosed case for engine protection and lower noise
225 amp/25 volt welding output for stick, TIG, MIG and flux-cored welding as well as arc gouging
High-capacity AC generator provides 9,000 watts of continuous generator power
Lincoln Electric Co
SDS Plus Rotary Hammers
In addition to advanced lithium ion battery technology, the SDS plus Lithium Ion cordless rotary hammers are packed with features to maximize durability, user comfort and convenience including dual speed modes, idle strike restrictors, tool-less chucks, and accessible carbon brushes.
18-volt DH18DL can drill up to 105 holes on one charge
25.2-volt DH25DAL delivers 0-750/0-1,500 rpm and 0-3,100/0-6,200 bpm for optimal performance
Factory set slip clutches
Two-step speed switches
Hitachi Power Tools
Spectra Precision Laser LR20 Receiver
The Spectra Precision Laser LR20 is a standalone display receiver for mini-excavators, backhoes, scrapers, skid-steer attachments, box blades and small dozers.
Designed for both elevation and depth grade control
Enables tighter tolerances without the need for a grade checker
Can be moved from machine to machine with features and setup options for multiple applications and specifications
Powered by NiMH rechargeable batteries or direct machine power
Trimble Navigation Limited
Submersible Drainage/Sludge Pumps
These submersible drainage/sludge pumps offer triple wear resistance to prevent abrasive particles from reaching vulnerable components.
Range from 1.9 to 85 hp and deliver between 155 and 5,000 gpm
SMART electronic motor guard stops the pump in situations such as a phase dropout, overheating or overloading
Hydraulics section with closed impeller enables easy impeller adjustment
Impeller automatically functions as a fan to cool the pump motor, bearings and seals in the event of dry running
Grindex Pumps
Trackhoe Track Cleaner
The Trackhoe makes daily track cleaning easier by allowing faster and easier removal of dirt due to less residue buildup on the tool.
Made of industrial-strength, powder-coated metal with a 1 1/2-in. wooden handle
Works for cleaning under final drives on high track equipment
Fits into tighter areas around driver and idler ends of tracks
Can also be used to level dirt around valves and posts, smooth the bottom of narrow trenches, clean shaker screens on drilling rigs and more
Trackhoe