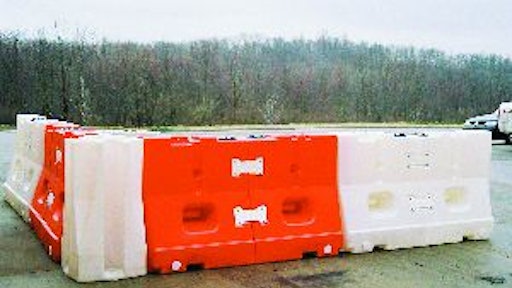 Traffic Safety Devices Roadguard/2 Barrier
The Roadguard/2 water-ballasted, energy-absorbing barrier is constructed from high-density polyethylene plastic for added strength.
Weighs 1,600 pounds when filled
Measures 6 feet long, 3.5 feet high and 2 feet wide at the bottom and 10 inches wide at the top
Double chamber provides two vertical walls in the center for added strength and stability
Includes a self-locking device, hand grips and slots and channels for lights, flashers, panels, screens and signs
Roll-Rite Expandable Pleated Tarp
These pleated tarps act like a straight tarp, then expand up to 10 feet along the full length of the tarp, self-deploying on both sides to easily cover heaped loads.
Easily expandable to secure load by pulling straps from ground level and securing them to the truck body or trailer
Built-in tension helps to refold the tarp as it rolls up
Single-piece construction and custom manufactured to meet size needs
Safety Flag Safety Vests
These Class I, Class II, and Class III ANSI-compliant safety vests are available in fluorescent orange material with lime reflective striping or fluorescent lime material with silver reflective striping.
Sizes from small/medium to 5X large with Velcro or zipper closures
InstroTek CoreDry
The CoreDry can produce repeateable dry weights for consistent rest results in 15 minutes or less.
Allows samples to stay cool and safe during the drying process
Drying process perserves the sample composition
Unit is completely automatic; once the asphalt sample is dry, the unit shuts off
Can accommodate extra large field samples or asphalt beam samples (up to 16 inches tall)
TransTech PQI301
The TransTech PQI301 is a non-nuclear pavement quality indicator designed and built to take quick, accurate measurment of hot mix asphalt density.
For perpetual pavement mixes
Takes accurate density readings in three seconds
Available in various languages
Covered by AASHTO and ASTM test methods
Plastic Safety Systems NITE LITE II
The lightweight, durable NITE LITE II plastic reflective fence can be attached to one or both sides of a Type III barricade for improved safety.
Can also be used to delineate fixed objects close to traffic and construction projects near roads
International orange reflective stripes
Rolls easily for storage
4' x 50' standard rolls
Made of UV-protected polyethylene plastic
Instron SATEC Series DX Compression System
Instron's new SATEC Series DX Compression System exceeds many of the Califnornia Test Method (CTM) standards.
Equipped with automatic exudation detection for soils and audio prompting for stabilometer testing for asphalt and soils
Partner software offers a simple user interface and provides fast, one-step testing
Upper spherical compression plate with lockout ring
Extended tabletop for placement of stabilometer
Single footprint design
Caterpillar 938H and IT38H
Booth units feature Cat C6.6 engine with ACERT Technology, differenetial lock system, load sensing hydraulics, net engine power of 180 hp, and increased lift and tilt forces.
938H: replaces 938G II, retains traditional Z-Bar linkage, and bucket capacities from 3 to 3.9 cubic yards
IT38H: replaces IT38G, features integrated toolcarrier linkage, and bucket capacities from 3 to 7 cubic yards in low-density bulk matrial handling applications
Transcraft Lower-Deck Height Option
Lower-deck height option of 36 1/2 inches in the unloaded condition is now available on the DTL3000, DTL2100 and D-Eagle drop-deck trailer models
Allows for transport of taller loads, plus provides easier access to the lower deck area
Eliminates need to deflate or remove equipment tires to ensure proper legal height of load