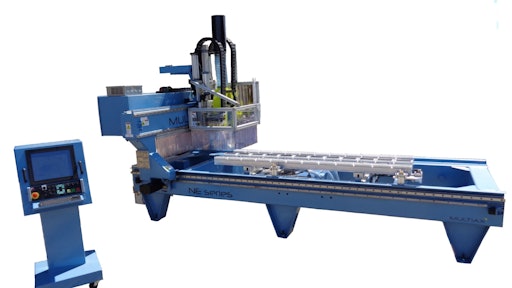 Multiax America
With long lead times and material shortages due to the Coronavirus pandemic, contractors are looking for ways to get their building materials on time to meet their contracted deadlines. Machine automation is allowing manufacturers and distributers to provide a precise and timely product. 
Construction starts saw a welcome increase in March,  according to Richard Branch, chief economist for Dodge Data & Analytics in a March 2021 news release. With that being said, companies such as Midwest D-Vision Solutions have to supply doors and hardware for theses construction projects on time, with correct configurations, and the correct number of doors, all within the contractor's deadlines. 
"Contractors have construction schedules that they have to abide by and complete their projects by, and those are getting narrower and narrower," says Dan Mercer, Division 8, doors and hardware regional division director. "It's difficult to supply and install materials for projects with very tight schedules, and when we're ordering from our vendors, we can't control their lead times." 
Multiax America, a provider of advanced technology and solutions, is contributing to the comeback in the construction industry during the pandemic with its C Door Series CNC Feed Through Door Machine. Distributors, like Midwest are using this machine to get construction projects back on schedule.  
"Some projects were cancelled or delayed, and they're coming back online. And because they are delayed, the owners are itchy to get those projects started and completed. I think the way that we are set up internally to handle the demand, we have something great to offer as a solution to hit those tight schedules," Mercer says. 
The purpose of the CNC machine is to reduce the manpower needed to prep a single door, provide manufacturers the ability to mass produce doors with more accuracy and in less time, and save money. To manually prep a single door, on average, without any specializations would require at least three people and about three hours a day. According to Mercer, this machine is allowing for about 100 doors to get prepped per day.
"We got the machine, and it's been everything that we've wanted it to be. It's been a great machine for us," Mercer says. "We want to be a valued resource to our customers, but we also want to make their jobs easier." 
Material supply post COVID 
Post COVID, distributors are helping to provide materials needed at construction sites, and it is more frequent that distributors like Midwest are providing all of their materials directly from their warehouses. This makes for a quicker process enabling projects to be completed on time. 
"I think a big trend is that distributors are taking more of the workload when it comes to machining doors. But as the door manufacturers have consolidated, I think it is harder and harder to get the big guys to service you quickly and correctly," says Ed Gauthier, CEO and founder of Multiax America. "And so, I think the distributors are saying, we can't do certain things, but other things we have to just buy the slabs and do it ourselves." 
With construction projects picking up where they left off, Midwest D-Vision Solutions has the CNC machine to provide a quick fix to long lead times and material shortages. With less room for errors from manual preparations, this machine provides accurately crafted doors, allows for a larger production of doors, and sequentially is cost effective. 
"I would say there's less opportunity to make a mistake using the CNC machine than if you were to be doing it manually," Mercer says. "This is definitely an investment that allows us to do more, and to do it effectively. And efficiently. And, honestly, it pays for itself."