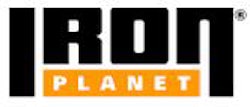 PLEASANTON, CA (September 28, 2011) -- IronPlanet, an online marketplace for used heavy equipment, introduced a shipping calculator that estimates shipping costs for items selling in IronPlanet auctions.
"IronPlanet is dedicated to helping customers bid with confidence," said Randy Berry, senior vice president of operations for IronPlanet. "Along with our detailed inspection reports and IronPlanet's exclusive IronClad Assurance, the new shipping estimator allows buyers to make the most informed purchasing decisions by providing them accurate and immediate shipping estimates."
The estimator is located on the shipping tab within the inspection report for items selling in the U.S. at IronPlanet.com. The calculator automatically populates the item's origin using the location from the inspection report. The destination within the shipping estimator is prefilled with the user's location, and can easily be changed by entering a different city or postal code within North America. Clicking the "Calculate" button initiates the estimator for shipping cost between the item's location and the user's destination using proprietary IronPlanet and Rounders Logistics technologies.
Rounders Logistics developed a marketplace that offers trucking services and an online toolset that features instant freight estimates, an equipment specs database, and a freight management and tracking system.