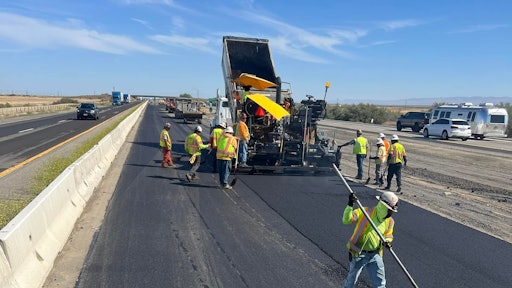 Nate Woodall/Facebook
May 16th 2022 marked the six-month anniversary of President Joe Biden's signing of bipartisan infrastructure legislation called the Infrastructure Investment & Jobs Act.
White House Infrastructure Implementation Coordinator Mitch Landrieu told that his team is "hitting the ground running on the projects that are shovel-ready."
Landrieu said the administration has "pushed $110 billion out of the doors to the states" and made another $100 billion available in opportunities to fund infrastructure projects. The $110 billion includes funding for over 4,300 specific projects. From rural communities to urban areas, the Biden administration said over 3,000 communities are beginning to benefit. The projects include things such as tunnel and bridge reconstruction, brand new buses for cities and airport improvements.
The infrastructure bill includes $110 billion for roads, bridges and major projects; $65 billion to expand broadband access and affordability; $66 billion for rail; $55 billion for water infrastructure; $25 billion for airports; $39.2 billion in new transit spending; and $5 billion for electric vehicle charging stations.
Here is a list of results so far from the legislation :
Roads: The U.S. Department of Transportation (USDOT) and Federal Highway Administration (FHWA) announced $52.5 billion in Federal Highway Apportionment for fiscal year 2022 the largest in decades for all 50 states and D.C. The law invests $350 billion in highway programs over the next 5 years.
Rural Highways: USDOT announced $1.2 billion for highways in rural Appalachia for the Appalachian Development Highway System (ADHS) toward the timely completion of designated corridors in 11 states in the Appalachian region. The total amount that will be available to the states in Fiscal Year 2022 is $246 million.
Bridges: USDOT and

FHWA

announced over $27 billion in funding to replace, repair, and rehabilitate bridges across the country to all 50 states, D.C., Puerto Rico, and Tribal governments over the next five years.
Major Local Infrastructure Projects: USDOT opened applications for $2.9 billion for major transportation projects through a combined notice of funding opportunity (NOFO) for MEGA, INFRA, and Rural programs. Putting these three programs under a single NOFO makes it easier for communities to apply to one, two, or three major discretionary grant programs with a single application and common set of criteria.
The full list can be found here.
Special Projects Receive Special Funding
On Monday, the Transportation Department also opened for applications $1 billion in 2022 grant funding for communities to help address mounting U.S. traffic deaths.
The National Highway Traffic Safety Administration (NHTSA) said in February U.S. traffic deaths rose 12% in the first nine months of 2021 to 31,720 - the highest number killed on American roads in that period since 2006.
Communities can apply to use these "Safe Streets" funds to add roadway safety features like "centerline and shoulder rumble strips" or "traffic calming road design changes ... and making strategic use of speed safety cameras," the Transportation Department said in a briefing document.
These projects present opportunities for contractors and your main question should be "Where is the funding going?" and "How can I identify opportunities emerging from this bill?"
The first place to start is by looking over the agencies and programs in play in order to identify where their offerings may align with your services.
Get To Know the Players: There are more than 20 agencies funded in the IIJA. Contractors need to assess their footprint in those organizations and if none exists, develop a customer intelligence strategy for building up agency knowledge.
Get to Know the Programs: The IIJA focuses heavily on funding specific infrastructure programs, including the establishment of new ones. Contractors can identify programs within agencies of interest to them and start to inform themselves of program missions, history, leadership.
Get to Know the Specific Teams: Many government departments receiving significant IIJA funds have set up dedicated infrastructure pages to provide implementation updates, to varying degrees of depth and granularity. Check regularly for insight into the mechanisms being used to distribute the money. Contracting and acquisition support firms also have dedicated research teams that will be monitoring for updates.
Economy Hindering Optimism
While getting the law passed with bipartisan support was a major win for President Biden, recent polling indicates that Americans are more concerned about other issues, especially inflation. Infrastructure efforts are now wrestling with high inflation, labor shortages that cut across industries and supply chain stumbling blocks that will slow projects and make them more significantly expensive. That will impact state and local budgets when the economy already posted negative GDP growth (-1.4%) in the first quarter.
The complications confront contractors facing labor shortages and their own sets of higher costs. What that means? There may be an even longer delay before we begin to feel the real impacts of the IIHA due to these project delays and increased spending.
"Over the past two years, we have seen overall construction cost increases of 15% to 20% per year. This increase includes the cost of labor and materials. We have seen a particularly large spike in cost on petroleum-based projects such as asphalt and plastic pipe," said Tom Points, senior director of public works for the city of Nampa, ID.
And inflation is not helping. The U.S. Bureau of Labor Statistics reported an inflation rate of 8.3% for April compared to a year ago. That includes a 43.6% rise in gasoline prices, a 13.2% increase in new cars and trucks, a 33.3% hike in air fares and an 80.5% jump in fuel oil prices. Inflation rates are at their highest levels since 1981, including record highs for gasoline nationally and in states such as Oregon, Maryland, Florida and Ohio.
As the next six months unfold, federal agencies across the administration will continue to shift into high gear with new programs taking shape and existing programs sending out significant funding increases to states. Let's hope the economy cooperates so we can all reap the benefits of this legislation.