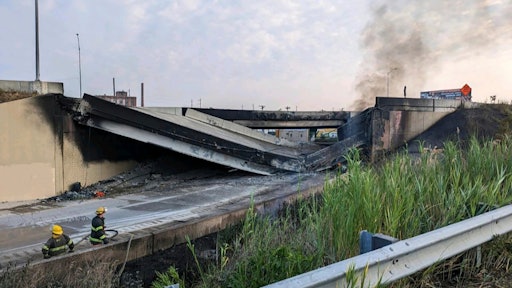 Office of Emergency Management
Over the weekend, on Sunday morning, June 12, at around 6:00 am, a large tanker truck transporting 8,500 gallons of 87 octane gasoline caught fire and collapsed the section of northbound lanes near the Cottman Avenue exit in the Tacony section of the city. No injuries or fatalities have been reported.
For those who aren't aware, this corridor leads out of the city and towards New York. The northbound section sees an average of more than 76,000 vehicles, while the southbound section sees an average of more than 83,000 vehicles per day. One estimate said that nearly 40% of the domestic GDP is facilitated by I-95. It's an extremely important road, and equally important to get this sort of damage repaired quickly.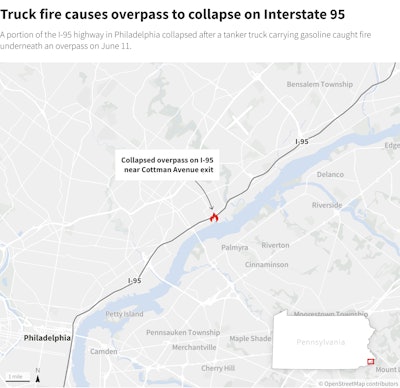 Pennsylvania Gov. Josh Shapiro said he will issue a disaster declaration to speed up federal funds, a sentiment that was confirmed by secretary Buttigieg later the same day, "The people of Philadelphia, the Pennsylvania DOT and the entire region affected by this will have the full support of the United States Department of Transportation for as long as it takes to get that restored to normal."
"We expect that to take some number of months. We expect it to take that time," said Shapiro. "And we will have that specific timeline set forth once the engineers and PennDOT have completed their review to expedite this process and to cut through the red tape."
While the swift actions being taken by State and Federal officials is reassuring on some level, the situation is an opportunity to evaluate the way that our transportation infrastructure largely revolves around a single dominant form, and that, perhaps, it also highlights the need for new and improved forms of alternative transportation methods. Such alternatives like high speed rail systems, improved urban and mass transportation, more bike friends, micromobility solutions, and walkable cities have seen an increasing level of discourse and popularity since 2020.
A Bottle Neck of Our Own Making
I've written about the history of interstate infrastructure previously, as well as the effects of mid-century urban redevelopment. We built this "basket", and we've put all the eggs in it. It's important to know that while it feels like cars and the individual transportation they provide seem absolutely essential to daily American life, the reason that is so, is primarily due to the way we went "all in" on designing things in such a way to make that true.
While experts note the need for radical change for all sorts of reasons, not the least of which is a need to reduce emissions in order to stave off the most dramatic effects of climate change, this recent event shows one that is an easier sell. When everything is dependent on one system, and that system goes down, the effects aren't localized. They are systemic.
A local asphalt and pavement maintenance contractor local to the Philadelphia area, Marco Menna, Co-owner of All-Out Parking Lots, said, "This is going to make traffic harder for everyone in the area. However, the ripple effect it's going to have on the supply chain is the most concerning. For tractor trailers, tri-axels, and large trucks, they're going to have to divert. That is going to be problematic. It's only one day so far, so we'll see what things look like a week or two from now."
The company is currently working on a massive mill and pave job for the Wells Fargo Center where the NBA 76ers play. "We're lucky on this job as we are in south philly and dumping and picking up material in southwest so we are able to avoid it," Menna said.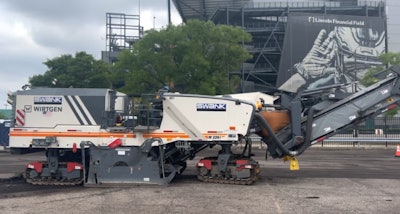 How Does Multimodal Transportation Help?
It might not be obvious how alternative personal transportation could help someone like Menna and other construction efforts in a situation like this. The reality is that everyone who uses the I-95 northbound corridor for daily movement will be adjusting their routes for the next several months, or longer. Every one of those nearly combined 150,000 vehicles will be looking to take the same side-roads or detours.
The secondary congestion will be a nightmare, especially when you're working on a job like Menna's where he said they're filling a truck with milled out asphalt in two-and-a-half minutes, using a seven foot wide Wirtgen machine. The continuous flow of those trucks is essential to efficiency and productivity on the job. If you're waiting on a truck, things can come to a standstill.
The Southeastern Pennsylvania Transportation Authority knows this to be the case, train lines that operate between the city and some of its suburbs, like the Trenton Line and the West Trenton Line, have announced they will be adding trains and times in lieu of the recent circumstances.
"I want to note that on all of our services, we have capacity. We are still below pre-COVID ridership, and we hope people will consider all the options that we have available for them. We are all going to need patience in the coming days," SEPTA CEO Leslie Richards said.
SEPTA is working with local unions to increase hours to have more employees available, and is operating three extra morning and late afternoon trains on the Trenton Line, and adding capacity to regularly scheduled Trenton, West Trenton, and Fox Chase Lines during peak hours.
If even a fraction of those needing alternatives routes, had alternative forms of transportation, it would alleviate a great deal of the pressure these detours are facing. As millions of dollars are quickly funneled into this disaster in order to get things back up and running, it is time to consider that where the city of Philadelphia at least has some alternative transportation options, many cities and states across the country do not. It's time to change that.