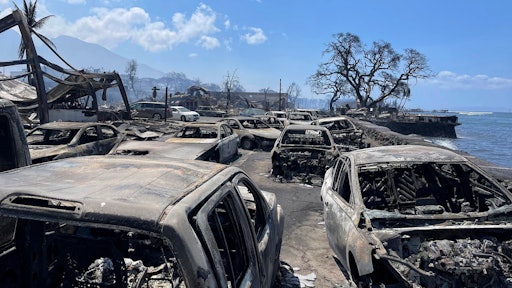 FWHA
Wildfires began on August 8, 2023, on the island of Maui, eventually resulting in the loss of human life, and near total destruction of the community in Lahaina. Two days later President Joe Biden declared a major disaster zone in the state of Hawaii, and committed federal aid to help the state and local agencies as they attempt to recover from the catastrophic fires.
The $3 million was the total requested by the Hawaii Department of Transportation (HDOT), and it will be mostly used for costs related to traffic management services and repairs or replacements of damaged infrastructure. Some of the materials included, according to a FHWA press release are: portable battery-operated traffic signals; traffic signals; erosion control of damaged areas; signs; guardrails; jersey barriers to reroute traffic and protect pedestrians and workers; and traffic management services by the police.
"The nation watched with broken hearts as wildfires took lives and livelihoods in Maui – and the nation will stand with Maui as it rebuilds," said U.S. Transportation Secretary Pete Buttigieg. "This emergency funding will help residents get transportation networks back up and running with traffic signal replacements, erosion control, guardrails, and more – and we will continue work to protect communities against these increasingly frequent climate disasters."
"The Federal Highway Administration has been in close contact with HDOT and will remain so in order to bring the support needed in West Maui," said Federal Highway Administrator Shailen Bhatt. "The quick release funding we are providing today will help emergency service personnel, police, and other first responders obtain the equipment needed for traffic management in Lahaina and the surrounding area, as well as resources for repairs to infrastructure in the future."
What's different about "quick release" funds is that they are just an initial installment of monies to rapidly get the most essential pieces of infrastructure back in an operational state. Due to the declaration of a disaster by the federal government, additional sources of aid will be made available to repair further damaged roads and bridges in Hawaii through the Emergency Relief national funding allocations.
This Emergency Relief funding program is a complimentary program to the Bipartisan Infrastructure Law, and it encourages agencies to incorporate better resiliency in the designs, restorations, and the repairs to damaged infrastructure. This is in the hopes that it will be able to withstand any future disasters or damage caused by climate change or other unforeseen events.
More information about FHWA's Emergency Relief program can be found online at https://www.fhwa.dot.gov/programadmin/erelief.cfm.