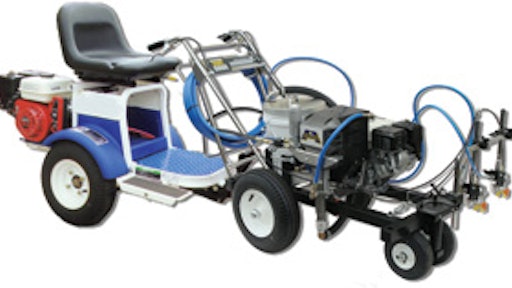 Airlessco R/S Ride & Stripe
Stripes up to 10 mph
Honda 5.5-hp overhead valve engine
Oil alert and impact protection bar
Hydraulic drive, 5-qt. hydraulic system
Dual wheel brakes
1- or 2-foot forward/reverse operation with adjustable pedals
Airlessco by Durotech Co.
Broom Bear
350-gal. water tank
4.5-cu.-yd. volumetric capacity variable dump height hopper
Short wheel base
Single engine design
Elgin Sweeper Co.
Gehl 1648 and 1448 Pavers
Power Box asphalt pavers are designed for commercial and municipal work
Two, fully adjustable screed options
4- to 13-ft. paving widths
4-ft. 9-in. to 5-ft. 5-in. wall height for better operator visibility
1648 has the option of attaching material augers to the extensions
Gehl
Wacker RD 27 Series
2.5-ton class ride-on roller series
RD 27-100 model has 39.4-in. drum, Model RD 27-120 has 47.2-in. drum
Dual vibration frequencies
Throttle level controls exciter frequency in each drum, adjusting centrifugal force to the high or low position
Single, hydraulic control lever with built-in vibration control switch
Wacker Corp.
LeeBoy Legend Electric Screed
Electrically heated screed for commercial class pavers 16,000-lb. and under
Available for the 8500 and 8515 models with an 8- to 15-ft. paving width, and on the 24,000-lb. 8816 model with an 8- to 15.5-ft. paving width
LeeBoy
Asphalt Emulsion Tack
AASHTO-certified
5-gal. buckets
Resealable lid
Stable in storage
Nationwide delivery
Most grades available with DOT certification
Blacklidge Emulsions, Inc.
SR-300 Pickup Unit
Hydraulic agitation with variable speed forward and reverse
30-gal. Emglo air compressor with 13-hp electric start Honda
1½-in. Wilden air-operated, dual-diaphragm pump
3-gal. filter pot assembly
Hannay hose reel with 100 ft. of hose and 6½-ft. spray wand
Seal-Rite
Champion C80 C, C86 C Graders
Redesigned front axle provides 50° of steering angle left and right
25-ft. straight frame turning radius with a 19-ft. radius when fully articulated
21-in.-high moldboard offers 4-ft. blade lift stance for increased featherability
Champion Motor Graders
Super Shot Melter/Applicator
No valves, few moving parts
No hose pressure build-up
Available in three sizes
Optional compressor, auto loader, engine cover, router carrier
Crafco Inc.
Black Repair Mastic
Wide crack repair
Crack leveling
Pot hole repair
Manhole and utility box leveling
Deery American Corp.
Stone SFA3500 Silver Fox Plate
Forward plate directs 3,500 lbs. of eccentric force to the asphalt
Unique base plate geometry, more centrally-located eccentrics, larger effective contact surface
Features a synchronized drive system, 13-qt. removable water tank, custom sprinkler system and carbon-steel one-piece base plate
Stone Construction Equipment
Truncated Domes
Individual detectable warnings
Install along vehicular ways, access ramps, transit stations, and as edge protection to meet ADA guidelines
White or yellow, with glass beads
0.20 in. nominal height
Installed by licensed contractors only
Vanguard ADA Systems of America Inc.
DecoMark
Decorative, multicolor, interconnected preformed thermoplastic
For crosswalks, logos, horizontal signage, driveways, parks, sidewalks, and more
High-skid resistance and retroreflectivity
Apply with propane heat torch
Flint Trading, Inc.
Ray-Tech RC16000D
Self-contained 8-ton infrared reclaimer and storage unit
Hydraulic loading and discharging doors
Truck-mounted dumping unit
Reclaims, holds and stores plant mix and previously used asphalt at working temperatures for extended intervals
Ray-Tech Infrared Corp.
Tymco Model 600
Regenerative air sweeper
Mounted on a GMC "T" Series
Won't exhaust dust into the atmosphere
15-minute change-out of broom
Optional broom-assist pick-up head
Tymco Inc.
Ingersoll Rand PF-6110 Paver
Track-mounted paver features an auger system independent of conveyor system
Sonic sensors for precise material handling
14.4-ton hopper capacity allows production rate of 820 tph
Paving speed of 246 fpm
Travel speed of 11.4 mph
Optional reversible augers and conveyors
Ingersoll Rand
Pavement Sealer
Asphalt, Acrylic, Coal-Tar formulations
Nationwide manufacturing locations and distribution centers
Protects from chemicals, moisture and oxidation
Advanced polymer technologies available
SealMaster
Cimline Matrix 1500
150-gal. melter/applicator
Combines features from Magma series and Garlock Equipment pumping technology
Heats/maintains temperature within 1° F
Optional on-board compressor, heat lance
Cimline Inc.
FASS-DRI Sealer Additive
Fortified with Sand Suspension Additive
Blackest color - toughest film
Available in 2-gallon pails
For coal tar, asphalt or blends
Maintenance Inc.
ULTRA Bond UB300
Decorative asphalt surface coatings to preserve and restore old or new asphalt
2-part epoxy formula for driveways, pathways, and architectural applications
Environmentally friendly, low-odor, water based, and UV and stain resistant
Variety of colors available
Apply roller method, spray, or brush on
ThermOTrack
A9000 Mechanical Air Sweeper
Modeled after A7000, 9.6-cu.-yd. hopper
Low-dumping hopper; dump angle of 53°
Dust suppression 250-gal. water capacity
Dual-chambered pickup head
Sweeps-in-Reverse capability
Gutter broom Extension Override system
Schwarze Industries, Inc.
Nite-Hawk NH 400-DX Model
Ideal for light construction debris pickup
HFP hydraulic sweeping system
4-cubic-yard hopper, 81-in. pick-up head
109-in. wheel base
Available on a cab-over diesel chassis
Nite-Hawk Sweepers