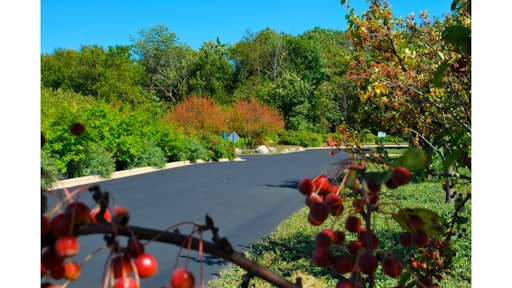 Terry Keenan was just a student in high school when he started his own business, TK Sealcoating, Inc. From 1980 and throughout his college career, Keenan kept the operation running in full force  the St. Charles, Il area, After college, Keenan continued to run the business on a smaller scale, while pursuing a different career path in sales and marketing. A small detour that would prove beneficial for him, and the company, down the road.
In 1995, Keenan rebooted his pavement maintenance business in full force and now operates 12 employees full time performing sealcoating, crack sealing, striping, paving and concrete work in the Midwest and Northern Illinois.
"We specialize and excel working with multi-unit retail operators such as banks and retail building owners," Keenan says. "We are very efficient at the process of performing pavement sealcoating and maintenance of these parking areas. This work requires excellent communication and organization. We are able to perform a large amount of sealcoating in a very short time so that retail operations and the customer's business is not disrupted. The goal is for the work to be performed without the customer even knowing you were there and just the way they want it."
[An opportunity to sell]
While his business was starting to grow again, Keenan saw a hole in the market for buying sealcoating equipment online. "I grew up in the industry and I felt like there hasn't really been a company to completely serve the contractor in the sealcoating industry," Keenan says. "I thought I could do a nice job with offering a larger breadth of products."
Keenan sought out and developed Sealcoating.com to do just that. He developed a plan to create a grouping of products that would serve the paving industry, along with other contractors in the construction industry. Today, Sealcoating.com supplies pavement tools and materials to companies in the paving and construction businesses. It also puts customers in touch with contractors who provide the services they need.
"The company helps to represent a network of professional companies that perform pavement and related site services at a higher level," Keenan says. "A property manager may visit the pavement network and identify their jobsite location or work area and they will be directed to an experienced pavement or site service operator such as a sweeping or paving company. Our pavement network identifies and suggests credentialed contractors. Our name, Sealcoating.com, helps connect the end customer with companies who are members of our exclusive pavement network."
Keenan says Sealcoating.com and the six employees who operate the website, provides an advantage through Search Engine Optimization (SEO) and allows other contractors to leverage their offering by taking advantage of the digital benefits that can be achieved together with this higher level industry domain.
"Our name attracts customers and buyers of their services, and by working together we offer advantages through content marketing," Keenan says. "Our experience allows us to represent this network, but we allow the customer to flow right through to the contractor in their geographic area. For example, if you are a property management company managing assets in the Chicago market you can request a contractor for commercial sealcoating and you will be delivered a top contractor in Chicago."
Keenan knows a website like this is going to attract attention and he's ready for it. "We have a unique opportunity with our brand to grow distributors and to create a retail franchise to market and sell the products and equipment at Sealcoating.com," Keenan says.
"Expansion over the next several years will include distributors of pavement tools and products under the umbrella and brand of Sealcoating.com. Vendors are reaching out to us to partner to make their tools and equipment available through Sealcoating.com. We are working directly with manufacturers as we grow our product range beyond pavement tools and products. We are finding success serving many types of customers who serve and maintain buildings and property directly. These buyers and customers include parks and public works departments, property managers and contractors of all types.
"The manufacturers who recognize this are treating us very well. Many recognize that this is a different opportunity than the typical pavement reseller of a limited number of pavement only tools. We are not simply serving pavement contractors but also larger engineering professionals, road builders and various site contractors. Our construction supply, equipment and material offering will continue to grow as we further develop our network."