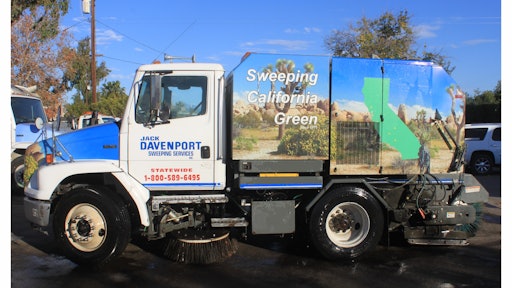 It's no secret that California is in a world of their own when it comes to being green. Jack Davenport Sweeping Services, Inc., (JDSS) located in Bakersfield, is up to that challenge and has been "Sweeping California Green" for over 35 years.
Jack and Shirlyn Davenport started the company in 1979 with one parking lot sweeper. They now oversee 25 employees and 20 units that provide street sweeping, parking lot sweeping, pressure washing, day porter and junk hauling services throughout California.
"California is the most strictly regulated, in terms of the environment, of any state in the nation," says Eric Sunderland, director of operations at JDSS. "This has a gigantic impact on the cost of us doing business in the state."
[Costly endeavor]
So costly in fact, that many sweeping companies are going out of business due to the increasingly stringent regulations placed on diesel engines. The latest regulations by the California Air Research Board (CARB) mandates that all diesel engines of any type must meet certain emission standards.
That means companies are forced to retrofit current machines to meet those standards by placing filters on the exhaust systems to capture more particulate matter from being emitted into the atmosphere. It's either that, or buy a new piece of equipment.
"Our company of 20 heavy duty diesel vehicles has to spend $20,000 per truck to retrofit them with these exhaust devices to be compliant with CARB," Sunderland says. Right now, JDSS is retrofitting five trucks that are almost 10 years old, spending over $100,000.
On top of that, the regulations state that by 2023 all machines in your fleet must have an engine model year of 2010 or newer, making these retrofits a moot point less than 10 short years from now.
"So we're spending all this money today, but that really only buys us seven years." Sunderland says. "In 2023, hundreds of thousands of trucks are going to be retired in the state. Those trucks can't be re-sold in the California for money towards new trucks. You can sell them elsewhere, but the value of these trucks in other states will go down when everyone is selling them at once."
[Go green to get green]
Going green in California is a double-edged sword says Sunderland. "The state mandates that roads and streets have to be clean, so that enables us to have work. Small cities can't afford a $250,000 street sweeper so it gives us an opportunity to have jobs, but at the same time these regulations add a huge financial burden to our regular cost of operation.   
"We care about the environment and want to be responsible citizens and not contribute to the pollution or the effects of it, but in terms of the business it's just a gigantic extra cost that other states don't face. That all has to be factored into how we price jobs and how we stay competitive with other companies."
The companies JDSS competes with are those that are rolling the dice and offering services at a lower price instead of paying the money to retrofit the machines and comply. "There are businesses out there that are not doing anything about the regulations in hopes of not getting caught," Sunderland says. "Those companies are able to price their jobs however they want since they're not spending all this extra money. Most of those companies don't have the money to retrofit, so they're just hoping they're not going to get caught."
Thus Jack Davenport Sweeping Services has found it increasingly challenging to stay competitive while being on top of these regulations, but rolling the dice on non-compliance is just not an option.
"Fines for non-compliance are astronomical," Sunderland says. "The company we are working with to retrofit our machines worked with a company that was facing an $800,000 fine. For a private company, that's like a death sentence that you can't recover from."
On top of the fine, the company is also forced to shut down from conducting business until they are compliant.
JDSS sees value in their diligent compliance and is sure to pass that along to their potential customers when bidding a job.
"We may cost more than some other people, but you're paying for the assurance that we're not going anywhere," Sunderland says. "A non-compliant competitor may save cost on their proposal, but if they do get caught, they're going to be shut down and they're going to be gone. Then you're stuck with a contract with someone that is out of business."
Bottom line: Being on top of regulations helps JDSS look out for the environment and the best interest of their customers.
"Jack has always insisted on being on the forefront of compliance," Sunderland says. "We do our best to have the most modern machines and work with the government to see what kind of regulations will be coming over the horizon so we can stay ahead of them."