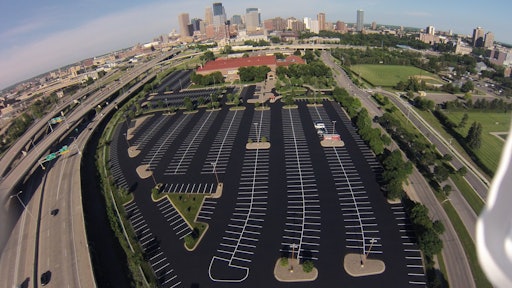 What's the best way to prove how good your work is? Many contractors think photos – "before" and "after" – do the best job, and many contractors opt for aerial pictures shot from helicopters or planes to make the most impact.
Randy Nugent, owner of Nugent Sealcoating & Paving, Minneapolis/St. Paul, is a firm believer in aerial photos for high-profile clients and for and impressive projects. So he has taken a step that he says provides greater control over the photos, better pictures and at a significantly reduced cost.
He takes photos using a drone, essentially a flying robot that is remotely controlled by an operator on the ground. Drones are known primarily for their use by the military for surveillance and in some cases bombing targets, but companies and individuals are finding more and more civilized uses for them. As a result regulations governing their use are fuzzy and undergoing change.
Currently the Federal Aviation Administration (FAA) regulates what it terms unmanned aircraft (UA). According to the FAA, drones flown for non-recreational purposes must have a Certificate of Authorization (COA) to operate in U.S. airspace, and COAs require a public entity (such as a university) as a sponsor.
But the FAA also has recognized the increased interest in drone use. Its Modernization and Reform Act of 2012 set a deadline of September 30, 2015 for the FAA to set regulations for use of commercial drones. Until then the FAA says it is illegal to operate commercial unmanned vehicles but does approve noncommercial flights under 400 feet (users must follow Advisory Circular 91-57, Model Aircraft Operating Standards, published in 1981).
Nugent says there's no reason (other than fun) to fly his drone above 400 feet so his use complies with the FAA regulations, plus his use is noncommercial because he isn't charging for taking photos.
"It's really nice to be able to document what you're doing in a good photo from the air," Nugent says. "But we always had a hard time getting good photos of our finished work. We tried an aerial boom but that only gets about 40 feet up and that's really not high enough to get a good broad view."
So he opted for hiring helicopters to hover over jobsites to take the photos for him. Cost for each flight was $400, so "before" and "after" photos cost him at least $800. "But I wasn't really happy with that. I did it because it was the only option I had, but I didn't like relying on someone else to get there at the right time, and to take the kind of photo I wanted with the right angles and backgrounds."
So he was always on the lookout for a better way to get the aerial shots he wanted.
"I like toys a lot," Nugent says. "I read a lot and I'm always looking for something that can give us an edge and separate us from our competition. I read about these drones I could put a camera on so I just bought one on a whim to try it out."
Nugent Sealcoating & Paving
Nugent started his company in 1991 with a plastic tank attached to his rusty 1984 pickup truck.
"I did a little commercial work right away but primarily I did residential work," Nugent says. "The commercial work I did was small stuff. A 40,000-sq.-ft. job used to be a big job and now we can knock out 3 or 4 of those in one day."
Today all his work is commercial. He generates 40% of his work from sealcoating, 30% from cracksealing (he routes all cracks) and 30% from paving & patching, which has grown the most in recent years. He also replaces about 500 driveway aprons each year.
In 2002 he switched from refined coal tar sealer to an asphalt-base sealer and today operates with three 6,000-gal. bulk tanks in his yard, each holding a different type of sealer. One tanks contains a rejuvenator sealer that he uses on drive lanes on busy properties, one tank holds PMM from SealMaster, and the third tank holds material from Pitch Black which he says he uses particularly in the fall.
Nugent's pavement maintenance equipment includes three trailed-mounted Equipt 825 models, an Equipt 1125 on Freightliner chassis, and a 2000-gal. Seal-Rite unit on a Freightliner chassis. Other equipment includes 4 SealMaster melters, a Stepp pump unit, three Marathon crack routers, three Crafco routers and a heat lance. He has also modified 4 low-boy trailers that are outfitted with ramps that makes it easy to haul all the equipment to a job.
For cleaning Nugent Sealcoating relies on an arsenal of tools and equipment that he mixes and matches depending on the pavement. Included in his fleet are 24 Little Wonder blowers, a Buffalo Turbine blower, a Bobcat skid steer with a pickup sweeper, and bristle brooms. And if the pavement is really dirty Nugent calls in a contract sweeper with a mechanical broom.
"Most of our time on a job is spent cleaning because the cleaner the pavement is the better the sealer is going to stick and last," he says.
He says Nugent's crack repair jobs have no tails and no drips. "It's a pet peeve of mine. We stop at the end of the track and turn around. We never leave tails. That is just one of the reasons that I'll put us up against any company on cracksealing," Nugent says.
"I could go to 100 parking lots and pick ours out," he says. "We route all our cracks, we put sealer on thicker so it lasts longer, and we're very fussy about the way we clean. And you can see that in the finished work."
And it's his pride in his finished work that makes him want to offer before and after photos to some of his customers.
"I'm 100% about customer service and retaining many customers," he says. "That's the beauty of pavement maintenance -- it's an annual or semiannual event – so as long as I do good work and have strong relationships with my customers there's a good chance they're going to keep using me."
Learning to Fly a Drone
The first drone he bought two years ago cost $750, and while it didn't have a camera attached to it Nugent could attach a GoPro camera costing another $400 and set the camera to take photos as specific intervals, say every 5 or 10 seconds.
He practiced flying that drone in open fields and got pretty good with it, the photos were "okay" though he couldn't tell the camera when to take a picture or which picture to take, and the photos were much less expensive that hiring a helicopter.
Then Nugent ran into one of the problems with drones.
"I'd flown it many, many times and I could fly it really well and that's one of the reasons I took it out when it was a really windy day. I got too cocky," he says. "I got it up into the wind and that was the last we saw of that drone."
He laughs now and chalks that up to part of the learning process. The silver lining of losing that drone is that Nugent bought another drone, this one more expensive but with features that he learned were important for what he wanted it to do.
The New Drone
To replace his original drone Nugent bought a Phantom DJ2 Vision that measures 12 in. x 12 in. and weighs less than 4 lbs., a little more than his first drone, which he could take to 900 feet in less than 15 seconds. "The new one is a little heavier and a little harder to fly than the first one.
The DJ2 has GPS and offers two flight-control modes including "position hold," ideal for taking photos. Nugent says the new drone lifts off from the bed of his pickup truck and he can land it right back on the truck. He can tell it how high and how fast to fly, and where Nugent's first drone had 7-8 minutes of flying time per battery charge, the new drone has 25 minutes of flying time. He says the additional flying time is important and provides more flexibility.
The Phantom DJ2 is controlled remotely from the ground, enables an operator to program a flight path in advance, includes a camera that takes photos and video, and has high-intensity LED lights that the operator can see from the ground to orient the drone during flight. The new drone also features a compass, which Nugent says comes in handy, and he can now store heights so he can take the drone to exact heights based on previous successful photos to get the shot he wants.
On the first drone Nugent could set the camera to take photos every 5 or 10 seconds, but he couldn't see what the camera was seeing and couldn't direct it to take the photos he wanted. On the DJ2 he can view on his iPhone exactly what the drone's camera is viewing and can direct it when to snap a photo.
"Now I know exactly what pictures I'm taking. Now when I'm flying my drone I don't barely ever look up at the drone anymore. I just watch my screen," he says. "The first drone was a lot more difficult. I was always stretching my neck and the sun was always in my eyes, but now I just watch the screen and take the pictures I want. I can see what the drone is seeing. It's more fun than anything."
Nugent says he thinks the best quality photos are taken in the 150-200-ft. height. "You can still see a lot of good detail at that height and I've gotten some nice backgrounds in those photos, like the city in the background and those photos are pretty nice."
"Before" and "After" Marketing
"It can be overwhelming but with a little patience flying a drone is easy to master," Nugent says.
He says that using GPS on the new drone he can determine coordinates from which to take a "before" photo and then use the same coordinates to take the "after" photo from the exact same spot.
"It is time consuming to use it," he says. "You have to get to the site before the crew gets there and when everyone is off of it because that's what you want to see and show your customer. And it's the same going back when the job is done. Timing is important because you want to take the photos before anyone gets on it.
"They really don't take long to learn to use," he says. "I had a couple of minor crashes, I've gotten it stuck in a tree and of course I actually lost a drone," he says. "But they're surprisingly tough."
Nugent says the company is rebuilding its website to better showcase the drone photos and even videos as he takes them. "It keeps me ahead of the competition," he says. "I like to keep up with technology and see what the newest things are that are out there I can use for the business."
Nugent says that so far he uses the drone only on jobs larger than 80,000 sq. ft., otherwise he would be out all day taking before and after photos and wouldn't have time for anything else. Though he can easily make the "before" and "after" photos available to any customer he thinks might be interested in them.
Nugent says offering the photos doesn't increase his prices or reduce his margins "because we're very efficient." He offers the photos as value-added to customers and he used them with more than 30 customers last year.
"It's actually gotten me some jobs I probably wouldn't have gotten otherwise," he says. "Some people really get excited really excited about aerial views of their parking lots and property."