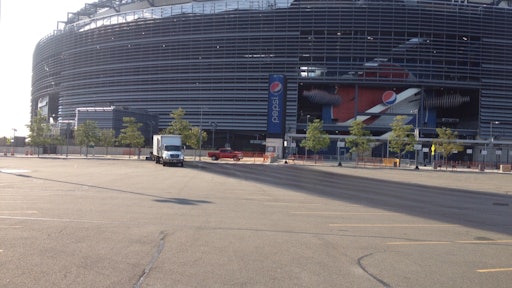 Home to the both the New York Jets and the New York Giants NFL teams, it's safe to say that MetLife stadium in The Meadows of New Jersey sees its fair share of traffic. With over 28,000 parking spaces available around the complex, the chance to maintain a lot this large was a huge opportunity for A. Macchione Brothers Inc.
The job was bid and scheduled for August, with pre-season football looming just around the corner. Needless to say, the pressure was on to complete the job quickly and to perfection. With a tight schedule and other stadium events to work around, A. Macchione Brothers completed the job in just six days, well ahead of the two week timeframe they were given to complete the work.
"With pre-season games around the corner and day to day events, the timeframe was a real challenge for us," Bruce Macchione says. "Day to day, they rent the space out for conferences or other events, and at any given time, there were at least 600 cars to work around. Plus we couldn't work on the weekend due to an Eminem and Rihanna concert that was being held in the stadium."
Despite the sheer massiveness of the job, the company completed 56,511 linear foot of crack filling and 2,750,950 sq. ft. of sealcoating in just six days.
Bruce Macchione says another challenge with a job this size is having the materials you need, when you need them. "Getting tankers of sealcoat for a job like this was a real concern," he says. "I owe a big thanks to Mike Tarvin from Sealmaster for getting materials there on or ahead of schedule. The materials that were spec'd for the job worked great."
[Hoping to grow through recognition]
As with any award, A. Macchione Brothers submitted this job to draw attention to a job well done. "The stadium is well known and with this job we thought people might take a second look at what contractor completed the work, and possibly get more large work from submitting this job for recognition," Bruce Macchione says.
"Recognition for a very large job like this increases our exposure," he says. "It gives us additional opportunities to bid large jobs when companies see we've completed a job of this size. They know we're capable of completing other large jobs then, whether it be Yankee stadium or wherever. We hope we would be the one they choose based on how successfully we completed this job in such a timely fashion. Laying nearly 3 million feet of sealcoat in a six day time frame is pretty amazing."
"These awards were a great idea," Bruce Macchione finishes. "They let all contractors from large to small show their accomplishments. We're all out there working hard to provide for our families, it's nice to be recognized for that work."
Located in Hackensack, NJ, A. Macchione Brothers completes paving, sealcoating, milling and concrete work throughout the New Jersey area.