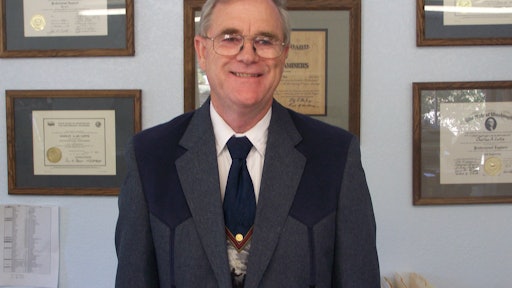 Alan Curtis, Chec Management Systems, Redding, CA
An inaugural member of the Pavement Advisory Board in 1992, Alan Curtis (1947-2013) was an encouraging and educational force within the paving and pavement maintenance industry, providing guidance to Pavement Maintenance & Reconstruction magazine as well as lending his expertise and support to National Pavement Expo and National Pavement Expo West. A strong supporter of the private contractor, an advocate for property owners, and a firm believer in providing technical education to all aspects of the industry, Alan encouraged a discussion of the proper "best practice" techniques to help contractors better construct and maintain pavements. His booklet Pavement Maintenance Practices Manual was likely the first four-color layman's guide to pavement maintenance and his unique ability to convey engineering knowledge in an easy-to-understand, "how to" manner to non-engineers made him a top-rated and top-draw speaker at industry events. Over the years at NPE his signature "Pavement Defects & Solutions" session (among many other topics) helped thousands of contractors improve the quality of the work they perform, providing a solid foundation for the success and growth of their paving or pavement maintenance business.
Alan Curtis Industry Service Award, 2015
Mick Vinckier, Miktom Parking Lot Services, Omaha, NE
Known for his expertise in striping, Mick Vinckier actually started in the pavement maintenance industry in 1989 as a sweeping contractor. At the time he and his wife, Emily, owned two restaurants and after eight years of no time off they decided they needed to change their lifestyle.
"My friend, Tom, suggested we do something together. I said 'that sounds great but what should we do?' We were standing in a restaurant parking lot and he looked down at the ground -- true story -- and he said 'It looks like we should sweep parking lots'."
The first job they got was sweeping the parking lot where they decided to start the business and Vinckier was soon striping with a 2-gal. air machine "that didn't do a very good job. We went out and bought inferior equipment because we didn't know any better," he says. "We did everything wrong."
But Vinckier says that with the help of National Pavement Expo he learned and turned things around within a few years. In 1993 Vinckier attended his first NPE in Tampa. "It changed my whole attitude about parking lots," Vinckier says. "I was in a seminar every session and I bought two Graco airless striping machines and a power broom. I went home on fire."
And it's that NPE-inspired turnaround that made him want to give back to the industry.
In 1993 Mick started learning about sealing joints in concrete and bought out his partner Tom. He went back to NPE in 1994, bought a Crafco melter/applicator, and before long joint sealing became the dominant part of Miktom's business, followed closely by striping. Most of his work was for general contractors and apartment complexes – he did very little work for small businesses.
Vinckier says that growing Miktom he had one advantage other contractors might not have: He didn't have to support the business from the money generated solely by the business. He had other income sources – as retired military in 1981 he received a pension and he and Emily hadn't sold their restaurants (they sold in 1991) – so some concerns other start-ups have he didn't have to worry about.
Starting to Give Back
Two years after Vinckier attended his first NPE show he became a featured speaker on the parking lot striping business. A member of the Pavement Advisory Board since 2000, Vinckier sold his business in 2005 for health reasons but has continued speaking at NPE.
"When I started in business it was pre-Bob Liles and pre-ParkingLotPlanet.com. I couldn't learn anything from anywhere and the guys in the business wouldn't talk to you," Vinckier says.
For example, he had no idea how to charge for striping, and try as he might he couldn't find anything about pricing. "One day I was mowing the lawn at a church and they asked me to stripe their parking lot. So I used the church to learn how to charge for striping. I got three bids for the job: One bid for everything, one for just stencils and handicap symbols, and one for striping stalls and handicaps and arrows." By comparing the three bids Vinckier was able to get a handle on what each contractor was charging for the different types of work, and he built his pricing based on that.
"But when I went to the pavement show everyone talked to everyone else and I realized I wanted to be a part of that," Vinckier says. "So, pure and simple, my interest in doing seminars came out of my desire to tell people what I knew because I knew how hard it had been to get people to talk to me."
For 20 years Vinckier presented "Parking Lot Striping for Contractors," a 3-hour workshop that covered both the "how to" of striping and the "how to" of running a striping business. He also presented a 90-minute "Profitable Hot & Cold Cracksealing and Saw Joint Sealing" and closed out most NPE shows with his "How to Stripe the Tough Jobs" seminar, a session with "no easy angles."
"For actual true value I don't think you can buy anything at NPE that can do a striper more long-term good than the Tough Jobs seminar," he says.
Solving Striping a Circle
And it's in "How to Stripe the Tough Jobs" that Vinckier makes another of his contributions to the industry by showing contractors an easy way to stripe parking stalls on a curve. The conventional method of measuring and marking outside stall width and inside stall width is time consuming and math intensive. It's easy to make a mistake in the calculations or layout. Plus, because curves often aren't consistent contractors end up eyeballing on every job, which can create its own problems.
So Vinckier developed a tool and process that have saved striping contractors countless hours, eliminates layout headaches, and most importantly results in a near-perfect striping job on curves.
"I had a contract painting six circular parking lots at a state park, and each lot had 96 stalls, all on a curve. It took me all day to do the first one, using conventional methods to determine spacing, and I ended up eyeballing it as I went anyway," he says. He went home that night, dissatisfied both with the time it took to complete the job and with the work itself.
"I didn't think I did a perfect job by any means," he says. "Plus I was very busy and I knew that at that pace I was going to be out there for five more days to finish the job and all the other jobs I had were going to be delayed."
He says he remembers going to bed thinking about the job and waking up at 3:00 a.m. "I thought to myself, 'Oh my God. This is just a game about triangles'."
So he went straight to his shop and by the time his employees came in that morning he had developed a rudimentary tool using rope that would eliminate measuring and result in a near-perfect striping job on a curve, regardless of whether the curve was concave or convex.
He fine-tuned the tool – changing out rope for chains right off the bat -- and he created different size tools (different lengths of chain) for different layout measurements, even developing one that enables striping 60° angle stalls on a curve.
In his Tough Jobs seminar he first shows the process on screen, then walks attendees to an empty room where he demonstrates how it works. "As soon as they see it in action they get it, right away," Vinckier says. "If you use my chains and do it right you'll do a good job because you won't have to eyeball anything."
Vinckier never patented or sold the chains, instead opting to teach the process each year in his seminar. "It's probably hard for some people today to realize how little information was out there back then, but I decided early on that because I'd had such a hard time getting started that I was going to be as open and free with what I knew as I could be. And the chains are part of that."