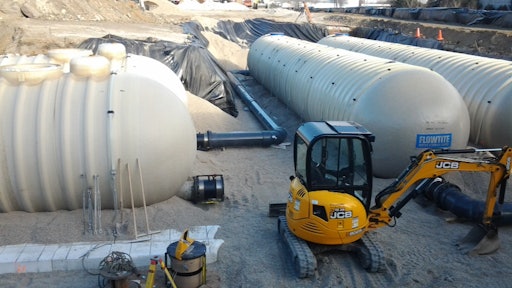 How much water does your company use each day? John Poblocki, owner of Poblocki Paving Corp. in West Allis, WI, estimates that his company paid to use 20,000 to 30,000 gal. of treated water a day in their paving, milling and landscaping operations.
He looked around and thought: There has to be a better way.
Building that better way
In 2012, Poblocki saw contractors in states like Texas and Florida collecting their rainwater for re-use and realized this is something everyone should be doing. He got to planning right away.
"I really love the idea because we get a lot of rainwater up here and we use a lot of water," Poblocki says. "I thought, why waste the water?"
His plan? Capture every drop of rain that falls on his 2.9 acre property that's located just outside of the metro Milwaukee area.
"No rain should flow off the pavement or building rooftops and drain into the city's storm water when we can be saving it," Poblocki says.
This system is not your standard rain barrel catching water for the garden. Poblocki planned and installed the ultimate rain collection system, enlisting advice from engineering consultants and seeking financial assistance from the Milwaukee Metropolitan Sewage District (MMSD).
The company purchased five fiberglass storage tanks from Petroleum Equipment and had engineers' onsite to help with the install.
Each tank was set into a 16-ft.-deep pea gravel bed with a bottom liner, a nest that will provide an additional 30,000 gal. of capacity. Poblocki and his crew did all the digging and placing of the tanks. The hole is 100 ft. by 100 ft. by 17 ft. deep.
Three storm water drainage swales — two between the street and a parking area and one between the parking area and a rear paved lot for equipment storage — will collect even more rain. The rooftop and parking area drain to the swales.
Water from the swales drains to the storage tanks. If the swales overflow in a heavy downpour, the water will be directed to a depression in the rear lot that will serve as a shallow storage pond.
A narrow rain garden along the southeast property line will receive water from the paved storage area at the rear of the lot. Grass and other plants in the strip will filter oils and other contaminants before the water enters storage tanks.
Total storage is estimated at 202,000 gal., according to designers at Lynch & Associates in New Berlin. In one year with average rainfall, the system will capture as much as 1.9 million gal. of water.
"We'll use it all," Poblocki says. In fact, he estimates his company will use about 2.6 million gal. a year, leaving a need for them to purchase water.
The best part of the tanks? You're not losing space on your site to collect water like you would with a swale or rain garden.
"You can park right on top of them," Poblocki says. "You're not losing the space like with a surface pond and when it gets hot out that water is not evaporating."
Water = money
Poblocki and his crew of 184 people in the peak season complete excavating, asphalt and concrete paving, along with landscaping, hardscaping, sealcoating and even snowplowing in the winter.
"We water bicycle paths, soccer fields, trees, we just use an awful lot of water, even beside the paving operations" Poblocki says. "In 2012, we had a really severe drought and we had to buy that water and wait for it to be pumped in to our trucks before we could do any work," Poblocki says. "Now we don't have to do that.
"We can now pump 600 gpm out of these tanks, whereas a hydrant is about 240 gpm," Poblocki says. "A hydrant would take us half an hour, this take five minutes. I haven't calculated it, but that alone probably saves us a quarter of a million (dollars) a year."
Total cost for this project is estimated between $575,000 and $625,000, Poblocki said.
MMSD contributed $235,000 to help the company pay for the project, according to Breanne McDonald, a district project manager. The MMSD awarded $1.2 million in grants to 13 local businesses and communities as part of its green infrastructure partnership program.
Each project is designed to keep a significant amount of storm water out of sewers, reduce the risk of sewer overflows, and help the district comply with a state permit requirement to boost green infrastructure capacity by 1 million gal. a year, district officials said.
Poblocki and his company are currently trying to sell projects like this one to four other companies. "We have one other company we're doing this for right now," he says. 
For the future
Poblocki says he has kids and grandkids to look out for. "We need to make this a better world. If 50 companies collected water like this in the metro Milwaukee area, we wouldn't have to send any rainwater into Lake Michigan," Poblocki says. "That's how close this is to being even. But instead, after a big rain fall, you can't come to Milwaukee and go swimming because there's a line of polluted rainwater full of vehicle fluid and grit from the streets that separates itself from the clean lake water.
"This will be a model for other businesses and property owners to follow," he says. "To me, it's a no-brainer, capture and reuse the water. It's the coming thing, I'd like to see it mandated. Then you wouldn't have sewers overflowing and waste in our lakes."
Poblocki and his company would like to go for LEED Platinum certification on their company site. They are in the process of retrofitting their roofs so that rain water that collects there also funnels into a bio swale.
"Everything on the site should collect water," Poblocki says. "For the amount of water companies use in paving, milling and creating sealer, you'd be a fool not to do this. The savings alone will pay for the investment, you just have to see the whole picture."