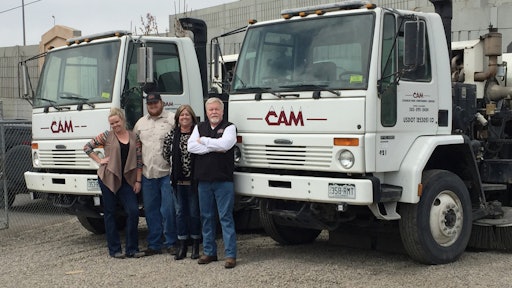 Ask many business owners why they expanded their services and the answer is usually because a customer asked them to. That absolutely holds true for Butch Hartman, president of Cam Services, as his company moved in to the power sweeping industry off of one customer's request. That request turned in to a successful part of his current business.
Hartman and his partner started working in commercial property management and moved in to the landscape maintenance business in the mid 1980's. "One day, a customer called and asked if we provided power sweeping and I said "yes!" How hard could it be?" Hartman says.
"He gave us a dozen shopping centers and requested we start that night. After some research, I made a phone call to TYMCO Sweepers and figured I would go down to buy one within that week. I found out they were three months out with a new 210.
"At the time, my partner and I began providing our sweeping service taking turns with a pick-up truck full of labor with kick pans and brooms. Still to this day, I am sure our parking lots have never been as clean as they were with our kick pans and brooms but I knew they were not profitable at all!"
From that experience, Hartman and his wife Debby started CAM Services in 1999 and provide power sweeping, power scrubbing, power washing, snow removal and commercial handyman services to the greater Denver, CO area. 
Rocky Mountain reputation
With property manager experience under their belt, Hartman and his team use that knowledge to gain customers.
"We understand the urgency of communication and completion of top quality services," Hartman says. "With our wide range of expertise, we can eliminate dozens of calls to vendors."
Since 1999, CAM Services has also added a temporary fence and barricade division that services construction sites and the majority of events not only in Denver, but the whole front range of Colorado.  CAM Services also provides erosion control and storm water services for all construction sites.
The company went from 90% sweeping in the beginning, to now 20% sweeping, 50% snow removal, 20% temporary fencing, 5% construction services and 5% miscellaneous. 95% of the work they do is for commercial properties.
Hartman adds that the company also has an airport division that services the airplanes from snow removal, power sweeping/scrubbing and tenant finish.
To keep track of their vast array of services, the company wrote their own work order entry system that is internet based.
"The work order system has been written by us to allow one place to keep all customer info," Hartman says. "It also allows us to place work requested and schedule all in one system.  Our customers can place work requested online and track the status of their work.  We use the same system for entering bid requests as well.
"We always try to educate our customers regarding the sweeping and its benefits," Hartman says. The customers in our market are pretty savvy on the need to keep their centers clean.  We live in the Rocky Mountains and everyone expects pristine!"
All in the family
He credits this growth with a great group of employees, two of which are his own children.
"After my daughter Shanae graduated from college in 2007, I was lucky enough to convince her to come and work for us as our Marketing & Sales source," Hartman says. "She has stayed with the company since, along with receiving higher certified snow professional designation, and is now the vice president of CAM Services.  She not only handles all office duties and the sales and marketing, but is the integral part of why our snow of building maintenance division has been so successful.
"Hunter, my son has also worked with me since he was about 12 years old. After attending one year of college and a stint as a heavy equipment operator, he came on full time in 2005. He too, received his certificate snow professional designation and is our VP of operations, which includes handling all the day-to-day services we provide."
The company employs around 50 full time associates and up to 250 seasonally. Harman is optimistic about future growth of the company and has just purchased a new facility which will allow them to combine their current three yards into one.
"We do what we say we will do," Harman says. "We have been designated by our VP & my wife Debby as "WEIT'S" meaning 'What Ever It Takes' for our customers."