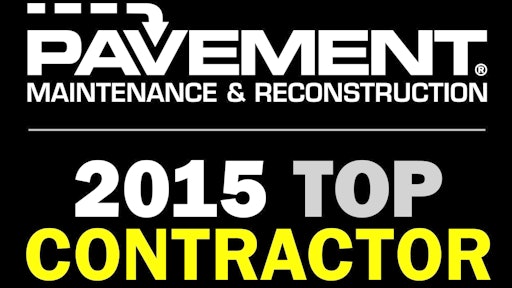 For the third year in a row, Pavement Maintenance & Reconstruction will develop a list of top-selling (meaning largest) contractors within each industry segment. Our hope with this survey is to develop verifiable Top Contractor listings in each of five industry segments: Paving, Sealcoating, Striping, Sweeping and Pavement Repair. In order to publish a list that accurately represents the industry, we need to hear from your company by Friday April 24th.
There are 3 ways to complete and submit this form:
Complete a hard copy and fax (920-542-1133) or mail it to: Pavement Maintenance & Reconstruction, Top Contractor Survey, 201 N. Main Street, Fort Atkinson, WI 53538; Attn. Jessica Stoikes.
Complete a hard copy, scan and e-mail to [email protected]
To determine whether a company qualifies for one (or more) of our five lists, we will multiply your total 2014 sales dollars by the percentage of work done in each industry segment. For example, if a contractor reports $1 million in 2014 sales and generated 40% of those sales from paving, the number used to determine qualification for the Paving Top Contractor List would be $400,000 ($1 million x 40%). Note: No sales figures will be reported or published; sales figures will be used only internally for determining each list. Also, no contractor will be eligible for the list without third party verification of your Fiscal Year 2014 Gross Sales Volume.
Those who qualify for the lists will be published in the 2015 June/July issue of Pavement. If your company qualifies as a 2015 Top Contractor, you can boast placement on the list in future marketing pieces. Companies who qualify will also receive an exclusive report and breakdown of the survey findings. Our hope is that as this information is compiled from year to year, we will be able to provide some valuable information to the readers of Pavement and to the industry - but we can't do that without your participation.