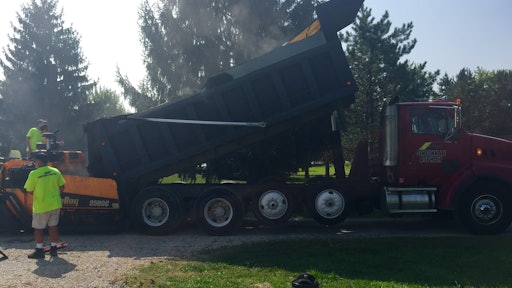 It's always upsetting in our industry when we hear about people who fall victim to paving scams. This happened recently at the home of an ailing Vietnam Veteran, John Roush and his wife Carol.
The couple were approached by a group of workers in a pickup truck who said they had some left over asphalt. The men were from West Virginia, but they offered to pave Roush's driveway in Wilmington, OH at the cost of $4 per square foot.
Without seeing a contract or getting a final price, Roush agreed to let the men do the work. Once the work was complete, Roush was hit with a $6,000 bill for the work.
To make matters worse, the job that was completed by these workers was a mess. Roush said that in some places the asphalt was barely an inch thick and it appeared as if it was just dumped on top of the existing gravel and there was no edge to it.
Sickened, Roush contacted his local news station with the hope of getting his story out so others wouldn't become victims of the same scam. That's where Joey Madden, owner of Cincinnati Asphalt, and his team came in to help.
"When I saw the story, I knew I had to help," Madden says. "I immediately emailed the reporter that did the story and told them we wanted to help. John Roush was a veteran dying of cancer, and my grandpa was a veteran that died from lung cancer. This really had a special connection for me. I've lost seven of my family members to cancer over the past 15 years."
Cincinnati Asphalt arrived at Roush's home about two weeks after the original paving was completed to find the condition of the driveway even worse than what they expected.
"The company that did the original work really wasn't a company," Madden says. "In the end they charged him $6,000 for an awful job. They used a drag box to pave it, and it was only about ½-in. thick at most. It had no straightness to it and it looked like they didn't compact it at all. By the time we got there, there was grass growing through the pavement, and what was left of the driveway was already crumbling away."
Madden and his crew sought to fix the injustice that happened to Roush and his family, and they intended to do it free of charge.
Service Above & Beyond
Madden and his crew arrived one morning in September and got to work. They started by taking a Caterpillar PC412 Cold Planer to the original asphalt that was laid then placed gravel over that. They graded the area with the help of a Caterpillar 272 Skid Steer and a stone finish roller to prepare it for paving.
Barrett Paving Materials out of Dayton supplied the mix to Cincinnati Asphalt free of charge. They installed about 45 tons of ODOT #448 surface asphalt. In comparison, Madden figured only about eight tons of material was placed when the original work was completed.
Madden and his crew used a Low Deck Leeboy 8500C paver and Dynapac CC122 Roller to complete the paving work.
While Madden started out paving driveways right out of college, their work now is mostly large commercial properties so getting back on a driveway was a challenge in itself.
"We really don't pave many driveways anymore these days," Madden says. "We are mostly a commercial contractor. When we heard about this, our schedule was jam packed, and squeezing this in around our commitments was tough."
Not to mention that Roush's home was almost 80 miles from their office so hauling all the equipment and a crew of nine out there added another hurdle for the company.
On top of that, the asphalt plant the company would have used happened to be shut down day. Two drivers had to haul the asphalt from another 50 miles away and everything had to be completed in one day to accommodate the company's busy schedule.
"With all that said, I would do it again in a heartbeat," Madden says. "John is a good, kind hearted man who sacrificed over 25 years serving our great nation."
Being a Good Neighbor is a value that's been engrained in Madden's company since the very beginning and this is just one example of their efforts to give back.
"We try to help out in the community any way we can," he says. "The paving industry doesn't always carry the best reputation for giving back and making a difference in the community. I want to change that. We consistently donate work to our local school district in Harrison, OH. Last year we donated nearly $50,000 worth of labor and materials to the district to help them renovate their extremely outdated facility. We donate sealcoating as well whenever we can. If someone needs help and we have the resources, whether with equipment, manpower, or financially, we want to help!"
In just under five years in business, Madden has grown Cincinnati Asphalt into a $4 million dollar company with 30 employees, and they plan to add another 7-10 jobs by next year. Madden attributes this success to his efforts of giving back to the community he works in.
"People notice when you give back to the community," Madden says. "They notice when you help someone out who needs it. The growth often comes when you give back. The paving industry is not an easy industry. It's cut-throat and it's stressful, but if we all made some time in our busy schedules to help someone in need, we'd all be surprised at the difference it makes."