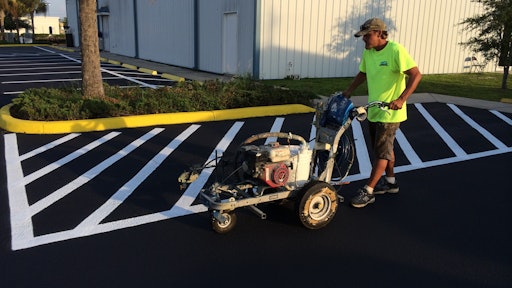 When Simon Childs retired from the British Army, he was looking for a business to invest in. His father in law had started his own striping business 30 years ago and has expanded the operation from one small striping machine to several locations throughout the states of New York and Florida.
"I followed his business for a couple of years and I attended National Pavement Expo in Ft. Lauderdale and bought a business from there that would complement my father in laws," Childs says.
Childs purchased Asphalt Sealers Inc, based in Engelwood, FL and has expanded the operation to serve his customers throughout Southwest Florida with 60% sealcoating, 20% striping and 20% asphalt repair services.
Asphalt Sealers currently has six employees who serve 60% commercial and 40% residential customers.
NPE Proves "Incredibly Valuable"
Last year, Childs attended NPE for the second year in a row to help both learn from the past with seminars conducted by veteran contractors, and embrace the future with the latest technology that's showcased in the exhibit hall.
 "We fully recognize the importance of passing best practices down from crewman to crewman and from foreman to foreman – in fact this it absolutely vital," Childs says. "But what is also important is the willingness to embrace change and incorporate new ways of working to enhance these best practices."
Childs knows NPE has been extremely helpful in helping both understand and grow his business.
 "As someone just coming into the industry, I found NPE incredibly valuable," Childs says. "It was a hugely positive resource to go to the conferences. The quality of the education sessions was really impressive. You also get the opportunity to meet with the providers of materials and pick the brains of other business owners as well."
"Each year we learn new ways of working and updating our best practices, whilst being exposed to the latest technology and innovations within our industry," Childs says. "It's an impressive event and I would highly recommend it to anyone who can spare the time to experience it."
Childs also uses NPE as a way to gauge where the market is headed so he can properly prepare his company for potential future growth.
"We keep an eye on new technology and how we can incorporate that into our business," Childs says. "Last NPE there was a lot of focus on rejuvenation. We're looking at that area for growth and we're excited about how that could develop."
Growing Employee Culture
Along with NPE, Childs credits his background at the Royal Military Academy with his drive to build a successful business.
"I have a background in performance and leadership and what I'm trying to do is apply some of those best practices that I learned in the military to our company," Childs says. "It's about creating a culture within the company where employees really care about what they do. I'm trying to instill the attention to detail and sense of ownership from my military background into each employee."
Finding employees to get on board with this ethos has been a challenge for Childs. He's invested a lot of time in changing the culture of the company.
"It's been a huge challenge to get the right people in place that get it, that get that spirit of continual improvement," Childs says. "From the new employee all the way up to the foreman, I want each crew member to have a sense of pride in what they do and I feel that helps them to do the best they can on every job."
Embracing the Future
Last year, Asphalt Sealers launched their new website. It's important to note that Childs did not outsource this service.
"The in-house team learnt what they needed to do and have delivered something that we are very proud of," Childs says.
Childs and his team are using search engine optimization and also using social media to help grow their business through blogs and photos.
 "We have come a long way in the 30 years that the company has existed," Childs say. "One reason for Asphalt Sealers Inc. continued success is its willingness to embrace new technology and continue to learn from the industry."