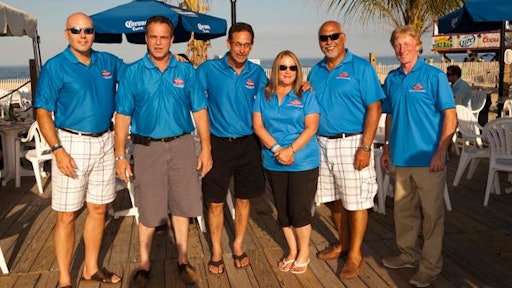 C & L Sweeper Services has been providing property maintenance to the greater New Jersey area since 1971. Current CEO Gabe Vitale grew up watching his dad operate the family business and took over for him in the late 80's.
Today Vitale is a true visionary, working with sales to develop the business and continually seeking new opportunities for the company to grow. Since he assumed responsibility, the company has grown from providing mainly sweeping services, to becoming a fully operational property maintenance company.
"We want to be the aspirin to their headaches," Vitale says. "We want to be their one stop shop."
Growing With Customer Needs
C & L began to expand their services when they started to see an increase in the needs from their customers and this diversification has been a gradual progression over the past 20 years. Over the last five years however, they've really been focusing on this business model to obtain more work from customers they've already acquired.
"We are on a growth pattern," Vitale says. "We are always looking to acquire new companies and grow our territories and grow our services. This creates sustainability with the customer. The more services you offer them, the more he's reliant on you versus just offering one service and being isolated to them."
One way C & L does this is through their own people.
"We have an incentive program for our employees," Vitale says. "If they bring something back from a job that's not related to sweeping and we turn that in to a sale, we will give them commission on that job. It could be a pothole, a broken piece of concrete, a bent sign, whatever, we give them money for bringing us the work. Eighty percent of the time the customer will give us the work right on the spot because we reported it."
Vitale says this works two ways. "One, it puts money in our employees' pockets and that's always good, but it also lets the customer know we're looking out for their properties for them even when they're not there. It's really a win-win for both the customer and C & L as it creates loyalty so customers aren't just always looking at price when it comes to sweeping a shopping center."
Fostering Employee Culture
Providing monetary incentives for employees is just one way C & L grows their relationship with their employees. In fact, employee culture is so important to the company it's considered the basis of how they run the entire business.
"Culture is the foundation of how we run the company," says Loring Dunton, vice president of operations at C & L "The culture is created by the core values that we've set up and every employee has to embrace these values that we've created. From there we hire, we fire and we promote and we discipline around these seven or eight core values."
About a year ago, the C & L management team sat down in an open forum to discuss what was important to them.
"Everyone had an opportunity to discuss the values that they thought were the most important for everyone in the company to engender and that really drove the culture here," Dunton says.
They took these 25-30 ideas down and agreed upon seven of the most important ideas to them. Those ideas have been put in their employee hand book and are discussed regularly at employee meetings.
"We push those core values to our people on a regular basis," Dunton says. "It goes a long way to create the efficiencies and the really great culture that we have here. When you have happy employees it really helps to make the management of people very easy. As a result of creating that culture, it really makes our jobs easier."
One of those core values that Vitale insisted be included on the list was that C & L needed to be a fun place to work.
"When Monday morning comes, I don't want my employees getting out of bed and dread coming in to work," Vitale says. "I want them to be engaged and be able to have fun at work. They are here more than they are with their own families. We try to create an atmosphere that's fair, fun and caring."
Mailing employees personalized birthday cards, starting an employee of the month program and hosting events for their employees and their families are ways C & L tries to show their appreciation to their people for all their hard work.
"The work is what the work is," Dunton says. "You can't glamorize it and sometimes is very difficult to do. There are little things we can do to create a culture where some of those less than attractive things that we do can have a shiny spin on them.
"It's a very competitive market we're working in and we need to keep our people engaged and happy for them to be efficient in what they're doing. What could potentially be a non-profitable business can now be profitable because of the culture we've created here."
"All the studies I've read about employee engagement say that they want to be recognized by their peers and these are the ways we do that," Vitale says. "If the culture is right, everything else just falls in to place so much easier."
C & L also does a lot of training to help foster growth in their employees. Through tradeshows like NPE and in-house training, C & L helps their employees learn and grow.
"It's always about growing yourself," Vitale says. "If they're growing in their mind, then they're always thinking of things they could do better. It's not just about punching in and out, I hate that. We invest a lot in our people. It's less expensive to keep somebody and educate them then to try and find new employees."
"Really Good Management"
Through all this growth, C & L has acquired over 300 accounts that need equipment to be deployed to daily. All these working parts would lead to chaos without proper plans in place.
"Our efficiency is due to a combination of really good management of resources and personnel and a little bit of technology," Dunton says. "My operations manager, George Lippert, does a phenomenal job of taking all of our 300+ sweeping units and creating very efficient routes out of them with route optimization software."
Route optimization has allowed C & L to be as efficient as possible, leading to increased profitability.
In conjunction with GPS, C & L also outfitted each of their units with tablets. They are able to send these efficient, optimized routes out to each of their trucks.
"The GPS takes our drivers from stop to stop on the optimized route and the software reports back to us when our drivers enter and exit a geofence we've created around any given shopping mall," Dunton says. This gives us reports on how our drivers are performing on each job and how efficient they are."
Each week, C & L then conducts open meetings with their drivers to go over efficiencies and proper execution of sweeping the parking lots and any issues that may come ups as a result of the reports.
With over 300 accounts, C & L also relies on a fleet maintenance program to log all GPS data on the sweeping units. Once the units reach a specific mileage marker on the odometer, the vehicles are brought in for full preventative maintenance.
"As a result of staying on top of those kind of maintenances, we keep these tops running like tops," Dunton says. "It's very few and far between that we have any down time on trucks, except when they are in for regular maintenance."